Winter Most Worn Items 2023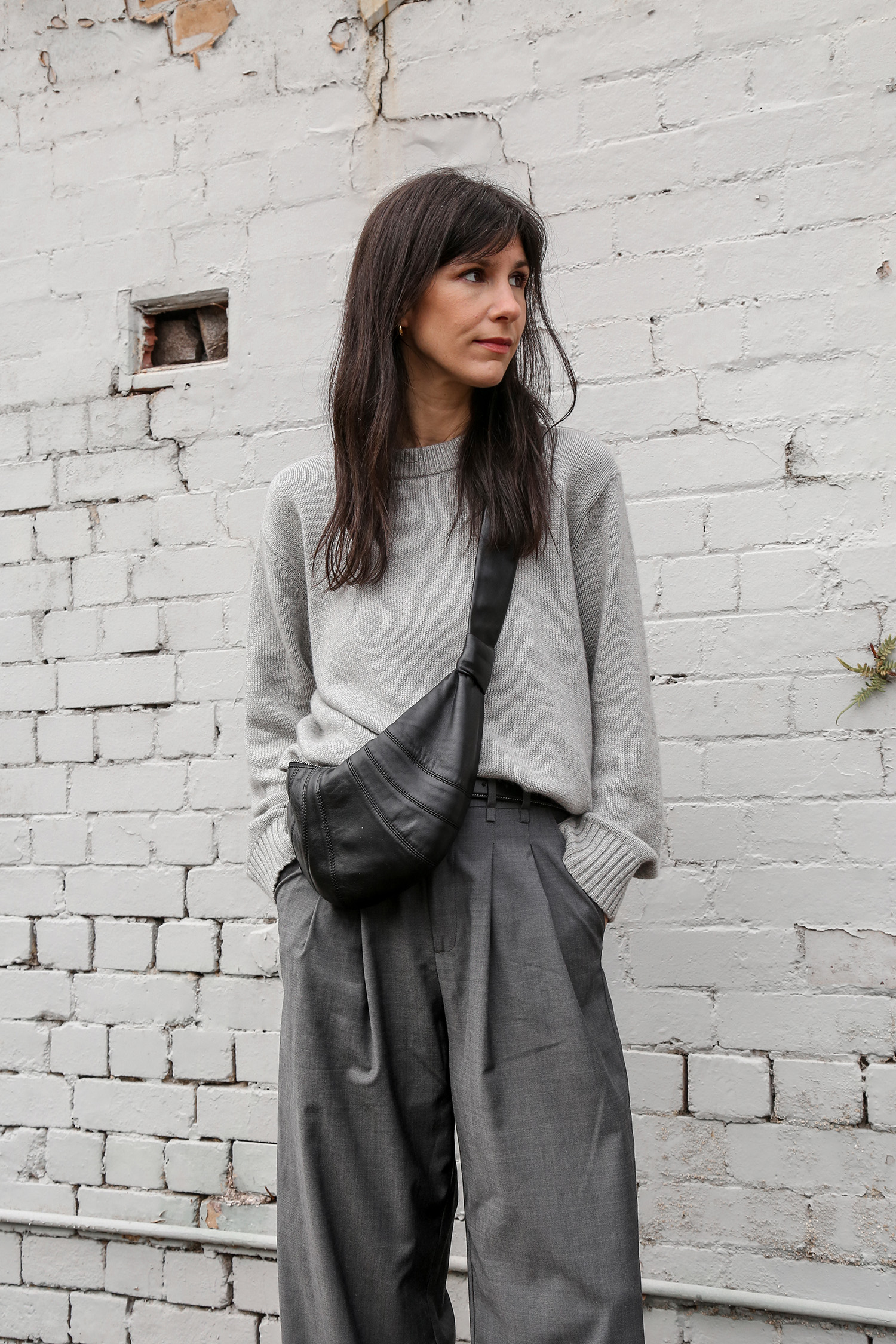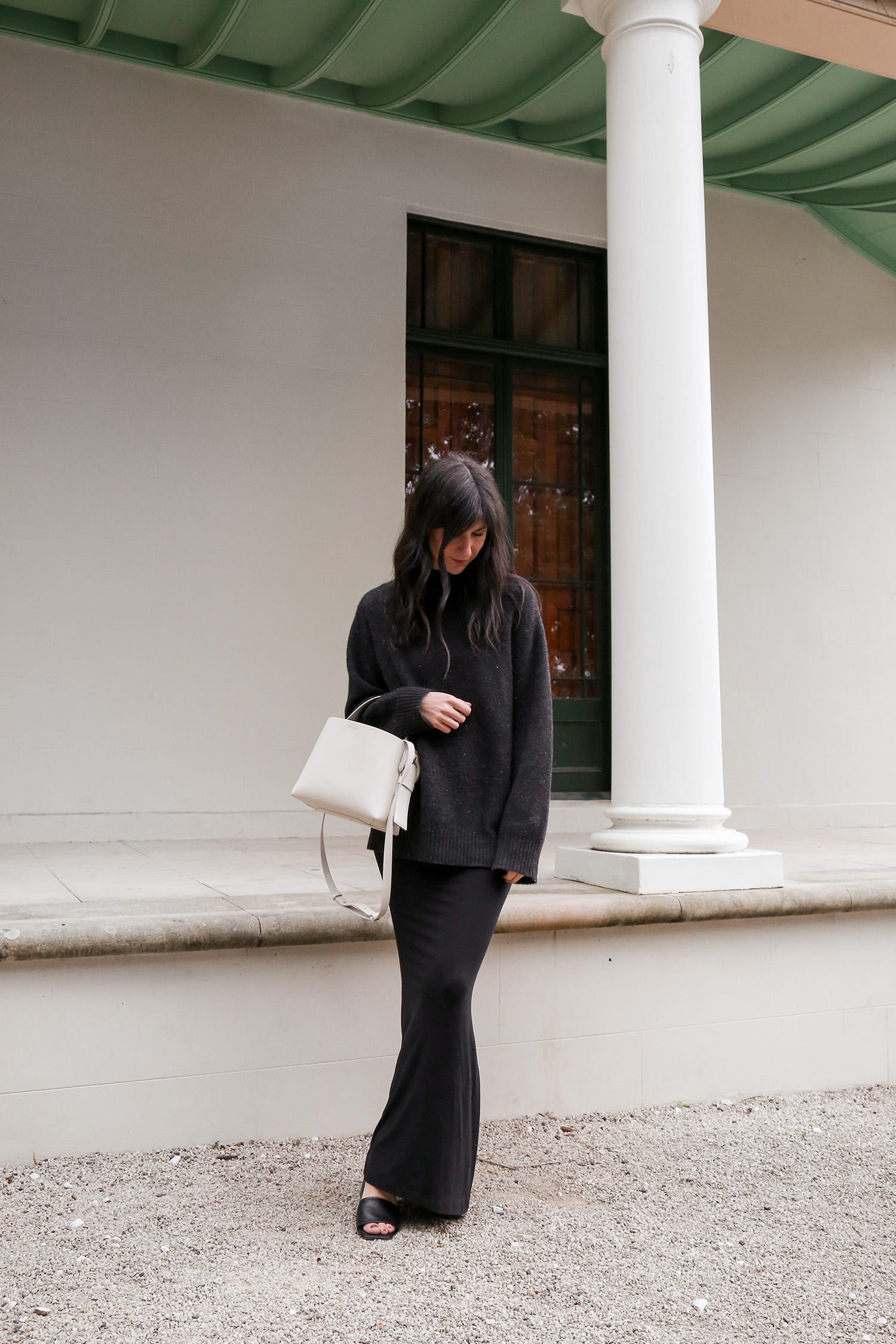 A change in season can mean one thing, and one thing only. Time for some seasonal wardrobe analysis. I've been tracking what I wear for close to a decade now. Longer if you consider my obsessive wardrobe tracking when I first began my personal style journey. And the insights that I've gained from this project have been fascinating. It's allowed me to monitor what types of items I'm gravitating towards most. Highlighted my love of neutral, typically classic cut styles. But more recently, been a document of how my preferences have shifted through becoming a mum, and the pandemic. 
It's also helped me to recognise where to spend and where to save, and which brands have stood out above the rest as being good value for money. So let's dive into my winter most worn items for 2023, talking generally about the style, and then a little more granular about the specific most worn piece itself.
Winter Most Worn Items 2023
MOST WORN TOP
Nothing of note here, as many items were worn a similar number of times. But the key commonality being that they were layering basics. Knitwear acted as one of the heroes of my outfit, so there was a lot less thought placed on what went underneath. Key themes? A mix of loose vs fitted, either in a cotton or merino wool fabrication.
MOST WORN SWEATER | Jenni Kayne grey cotton/cashmere knit (worn 6 times)
There's a few repeat offenders in my winter most worn, and this Jenni Kayne sweater is one of them. It's the easy, soft muted grey which makes this highly wearable, and I do love the slouchy fit and soft yarn texture – makes it perfect for tucking. And I've come to the conclusion of late, that this is a non-negotiable in my closet. A mid-grey, mid-weight sweater. Opportunities for ways to wear are endless.
Coming up a close second is this faded black cotton blend knit also from Jenni Kayne. What this highlights for me is that an oversized sweater is it. Something that's been reflected in some of my most recent purchases, which included this cotton/merino blend sweater from DISSH. Same same, but different. While there's a creature comfort in buying multiples of a wardrobe workhorse, what it won't do is give you variation. The switch up here is based on colour, rather than style. Great if you love uniform dressing, but a thing to note if you feel like you have options in your closet but they're all… the same.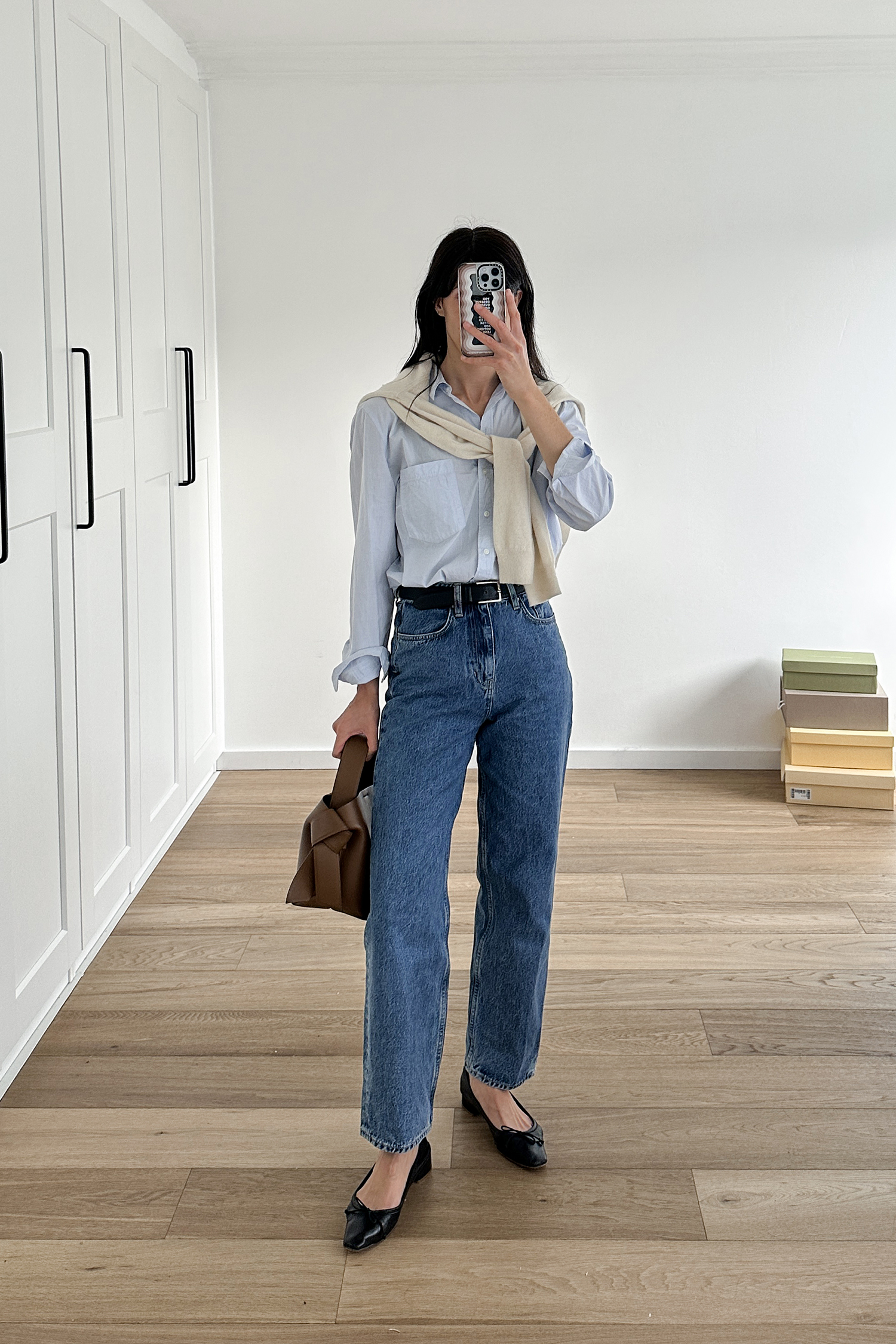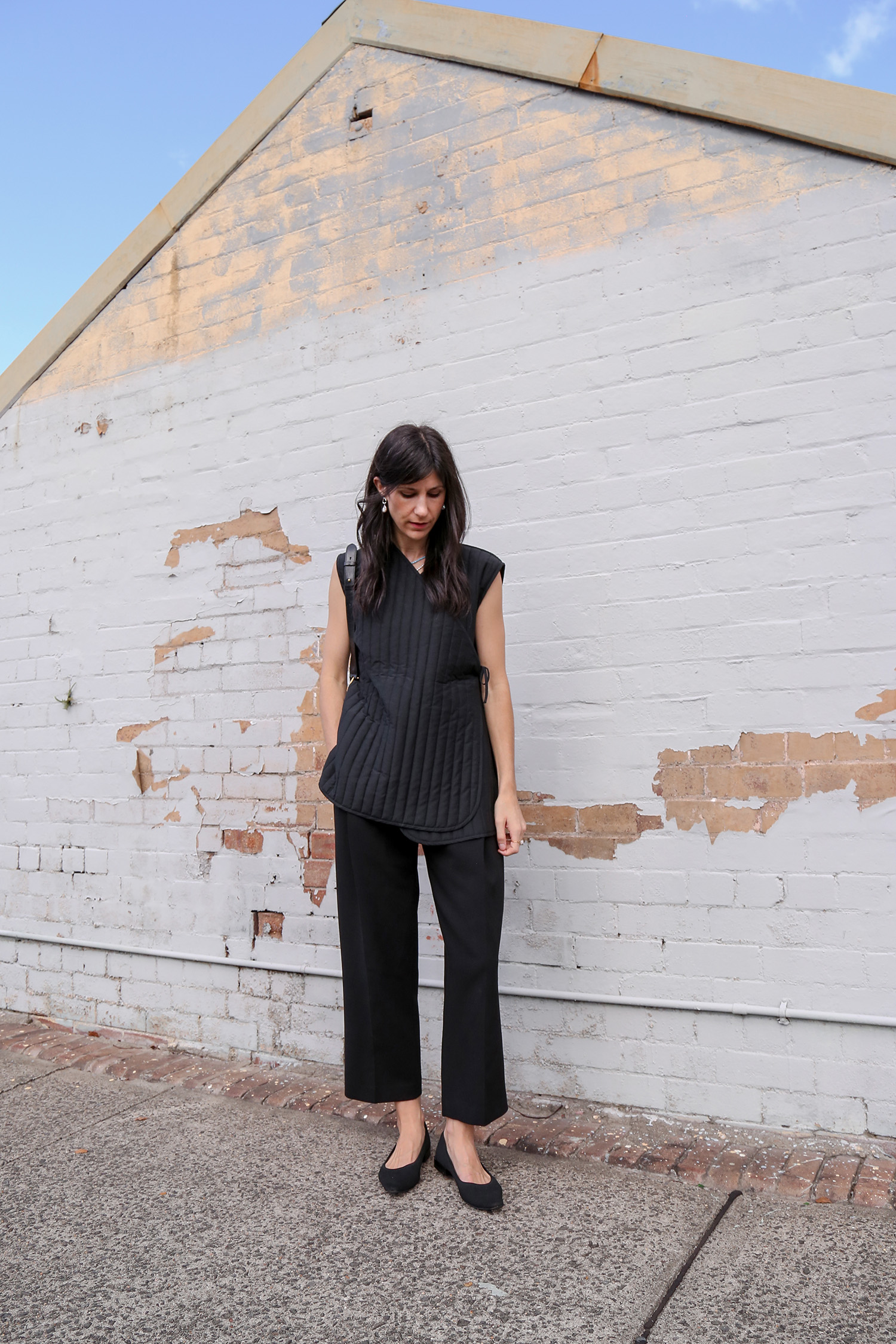 MOST WORN PANTS | Assembly Label dark rinse straight leg jeans (worn 9 times)
From the girl who lived exclusively in skinny jeans, to the girl who now craves a straight leg jean. This is the area in my closet that has done the biggest 180 in recent years. And it's not that I don't love a skinny jean still. I do, but, time and a place. I've begun to realise that something with more ease and slouch through the leg and thigh is more practical, especially with young children. A longer inseam gives that visual illusion of legs that go on for days. 
My most worn pair were a late player to the seasonal wardrobe game, and I can only imagine just how much they would have been worn if they'd been in my closet the full three months. They're these perfect deep blue vintage wash – wide – straight leg jeans from Assembly Label. Phew, that's a mouthful. So good that I have friends upon friends with these jeans. The price point is just right, and the denim is quality. 
Also worth highlighting my most worn trousers; this pair from Facade Pattern which I reached for 8 times (10% off with mademoiselle2023). An impressive number given I have a few on rotation. For me, one of those staples – just like a Breton – that I'm happy to have multiples of. They're a style staple I lean on heavily, and the key is that I have a few different silhouettes to fall back on, each giving me a different look. One of the reasons I wanted to touch on these though, is that they have similar hallmark features to the jeans. Cinched at the waist with a wide, straight cut through the leg. The only major different being that they're cropped. For me, one of those little style details which brings some comfort and familiarity.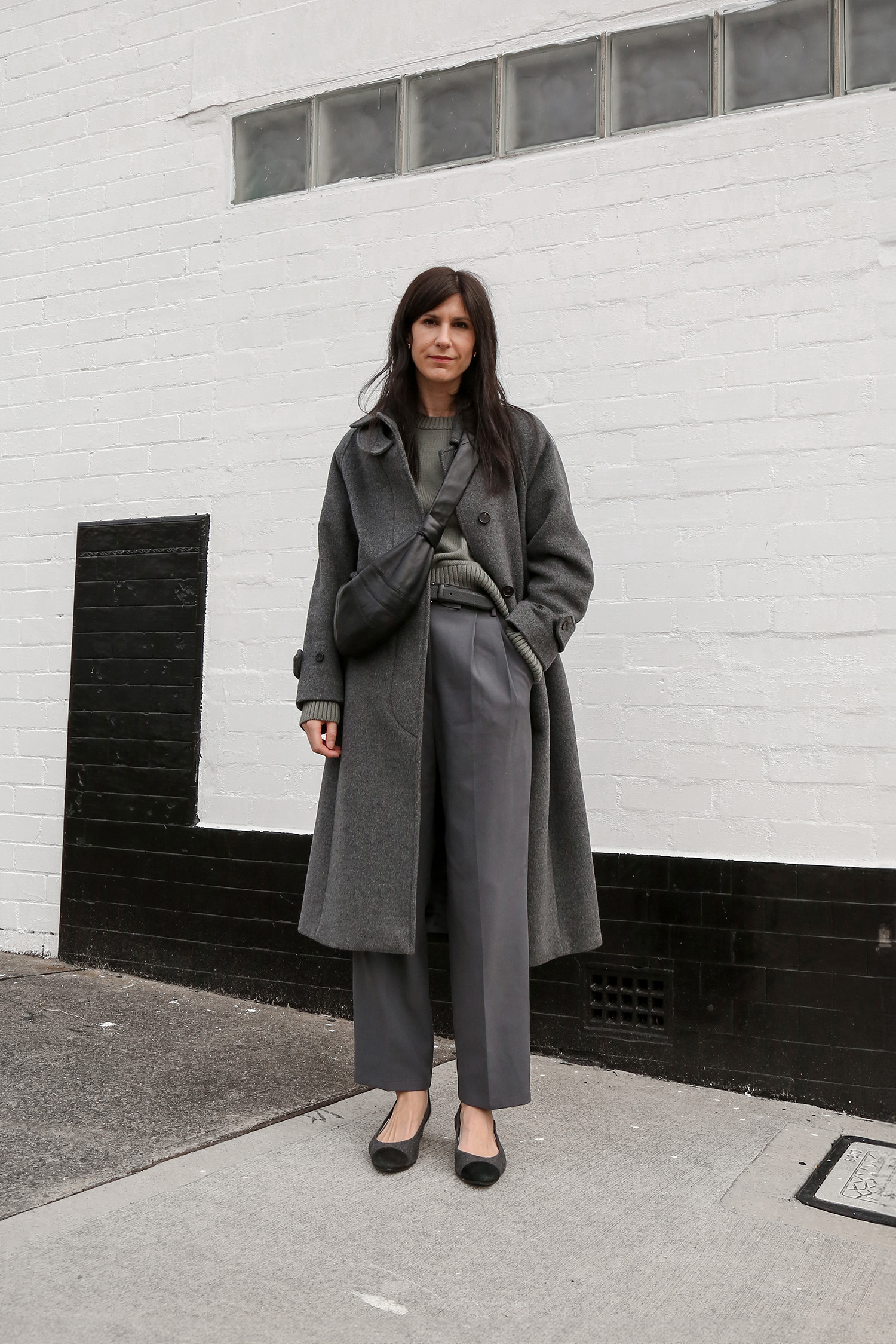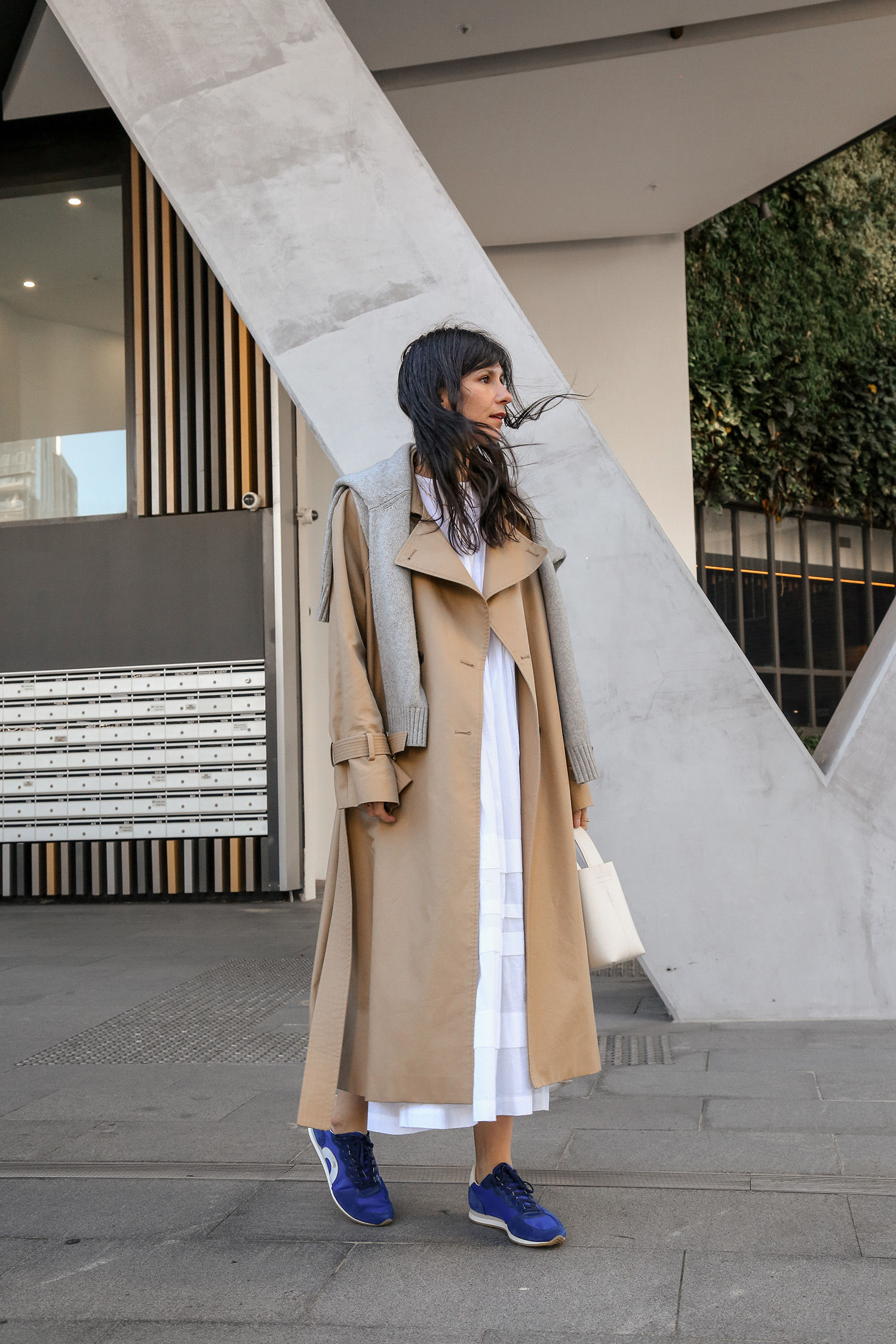 MOST WORN COAT | Facade Pattern Balmacaan coat (worn 7 times)
Winter was incredibly mild this year, so I didn't find myself needing to wear a coat as often as you'd expect. My most worn wool coat, I only reached for 7 times. Which seems like a laughable amount over a 90 day period (especially as like handbags, this is one of those low rotation items). 
My go-to, was a dark grey balmacaan coat from Facade Pattern (short version linked). The quality of this is just beautiful, and I like the added touch of the fleece-lined pockets for the cosy factor. But I suppose what interesting, is that it reflects a taste or preference for longer, full length coats. A change from the shorter, pea coats I favoured when I first began tracking my wardrobe wear count.
The second most worn jacket was my Kindersalmon trench, which I found was a great option to throw on to dress up sporty outfits, or just add that extra "light" layer when it was too cold for a knit + trousers. Again this has that longer length, but also some other elements I've seen pop up in my more frequently worn pieces. Namely sculptural definition with the exaggerated sleeves, and a slightly looser fit.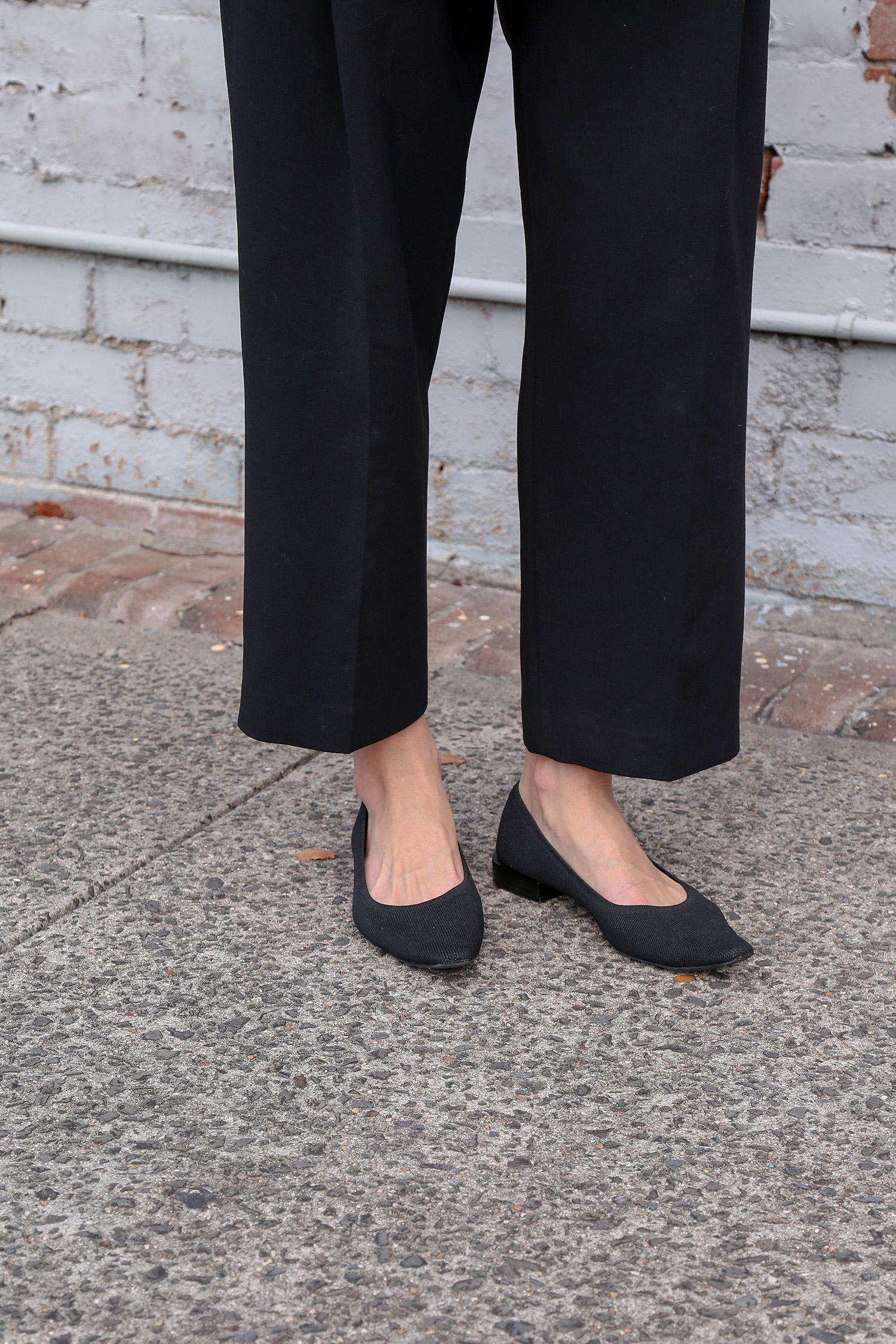 MOST WORN SHOES | VIVAIA black Minnie flats (worn 12 times)
I have this habit of switching out my shoes during the day; often multiple times. And I have this inkling that I didn't quite capture all the different variations, as I swear I wore a pair of VIVAIA shoes most days. The comfort levels on their Aria, Tamia and Minnie flats makes them an easy choice. The Minnie Flats (12% off with MJ12) ended up being the ones I reached for most, which I suspect is down to the fact that I will often match my pants/skirt and my shoes to extend the visual line for my lower half. One of my many tricks for elongating my shorter legs. Also, they're machine washable, and accomodate my wide feet. These are all good things, and make them practical for my lifestyle. As much as I love the way a low heel looks, it's not generally my first pick when it comes to getting dressed.
Runner up are my Everlane day gloves. Again a shoe you may not have seen me share loads, but every time I do I sing their praises. And of course, I can't seem to find a single picture (of the 15,000 on my phone) of me wearing them. The extended vamp detail may not be for everyone, but I like the way it adds some modernity to a classic style. These don't offer a lot of insole support, but do have a bouncy rubber sole which makes them great for walking around all day in. Sizing on these shoes is funny. I am an EU40 and usually order a US9.5 in Everlane shoes but found these run small if you have a wide foot. I got the US10 and they fit perfect. Not a single blister.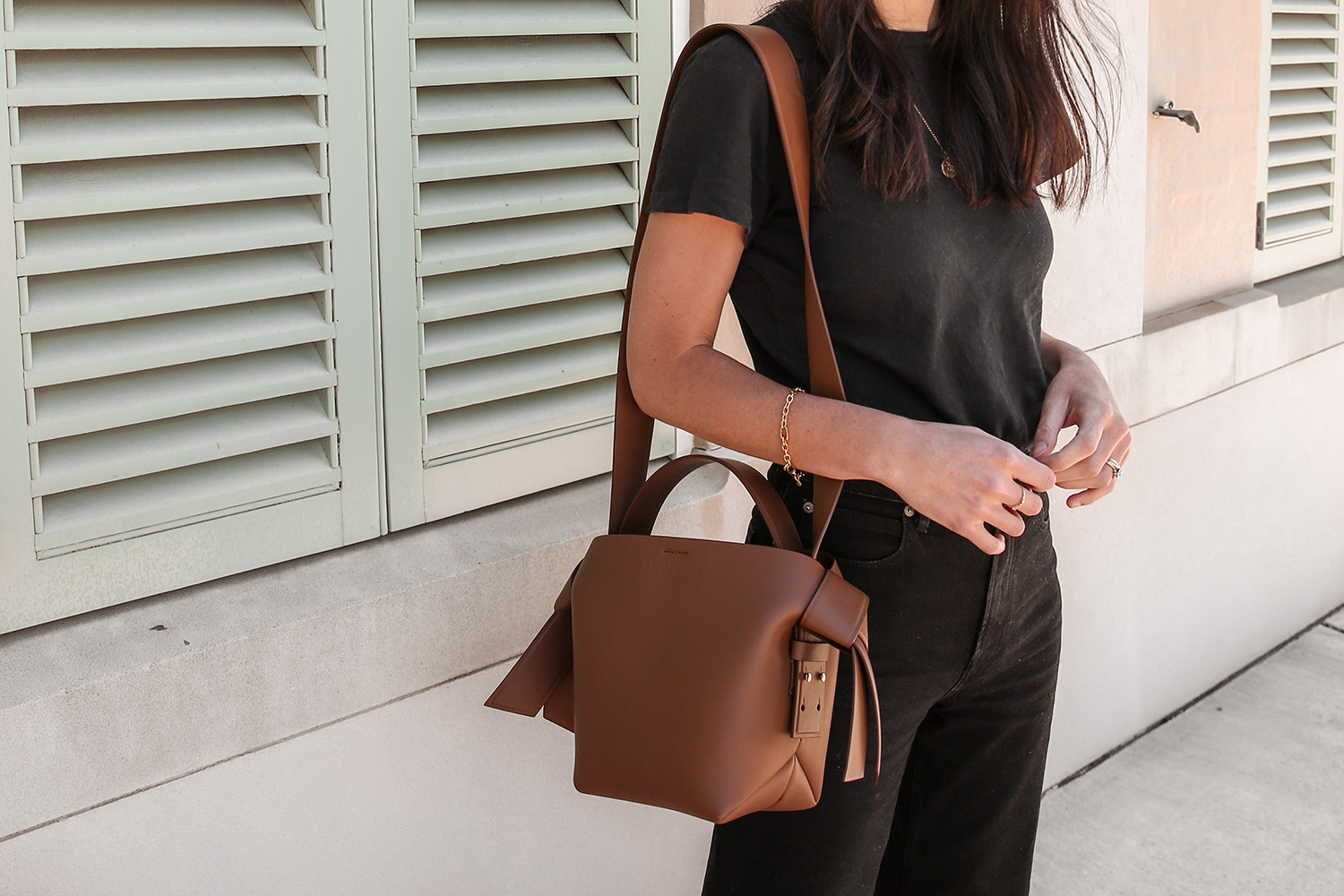 MOST WORN BAG | Acne Studios mini musubi bag (worn 34 times)
Still one of my favourite bag purchases to date, and favourite bags in my wardrobe. Full stop. While I do have some gripes about the quality of the glazing (read more here), it's the perfect size for everyday. While adding in an element of visual intrigue. 
At some point I will review this next to the Arket dupe, which I have and also love, but I think the key element that makes this one the winner for me, is the wide shoulder strap. It helps to distribute weight evenly across the shoulder and reduces discomfort. Great also if you're carrying around 947414 snacks for your kids.
Nothing really jumps out at me as being unexpected staples for winter. My outfits have had a bit of a singular POV, and that's been reflected in the types of items I've worn. As in, that my second, and third most worn items tend to have a lot of similar attributes. What I was surprised to see though, was that I rarely reached for a dress or skirt. At least, not enough for it to have any real impact on my overall wear count for the season (and why my "most worn" in both those categories isn't reflected here). 
But mostly, a reflection of the usual suspects. That slant towards more casual, relaxed style. Something I've embraced more as a result of working from home and having children – the latter being the more impactful on my personal style of the two. And also, it's a reminder that our most worn items tend to be things in our closet that we are least excited by. Because they're foundational styles. Building blocks that form the base of our outfit, and aren't necessarily the focal point (those tend to be lesser worn items which excite and inspire). So one thing I'm not expecting to see crop up in my most worn any time soon is an explosion of colour; primarily because my foundational styles are all in neutrals.
So, that's we're we are at for winter. Thank you so much for reading – and I hope this gave you some food for thought as you wrap up another season with your own closet.
--------------------------------------------------------------------------
CROWNWAY-Professional Virgin Hair Online Shop
Lace Frontal Human Hair Wigs | Vrigin Hair Bundles | Closure & Frontal
https://crownwayhair.com