Transitional Season Staples with YOOX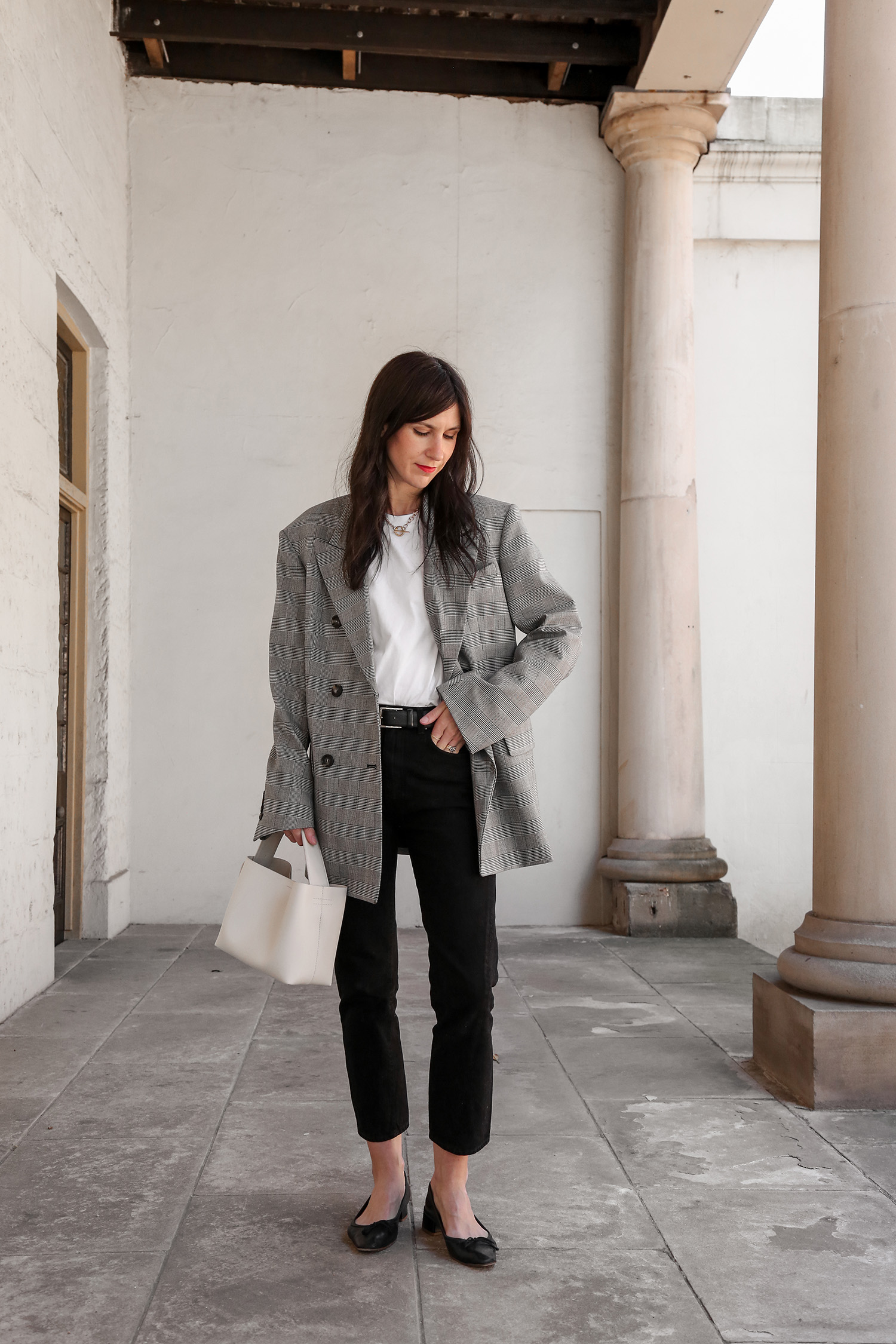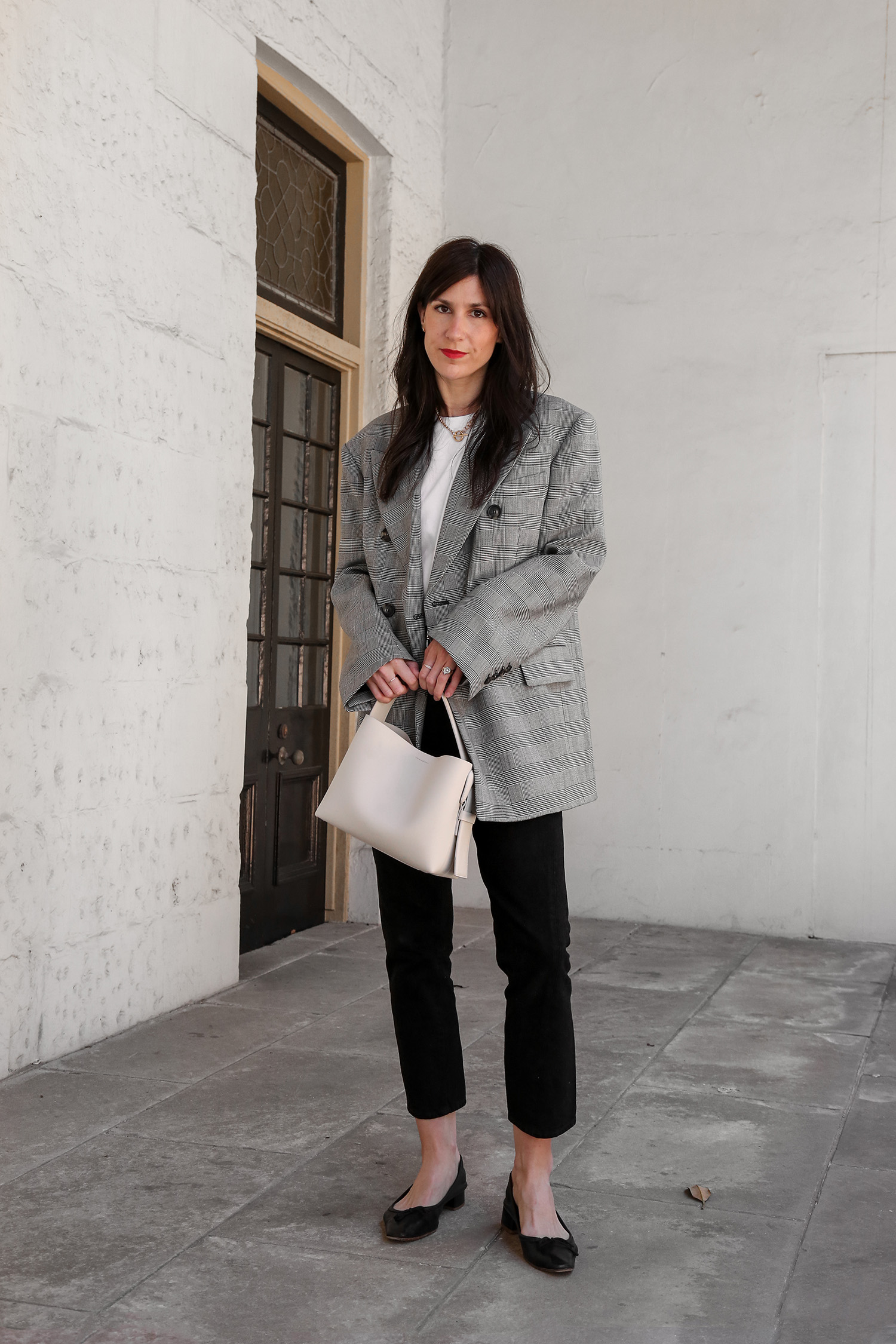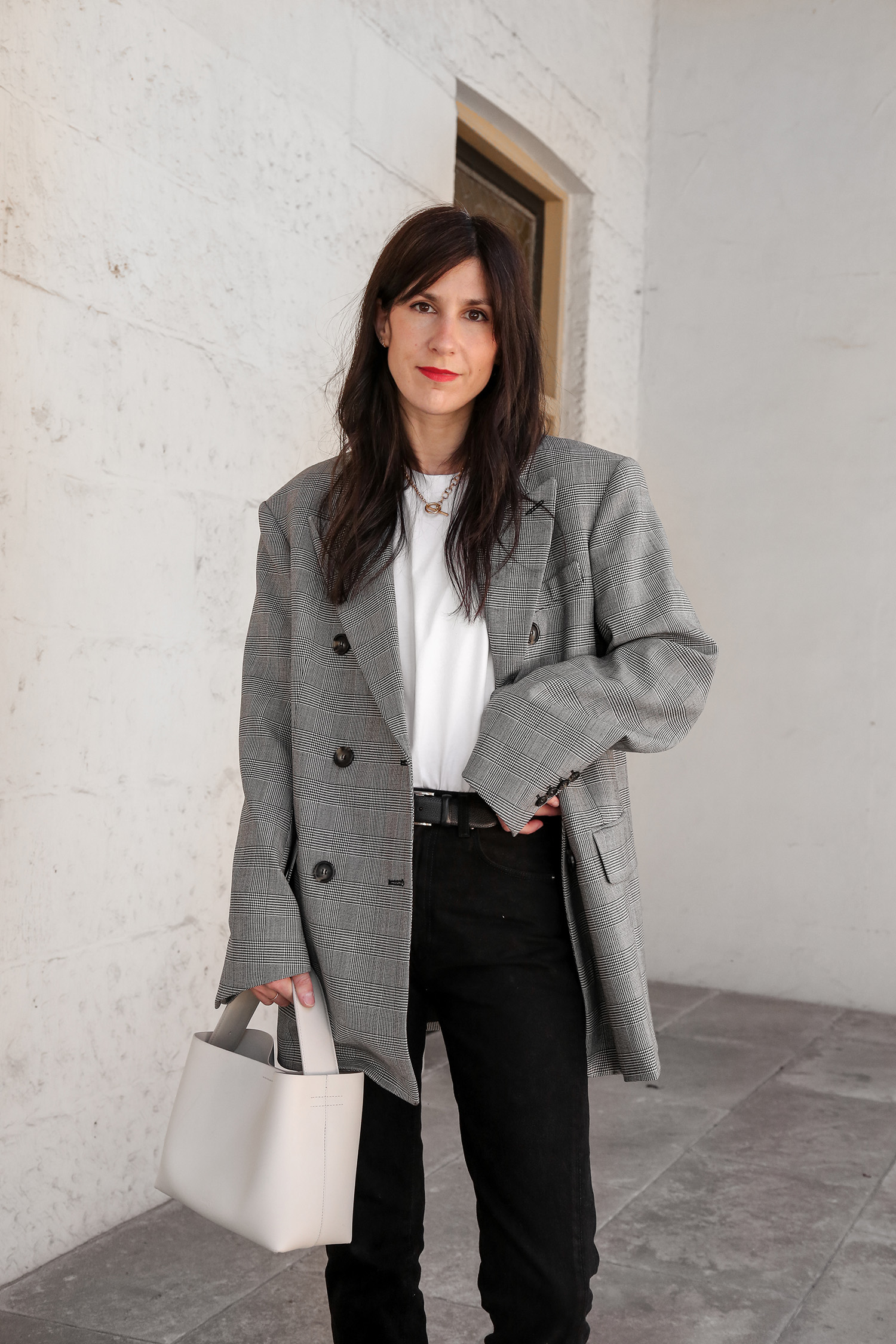 Autumn and Spring always represent to me one thing; opportunity. To really maximise the versatility of your wardrobe heroes while playing around with layering. It can be that awkward, in-between period, so today, in partnership with YOOX we're running through some key transitional season staples that'll make the journey to building a great outfit (no matter the weather) a cinch.
For those not yet familiar with YOOX, it's a dream destination when it comes to shopping for high quality, luxurious wardrobe staples (and statement pieces). Their designer directory is incredibly extensive, and it's my go-to when seeking out off-season or hard-to-find pieces (I'm almost always browsing their Tibi selection and for my US friends, it's your ticket to accessing UK-based brand Arket!). 
And the sales at YOOX are unrivalled. From September 8-11 you can get up to 90% off weekend shopping. Perfect time to browse if you're looking to scout out the finishing touch for your transitional season wardrobe. So let's chat through the five essentials that you should have in your closet for the season ahead.
Wearing Sportmax check blazer via YOOX; Toteme jeans; About Arianne shoes; Arket bag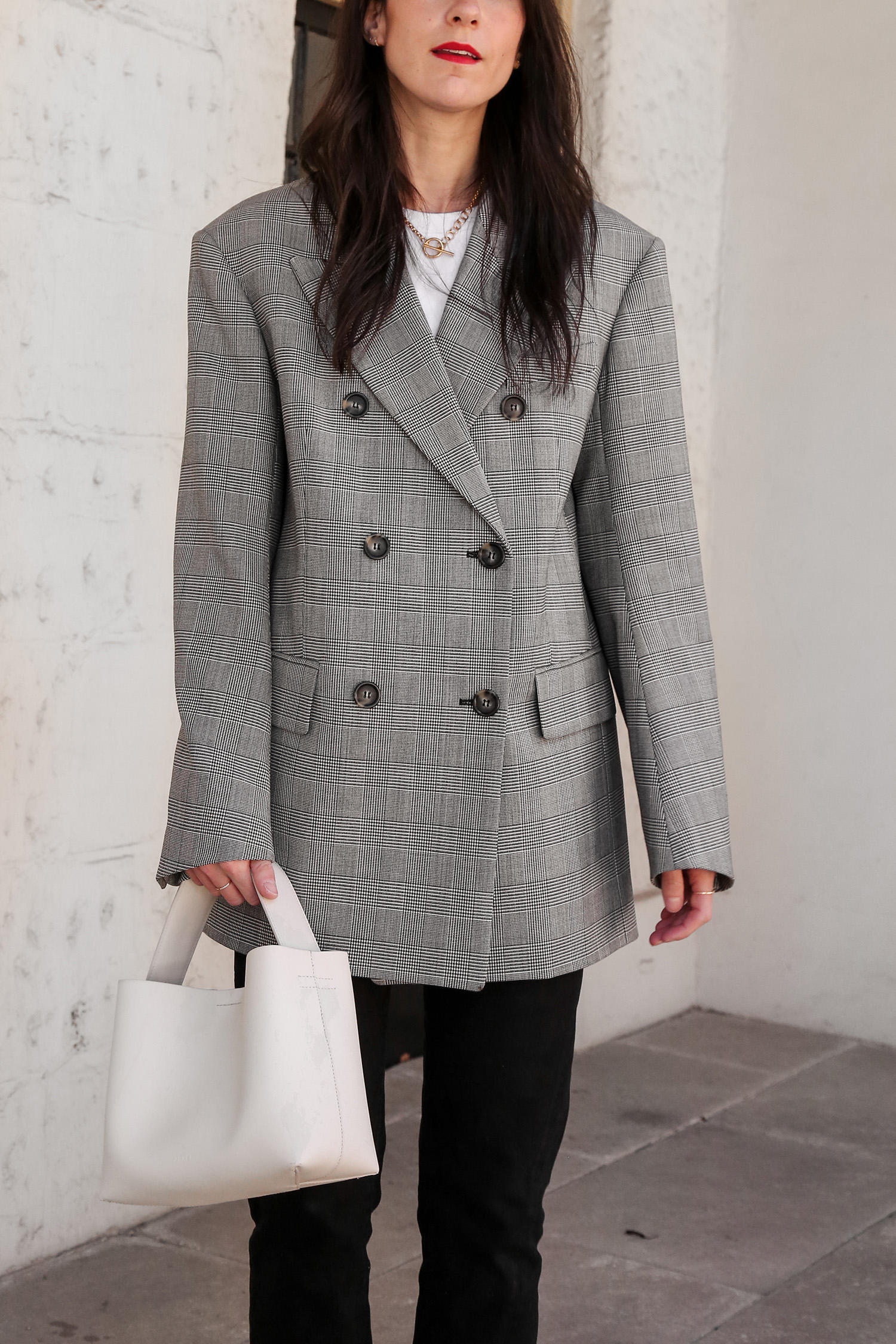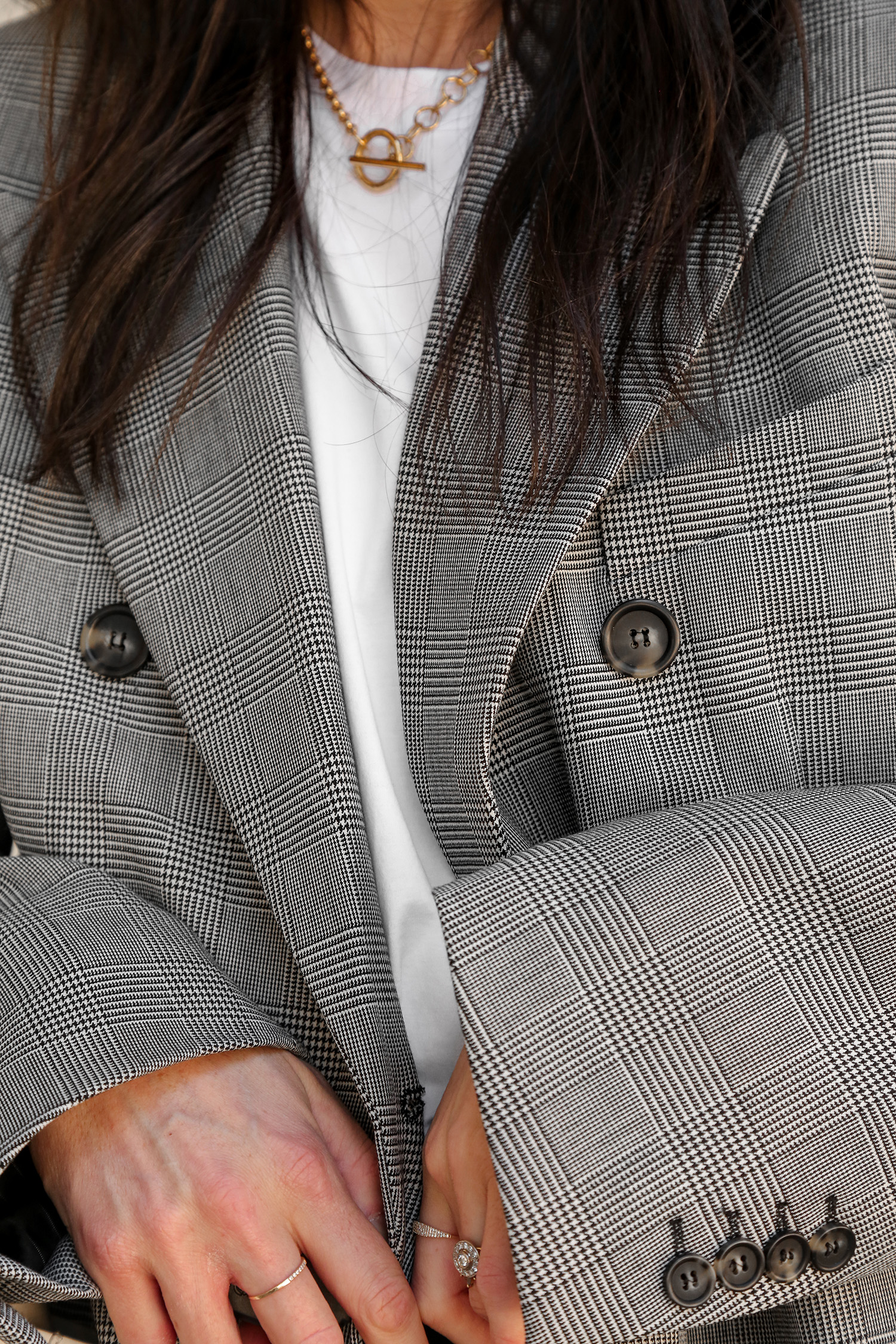 #1 | THE LIGHTWEIGHT JACKET
Depending on where you live, this could look wildly different. It could be an army jacket, a long trench, a light wool coat, a shacket, or like I've worn here, a tailored blazer. This Sportmax check blazer from YOOX was an easy way to update my wardrobe that felt timeless, but also part of the current fashion zeitgeist. Timeless in the check print, and on-trend with the relaxed, oversized fit. For me this is that third piece which finishes off an outfit, and the key is to opt for something that acts as a neutral to maximise versatility. Despite being a printed piece, the colour palette has those calming neutral tones which make it an easy option to wear with a slip dress, a little mini skirt, or a fluid drape trouser.
#2 | TIMELESS DENIM
That you can dress up or dress down. Black or a deeply saturated blue are your best bet if you want something that feels more refined. This cropped style I have here is from Toteme (one of my favourite brands you can find at YOOX!), and to me, this is as versatile an option to have in your closet as a pair of black trousers. Think of it like a safety net. The transitional season can be hot one day, and cool the next. So imagine these worn just with a classic tee and sandals to suit warmer weather, or an oversized knit and a ballet flat when you need to amp up the cosy factor. You can shop the extensive range of denim at YOOX here.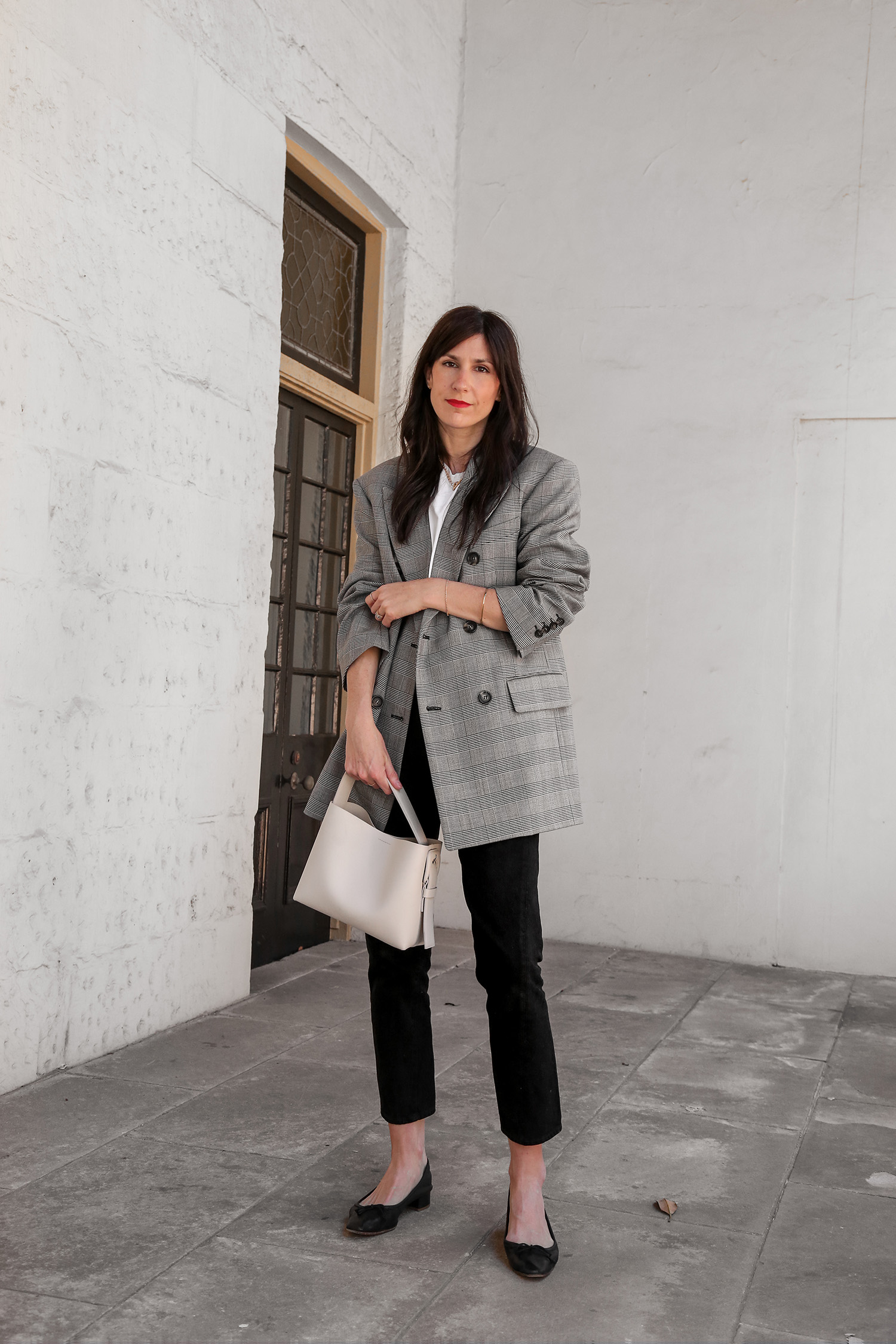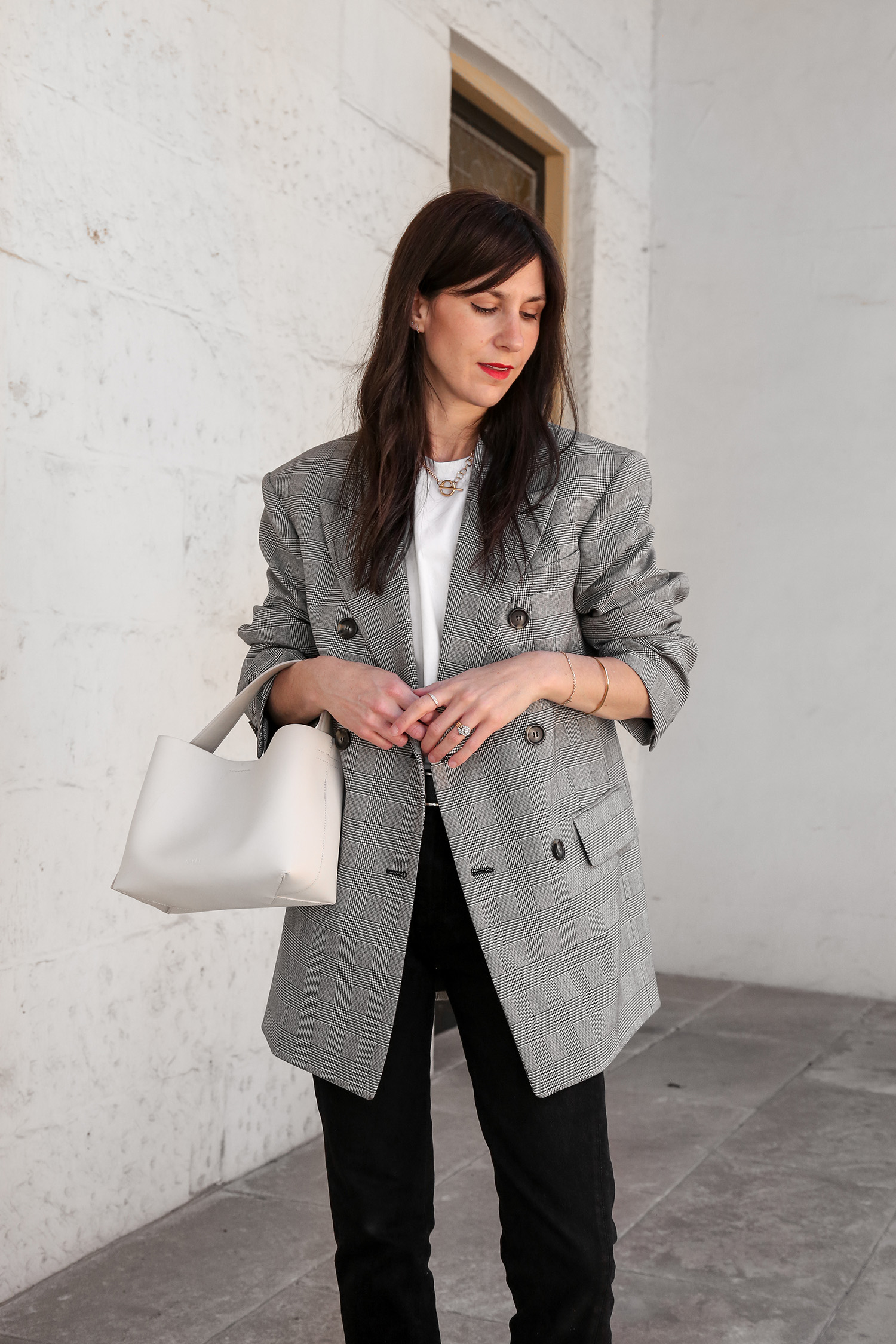 #3 | VERSATILE SHOES
We all know that shoes can be the kingmaker of an outfit. And this is never more true than during the transitional season. My personal go-to is a low heeled ballet flat in black, as it can easily be layered with tights for a cold day. Not to mention that they're chic, and can add a layer of refinement and elegance to your outfit. These ones I'm wearing are About Arianne, and I recently purchased them in taupe – on sale – from YOOX. You can shop more ballet flats here. My other pick would be a great pair of ankle boots or timeless loafers, two styles that won't go amiss during that awkward transitional season.
#4 | THE LAYERING PIECE
AKA a "Goldilocks" knit sweater; something that's not too thick, but not too thin. It has to be juuuust right. You're kind of spoilt for choice at YOOX (and even better with up to 90% off), with some of my favourites including this classic crew from Agnona; this longline cardigan from Jil Sander; a cotton Breton striped knit from Valentino Garavani; and this vibrant cropped cardigan from Maison Margiela.
#5 | STATEMENT ACCESSORIES
Adding in that final, personal touch, through accessories. This could be as simple as a statement bag, or maybe a colourful scarf, or a special jewellery piece.  My bag is one you'll find on sale at YOOX (and I promise, it's as good as it looks!) – in the white, it adds a fresh pop to a minimal, pared back outfit. If accessorising with loud jewellery is more your speed, I don't think you can go wrong with a statement earring, like these beauties from Bottega.
And if you really want to ensure versatility, opting for a neutral colour palette is the key when shopping for transitional season staples. You can find all your new season essentials (and then some) at YOOX – up to 90% off!
Thanks to PartnerBoost and YOOX for partnering with me on this post.
--------------------------------------------------------------------------
CROWNWAY-Professional Virgin Hair Online Shop
Lace Frontal Human Hair Wigs | Vrigin Hair Bundles | Closure & Frontal
https://crownwayhair.com