This *one thing* is non-negotiable when I'm buying new shoes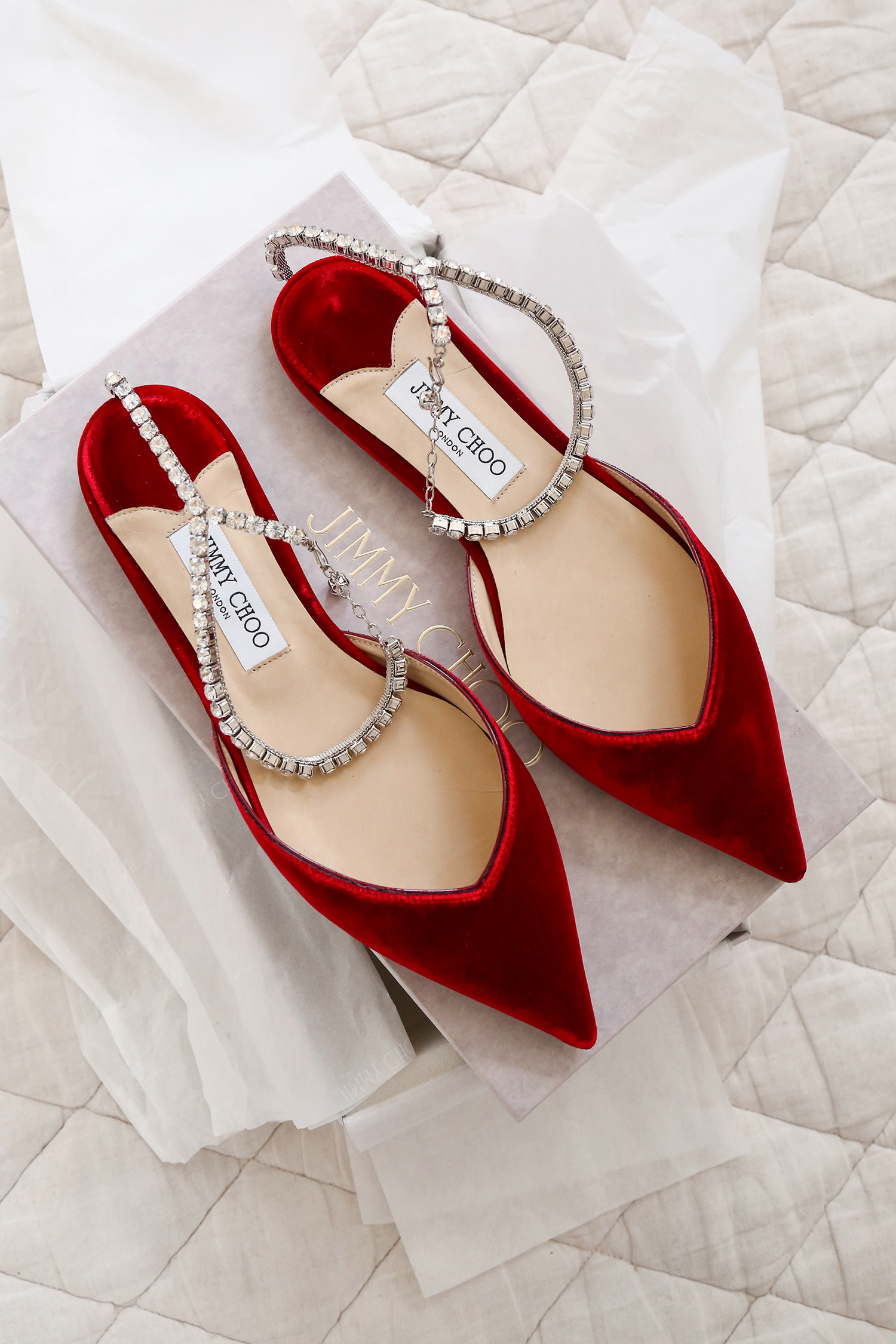 I have one simple style rule when it comes to buying shoes. They're my kryptonite, so perhaps it's little surprise that I've amassed quite the collection. And this one thing is absolutely non-negotiable when I'm buying new shoes. They must be comfortable. 
Of course, it's a spectrum. Some shoes will need to be broken in a little, especially if you have wide feet. Almost like a rite of passage. But if the leather is too thick and stiff, it's generally a pass from me. If there's a strap that is digging in from the get go, that doesn't look like it'll let up? Into the return pile. 
Gone are the days where I would suffer blisters for a pair of shoes. Which, side note, is a whole category unto itself of what millennials would once do for the sake of fashion. Regardless of the heel height, they have to be comfortable enough that I can walk a reasonable amount in them (to/from dinner and then some). They need to be unfussy; no straps that need adjusting here, thanks.
And this relates to sizing too. One of my biggest tips is to always, always make sure the shoes you're buying are the right size. As it leads into my point about comfort. If they're too small, they're going to pinch and be a literal pain to break in. And if they're too big, your feet will slip in and out, making walking in them tricky.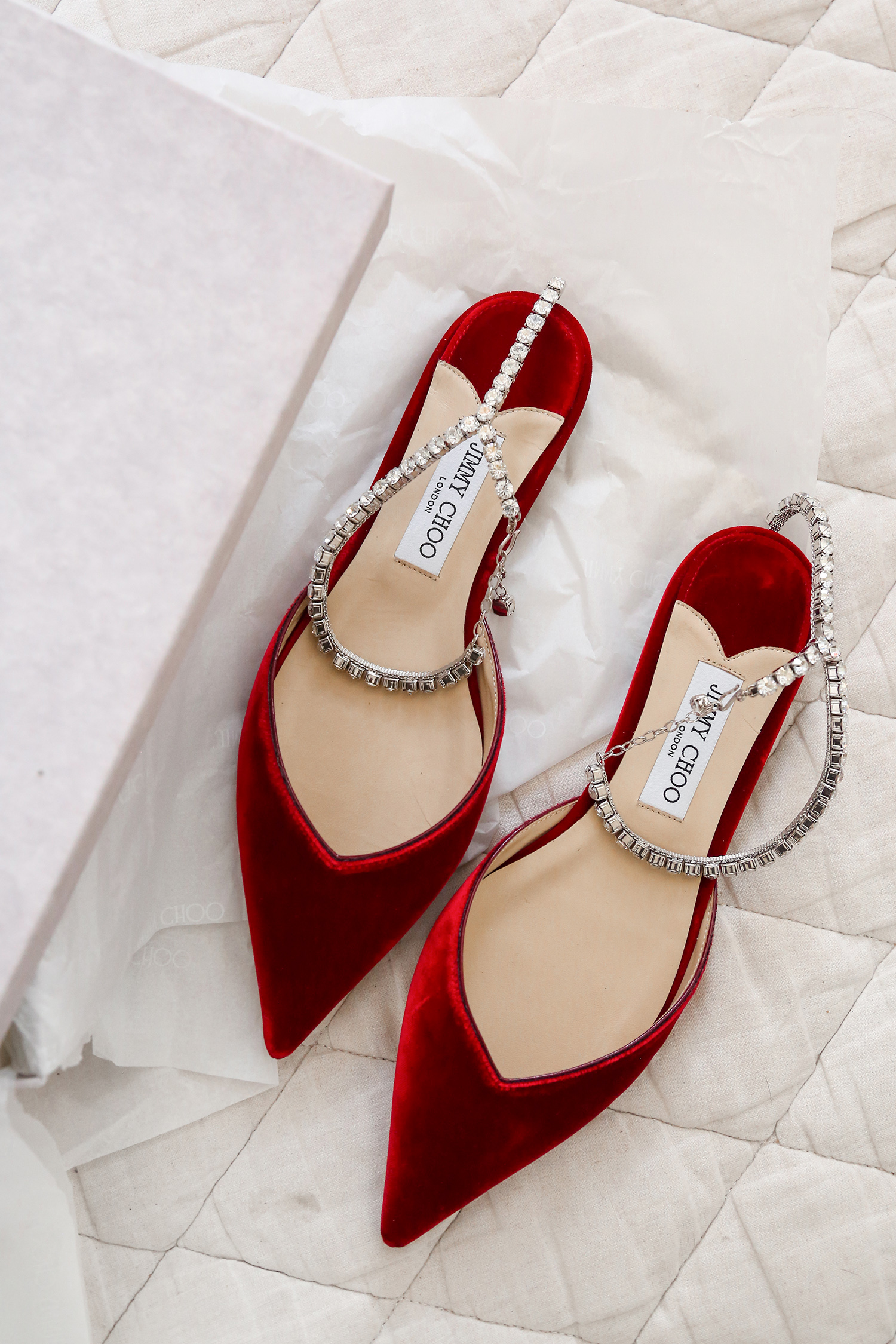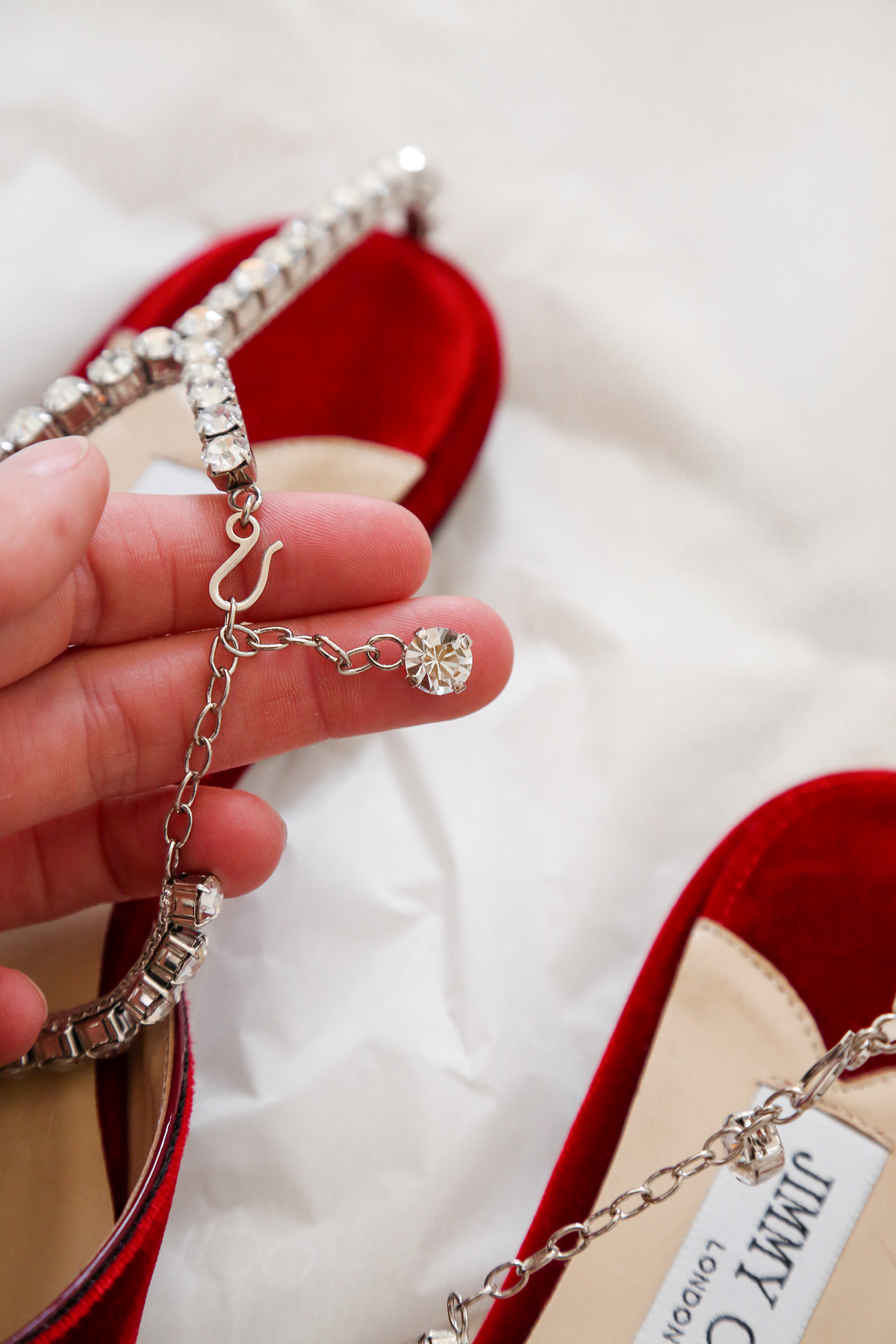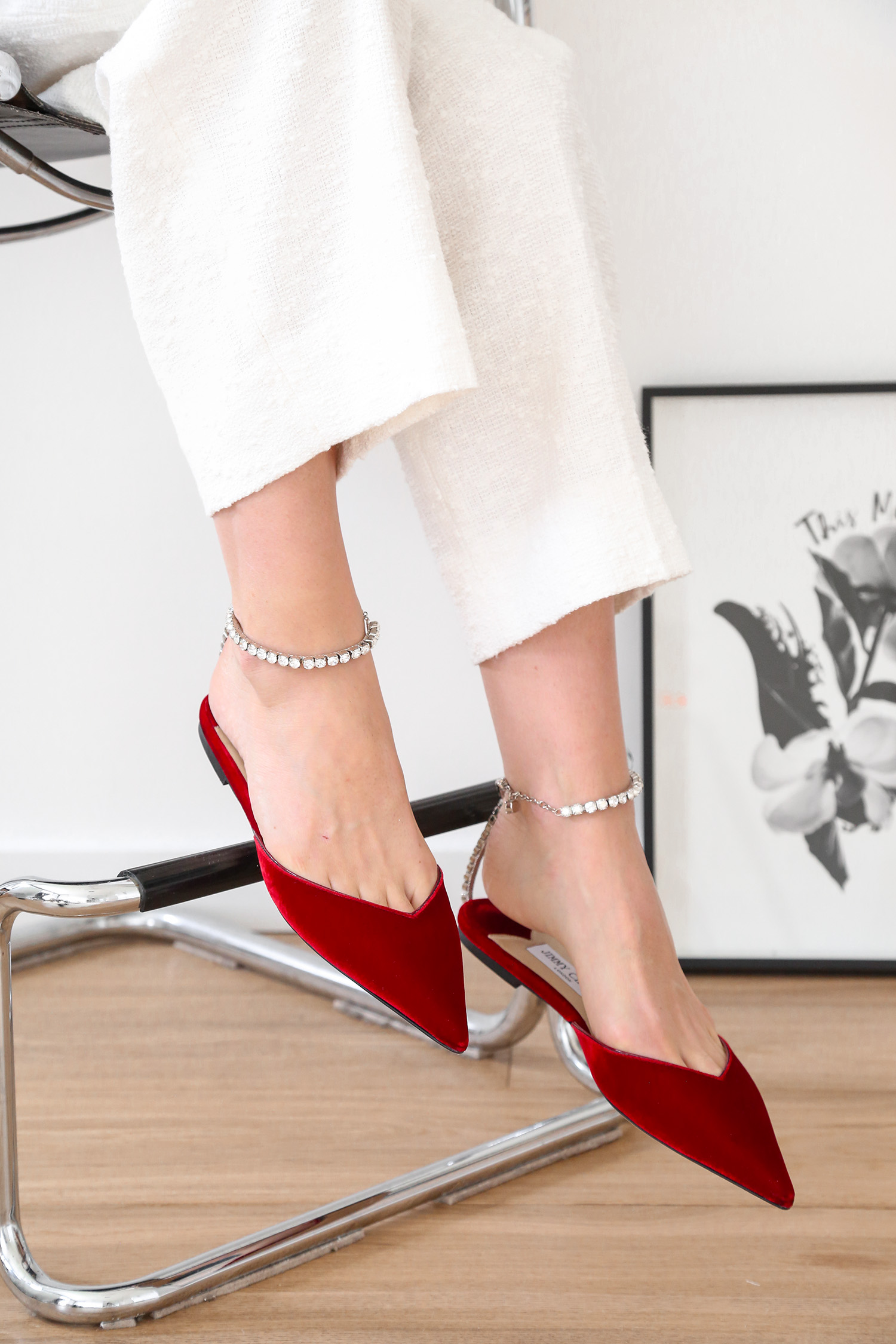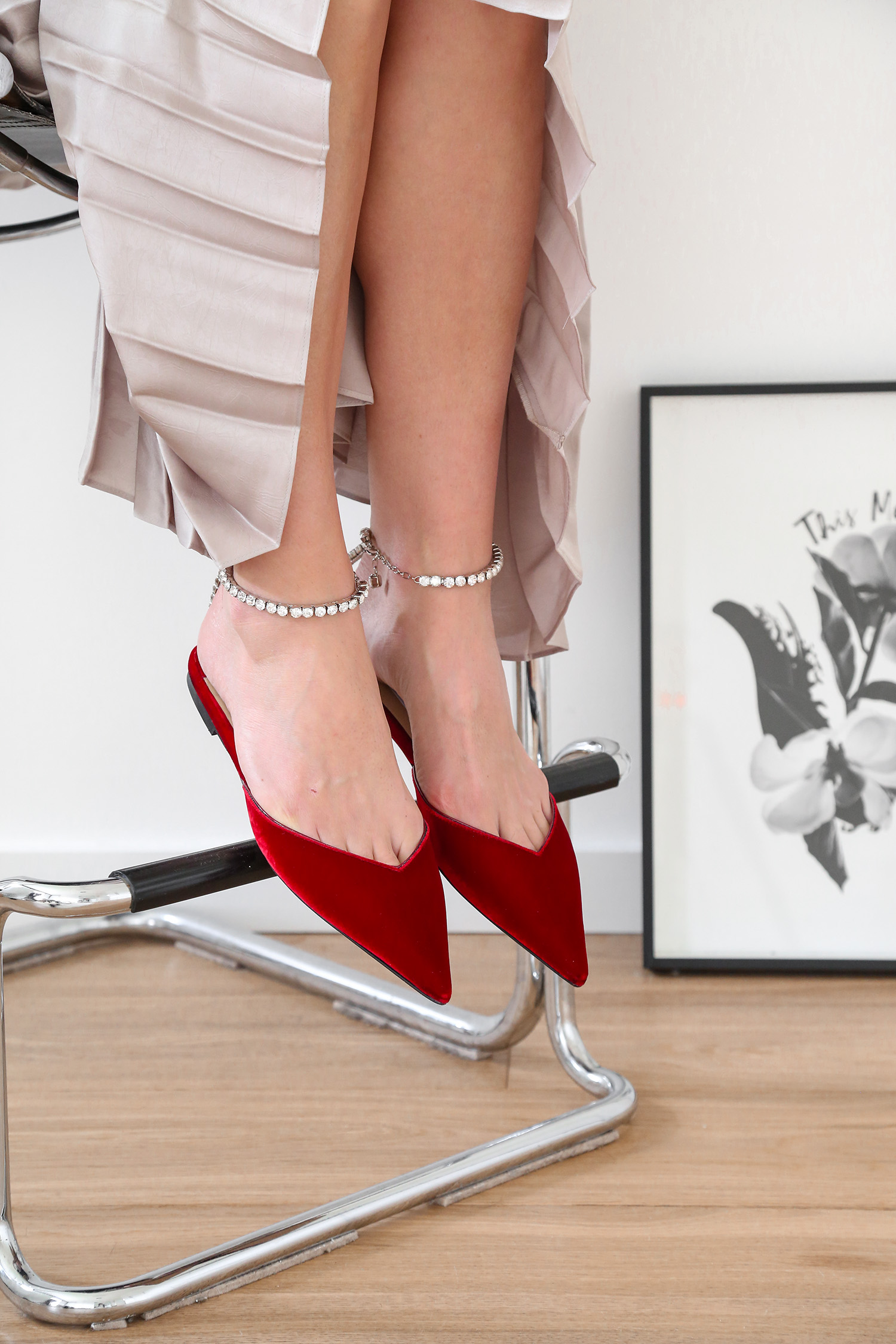 It was these two new shoe purchases which really inspired this post. One pair, hit the ball out of the park. The other, was beauty over comfort, and as much as I didn't want to return them, I knew they'd otherwise languish in the back of my closet.
So let's chat through the shoes. The first, being the beautiful Jimmy Choo Saeda Flats. I'd been encouraged to buy these after being told that they were comfortable to wear. I'd tried dupes which suggested the opposite, but I know that affordable alternatives aren't always created equal. The incredible sale price (plus additional 20% off) seemed like a no brainer. Essentially the perfect storm that meant I had to order them.
As beautiful as they are, I could tell straight off the bat that these don't fulfil that comfort criteria. The width across the foot is great. Especially as someone with wide feet, didn't strike me as a major issue/area for concern. Perhaps might get the odd blister, but the leather lining would soften and give with time. The sore point for me was the crystal chain strap. And there were two things. The first being that I can see this rubbing with extensive wear – as in, these are car to dinner shoes. Not every day walking shoes. Which was exactly the reason I'd bought them. To add in an unexpected sense of glamour to casual outfits. But also, I worried that if I fastened this too tightly that the chain might snap. This would be down to me, but it was another consideration. Those two things made it a (difficult) no. I've had this shoe on my wishlist for years now, but whether it'll work for my day to day is the most important factor.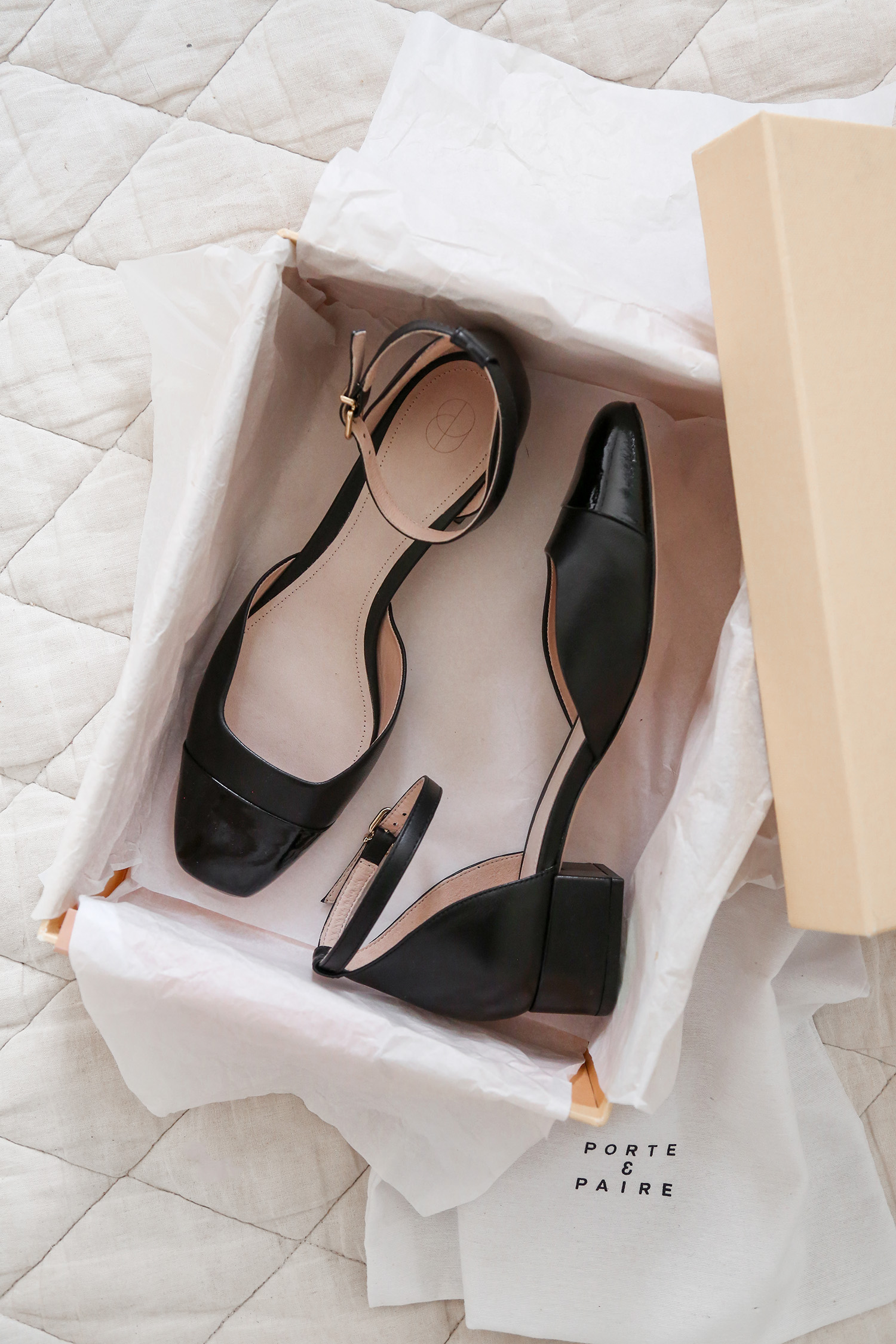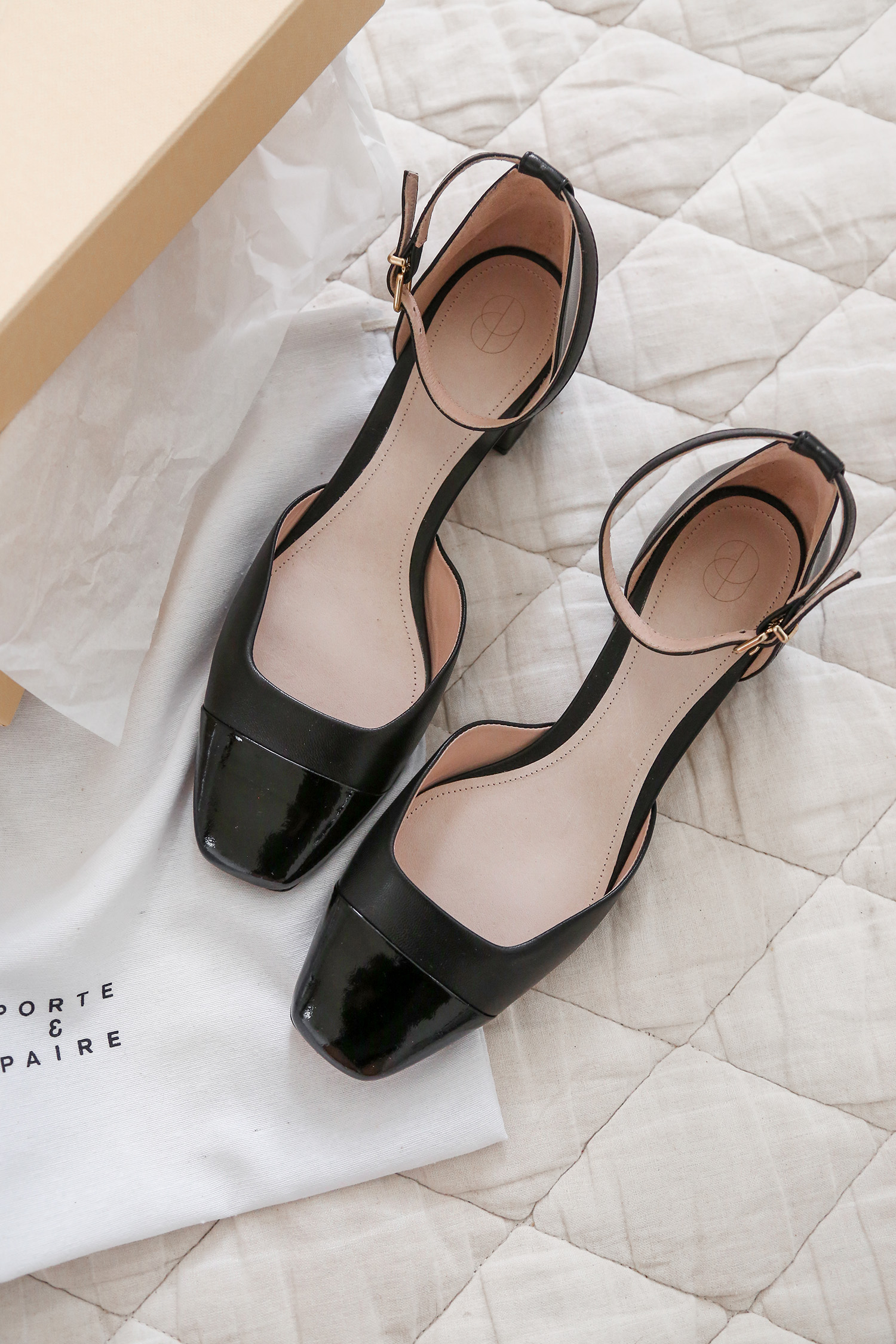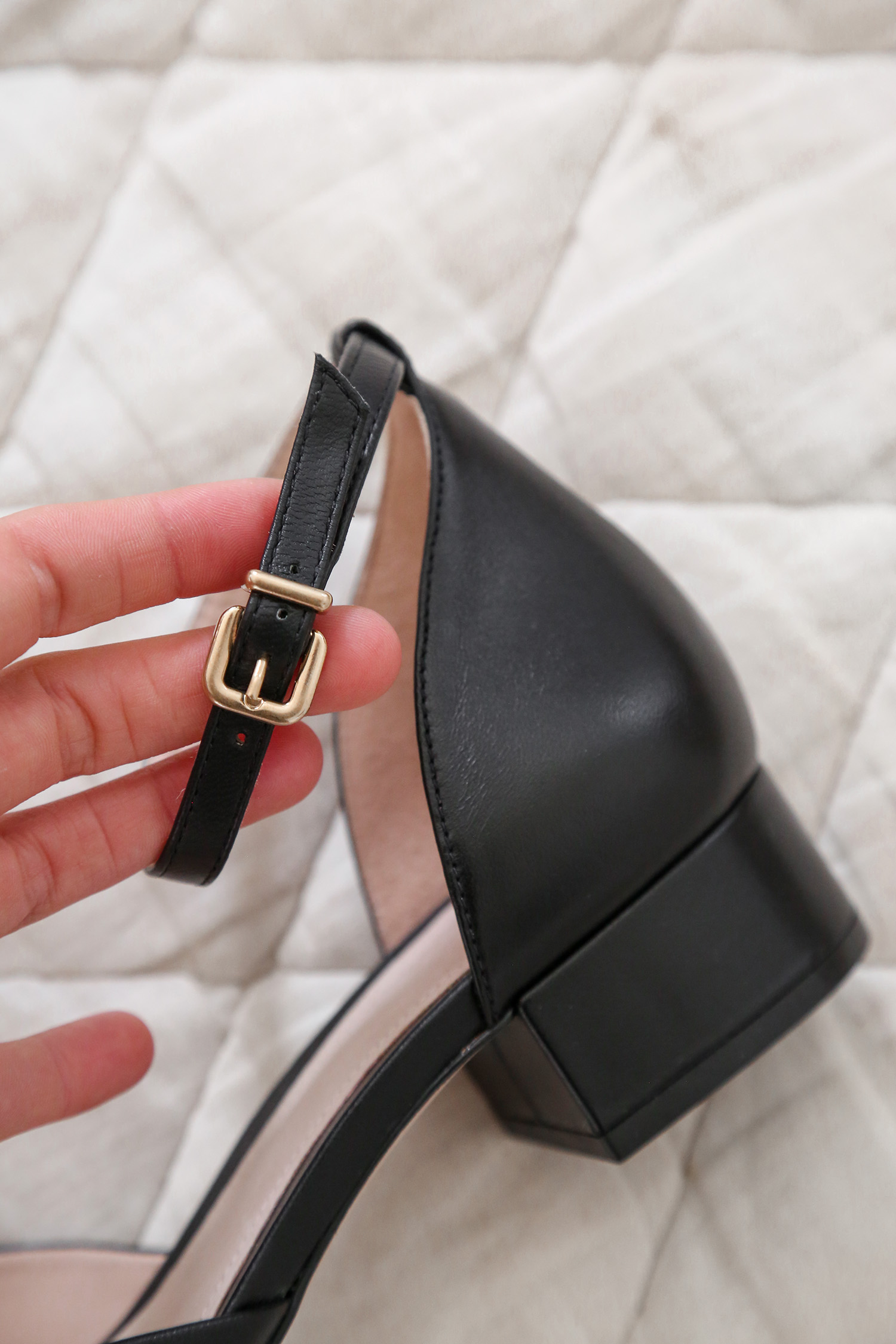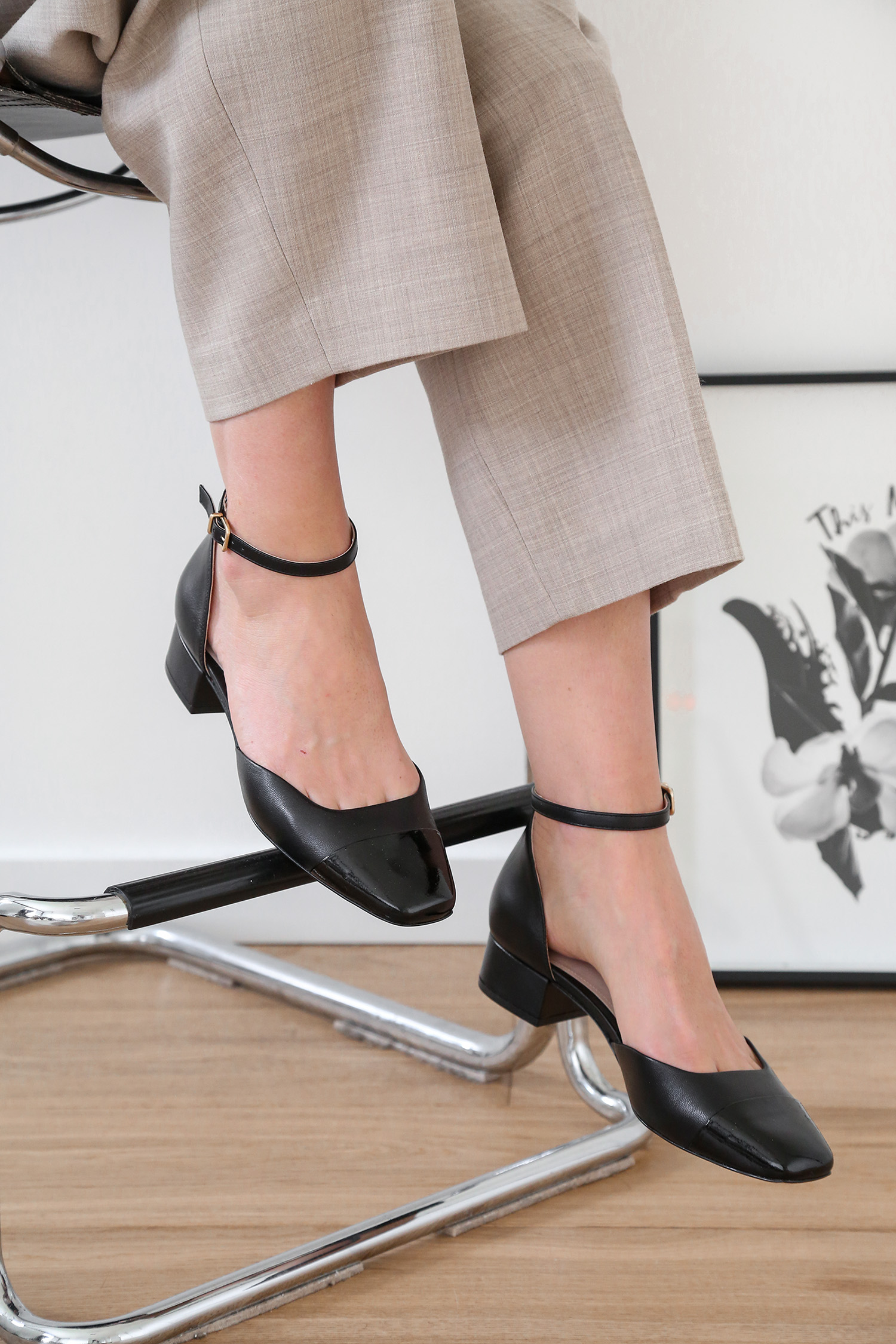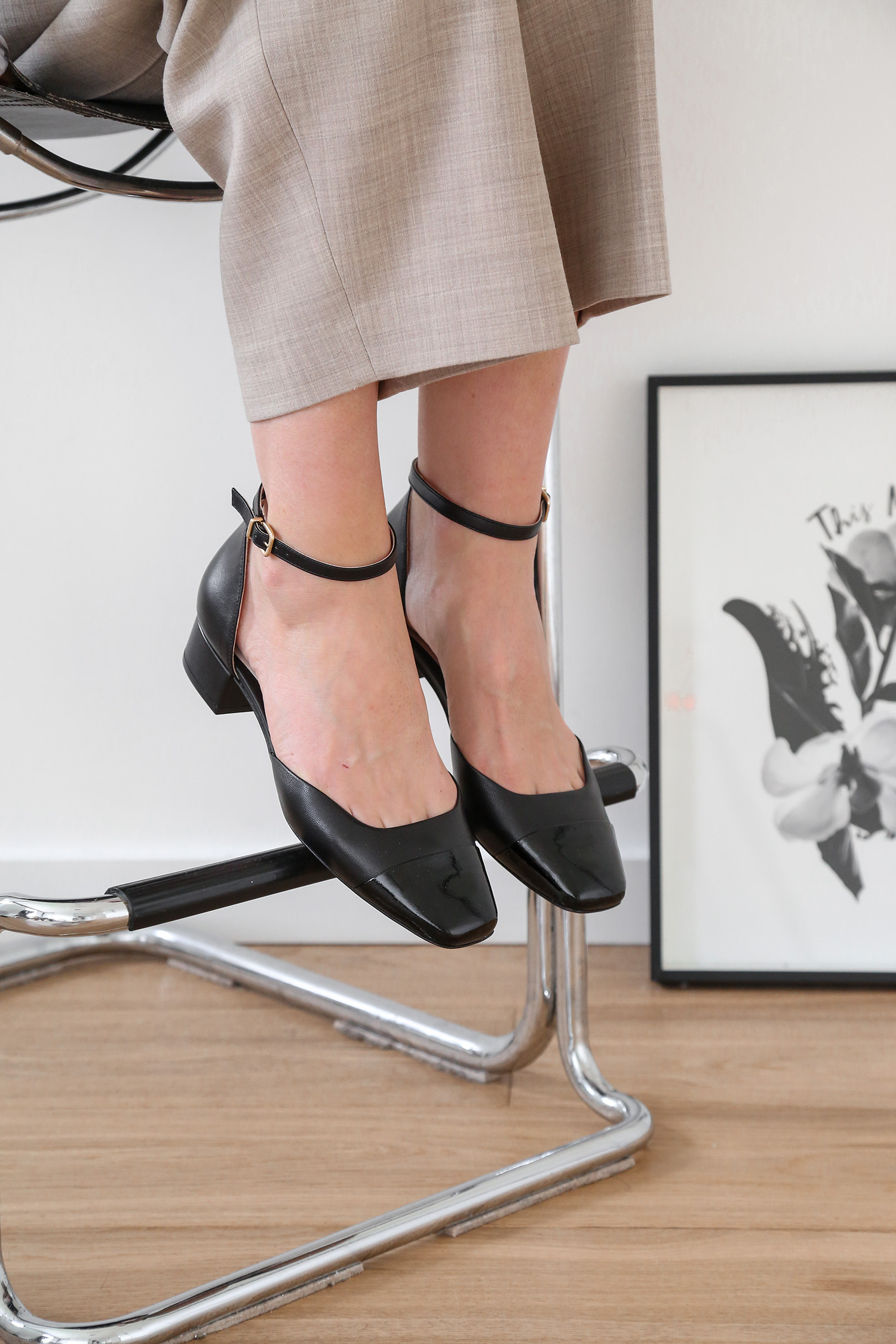 The second style are these patent cap toe Mary Janes from Porte & Paire. I have to say, after trying out a few shoes from this brand, that they really know what they're doing. I have a feeling this falls under the Net-a-Porter umbrella of brands (kind of like Iris & Ink) as it's an exclusive and I can't find much information about the brand out there. That aside, the quality of materials, construction of the shoe, and the value for money is pretty incredible.
These struck me as a great affordable alternative to the Chanel Mary Janes that I've seen floating about. What made them a keeper? The leather is soft and malleable but firm. Unlike most shoes, the leather fits neatly across the width of my feet without any stretching – meaning that they're suited to those with wide feet (or bunions, like me!). The heel is low and walkable. I wouldn't think twice about wearing these for an all day walking session. And the ankle strap? Well, not quite as flattering as the Jimmy Choo Saeda's, but soft, adjustable, and most importantly it doesn't dig in. An all round winner.
So that's my simple rule. My non-negotiable when I'm buying new shoes. Because sticking to this has never, ever, failed me. Even if the shoe hasn't gone on to be one of my most worn, I've never regretted adding them to my wardrobe because when I do reach for them, they add equal parts style + comfort.
--------------------------------------------------------------------------
CROWNWAY-Professional Virgin Hair Online Shop
Lace Frontal Human Hair Wigs | Vrigin Hair Bundles | Closure & Frontal
https://crownwayhair.com