OLEADA Mini Coast Tote Review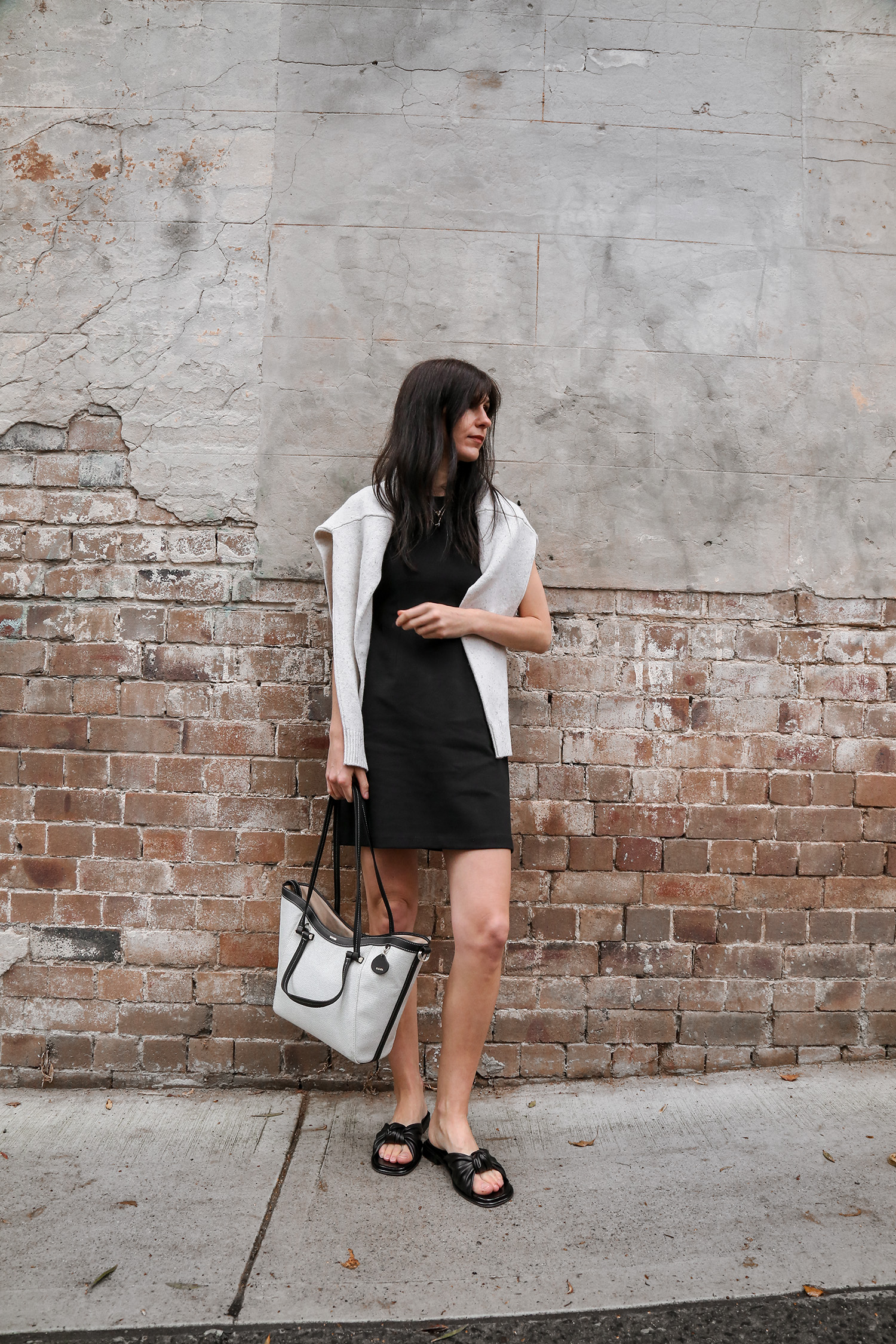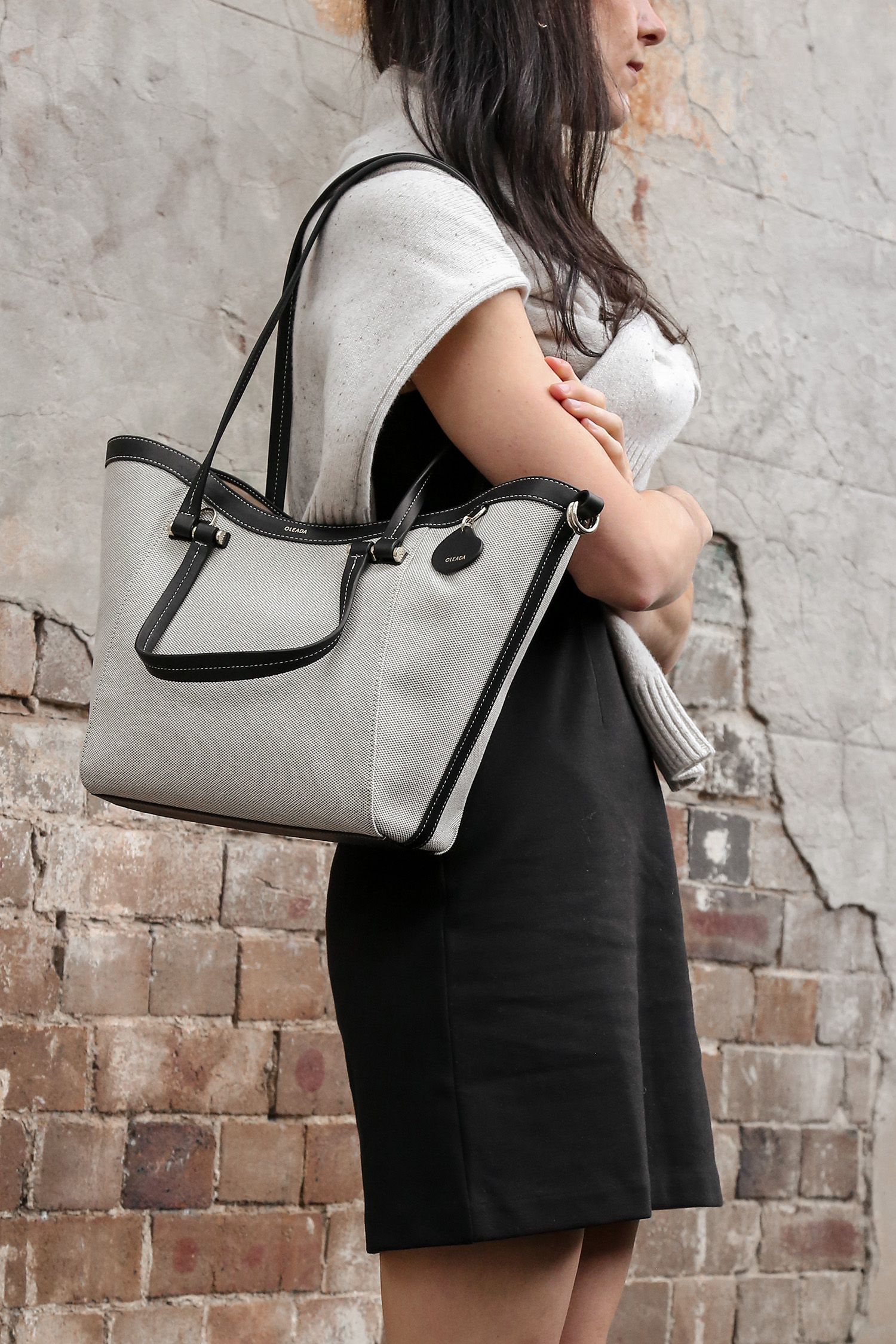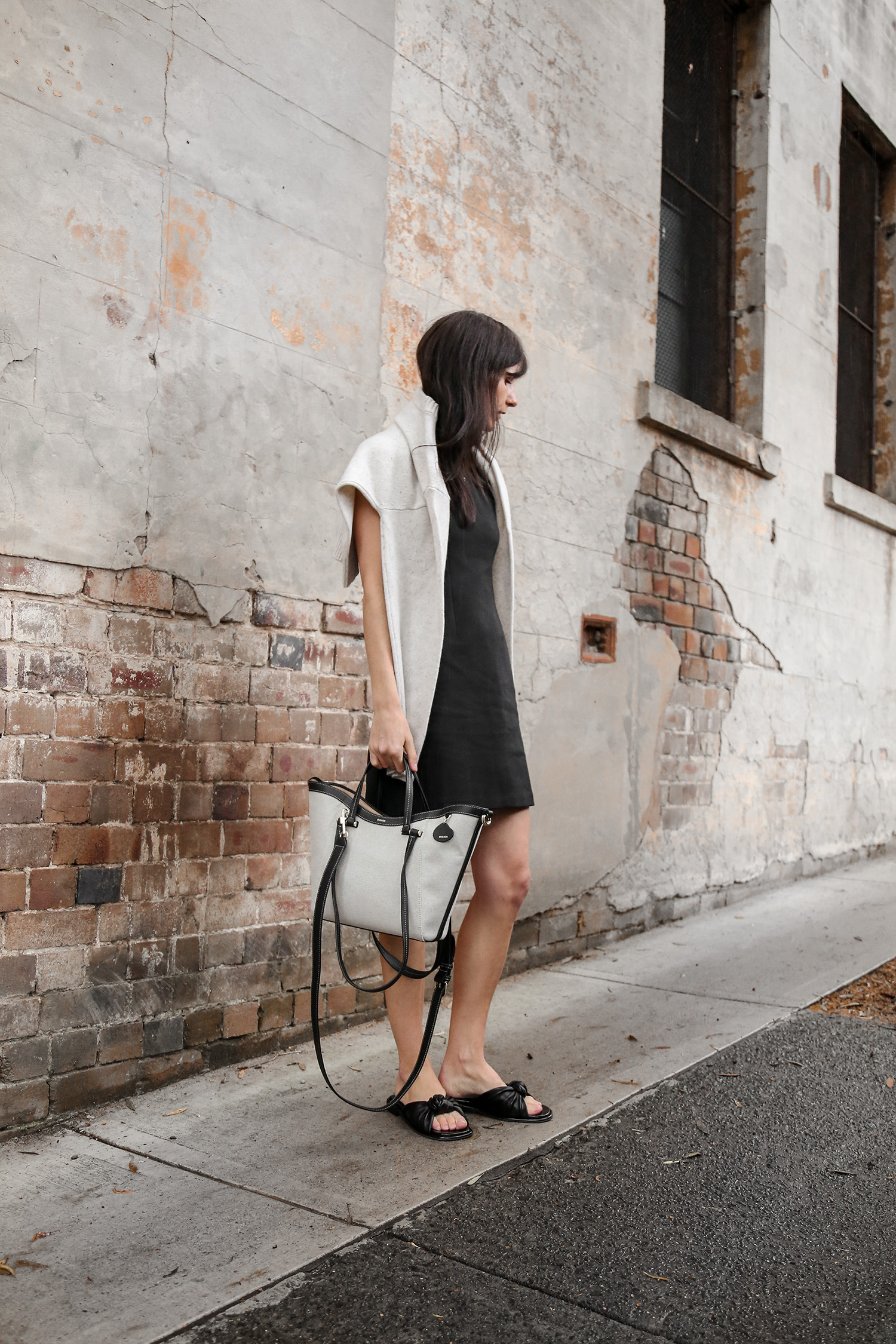 Warmer weather is on the way, and as part of my process mapping out my spring/summer style heroes, I've been locking down the accessories I'll be be wearing on repeat. The OLEADA Mini Coast Tote sitting high up on the list, for its hyper-functional yet minimal design, and effortless feel. To me, this is interchangeable with a basket bag, and in the marble/canvas colour way, acts as a great base neutral. So, let's dive into this OLEADA Mini Coast Tote Review.
Before we get into the good stuff, you can get 15% off your purchase at OLEADA with code 'Jamie15'
Quick Facts
Price: / $582 AUD
Available in two colours: marble/canvas and sand/canvas
Country of manufacture not listed
Fabric: Water-resistant canvas and topstitched smooth Italian leather exterior, bio-degradable waterproof twill polyester lining
Dimensions: 23.5cm (center) or 27.5cm (sides) tall, by 41cm (top) or 25.5cm (bottom) long, and 9cm wide.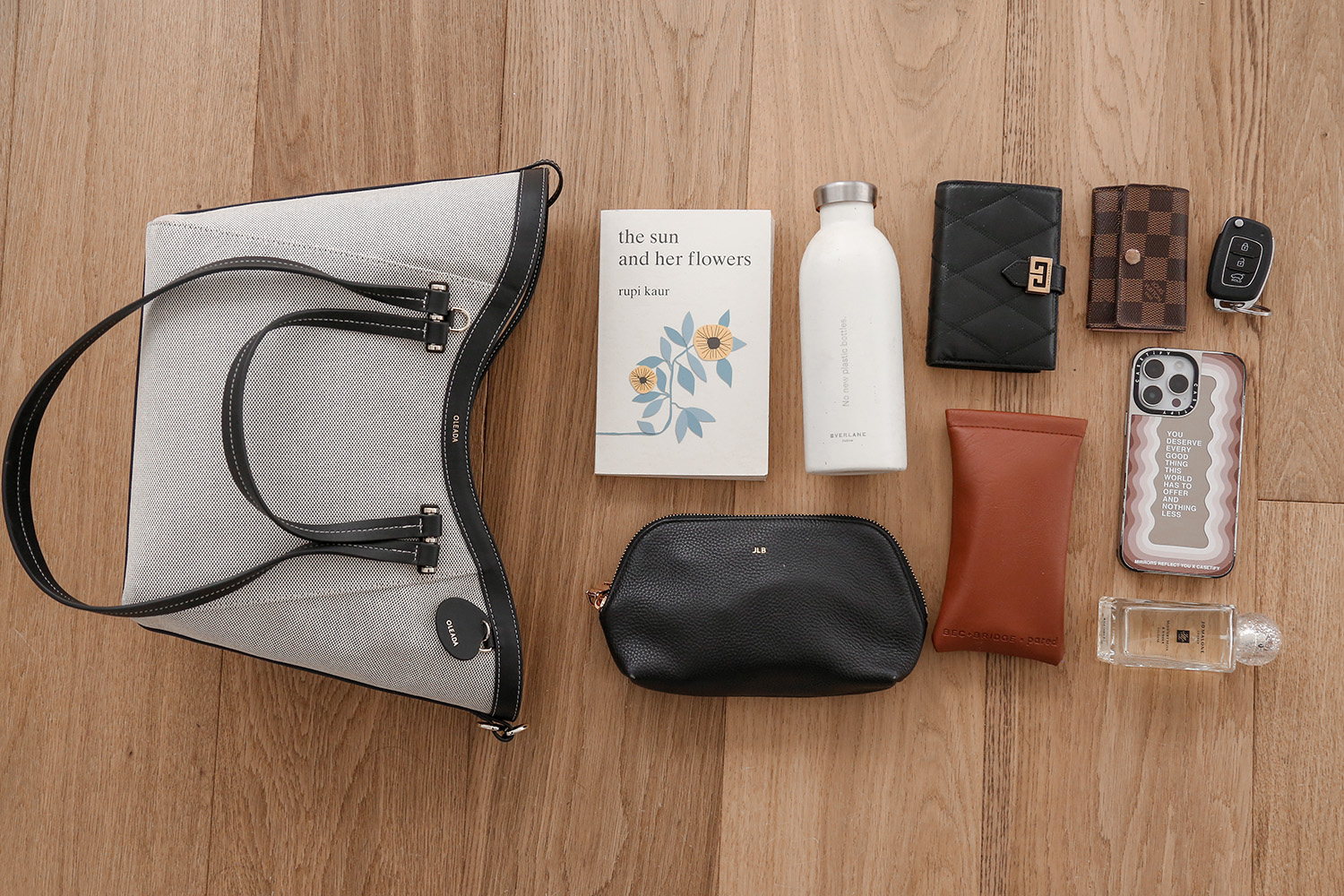 What Fits Inside
It's in the name – mini – but the bag still packs a punch. I find from a day-to-day perspective, it has ample room for all the essentials and then some. Only thing worth noting that I couldn't squeeze inside? My 14 inch laptop. The OLEADA Mini Coast Tote does taper in towards the base, meaning that there is more room higher up the bag. I haven't found that this impacts the way I pack my bag or how everything fits.
The following comfortably fits inside:
iPhone 14 Pro Max
Regular sized cosmetics bag
Water bottle
Book
Medium or large sized wallet
Key holder + additional key fob
Full sized fragrance
Sunglasses in case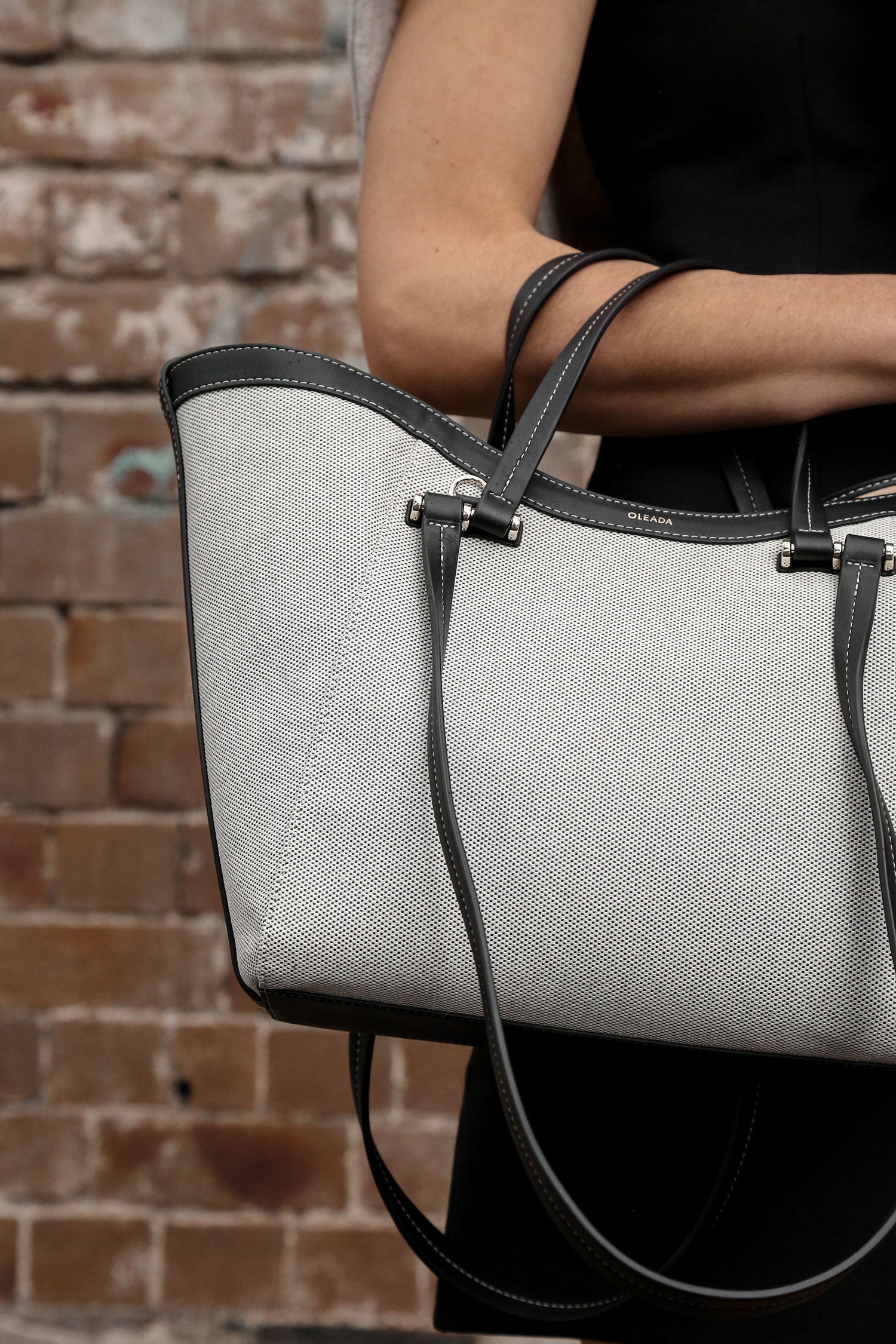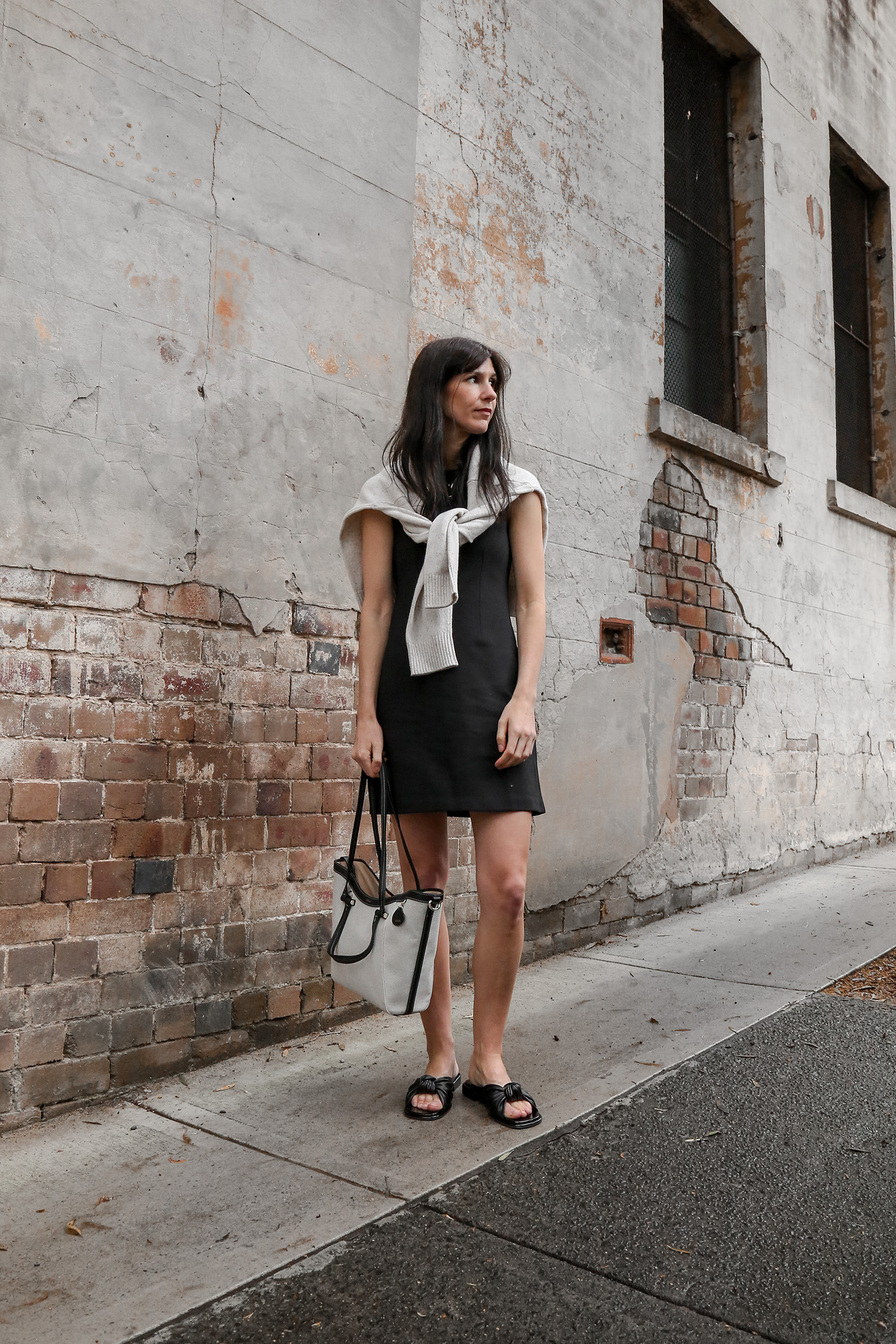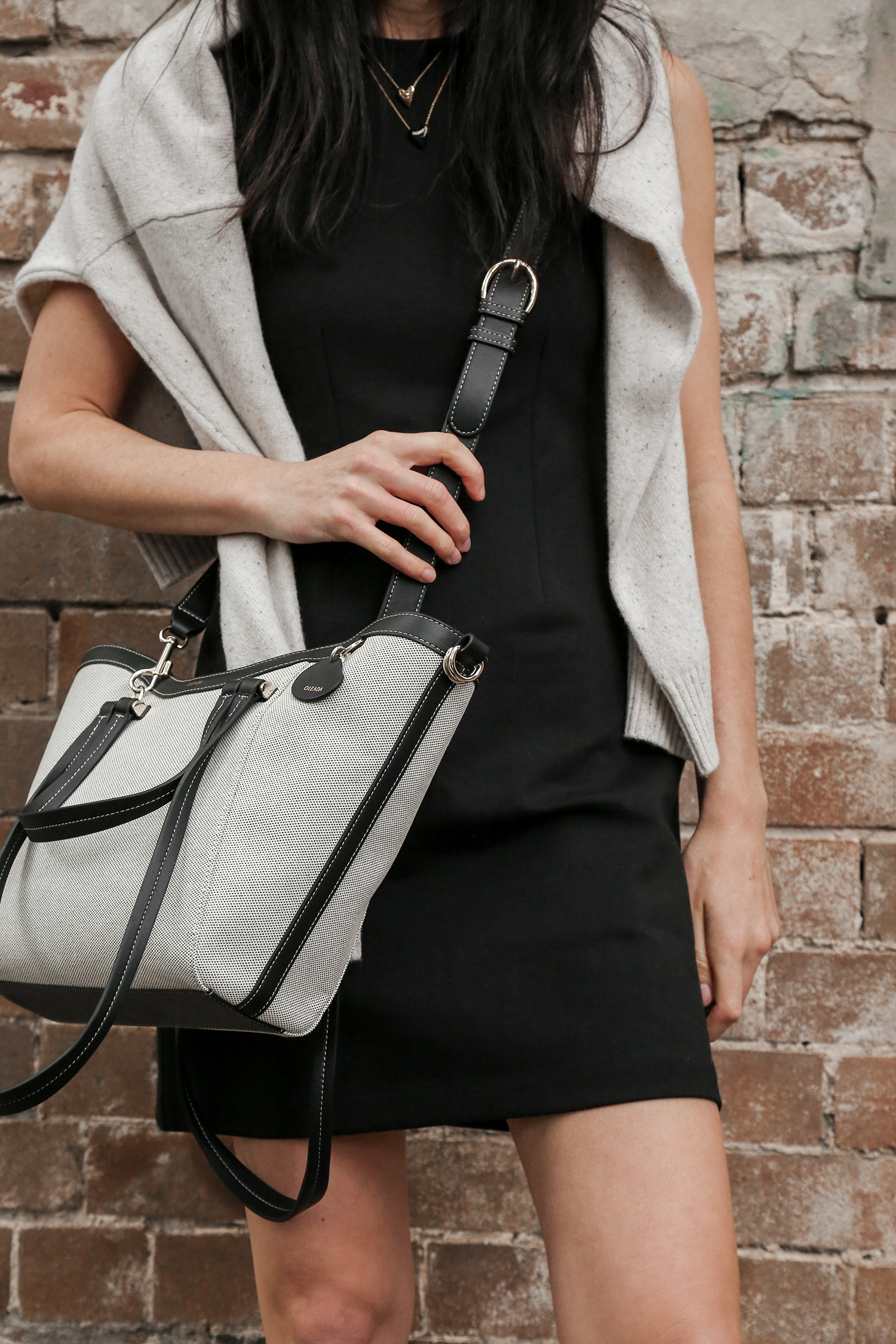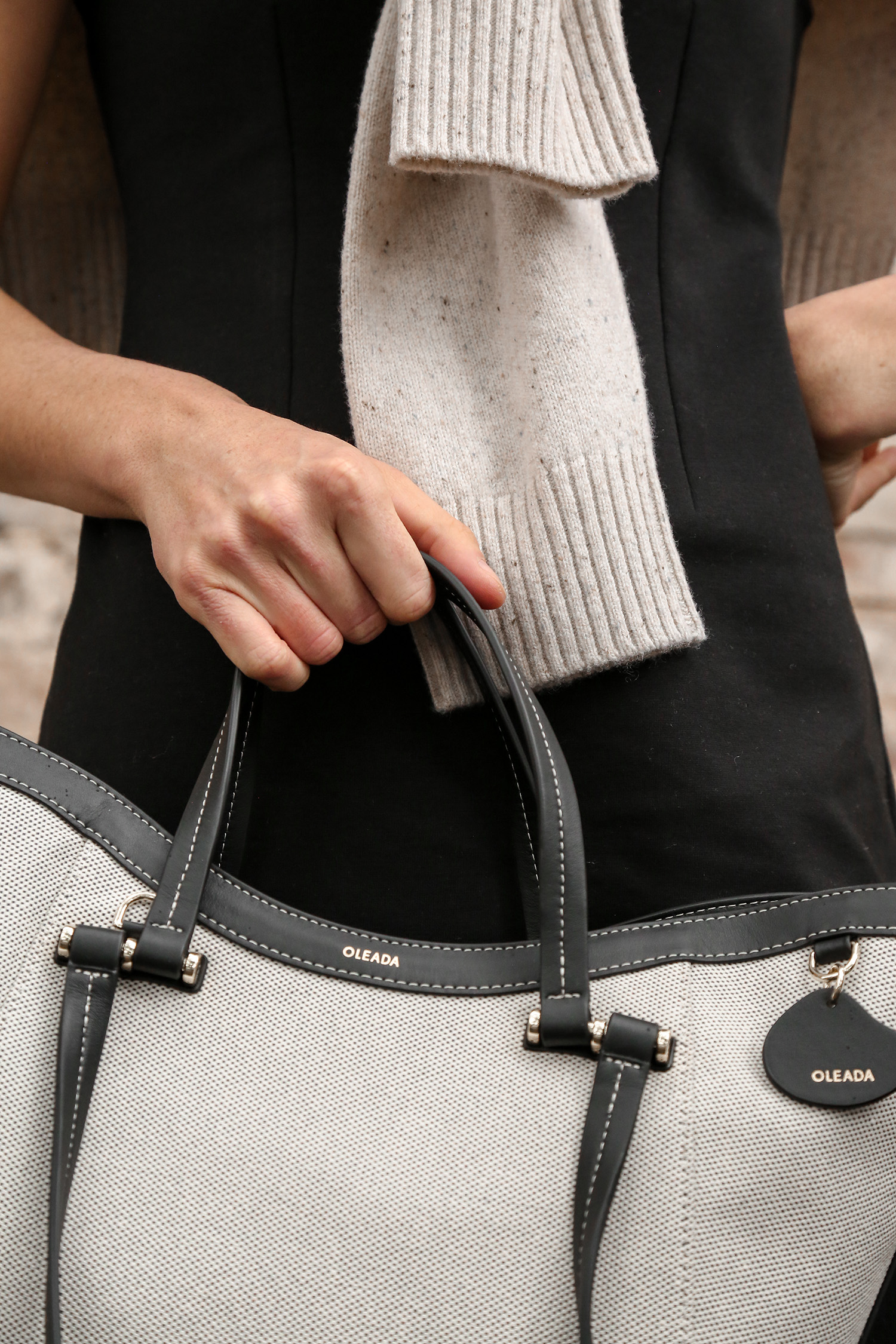 OLEADA Mini Coast Tote Review
I knew I was going to like this bag, but I didn't know just how much I would love it. Most notably, how you can easily change up the design of the OLEADA Mini Coast Tote. So, let's start there. 
In addition to the two straps – for top handle or to be worn on the shoulder – the bag comes with a removable and adjustable crossbody strap. This is reasonably thick/wide, so it distributes weight nicely across the body. I do find it looks a little busy when attached though. Shoulder straps are a great length; long enough to be work comfortably over a jacket.
The design element that really got me, is that you can completely change the silhouette of the body of the bag. Reminiscent of the Celine Cabas Totes designed during the Phoebe Philo era. It's pretty easy to change too; the (faux) leather strap hooks into a double ring at the other end like a d-ring belt. I really love this look, but haven't been game enough to wear mine out like that. Mostly because I'm worried that the bag will lose some of the structure that it has. This is a "me" thing, which stems from a desire to try and keep the bag looking pristine for as long as possible.
The curved wave detail – present in every OLEADA bag style – adds a softness. Given there's a reasonable amount of contrast in the colour, this adds a welcome touch of balance.
Interior is a waterproof twill poly lining, which resembles microfibre in person. Soft and suede-like to the touch, the waterproofing adds a later of durability – no need to stress if your drink bottle leaks! There's one interior pocket with zip up closure, which is quite a generous size so perfect for throwing in your wallet or keys. Only security is the snap closure which pinches the two sides together, which makes this otherwise quite an "open" style. I suspect this will be a dealbreaker for those that are after a fully secured style of bag.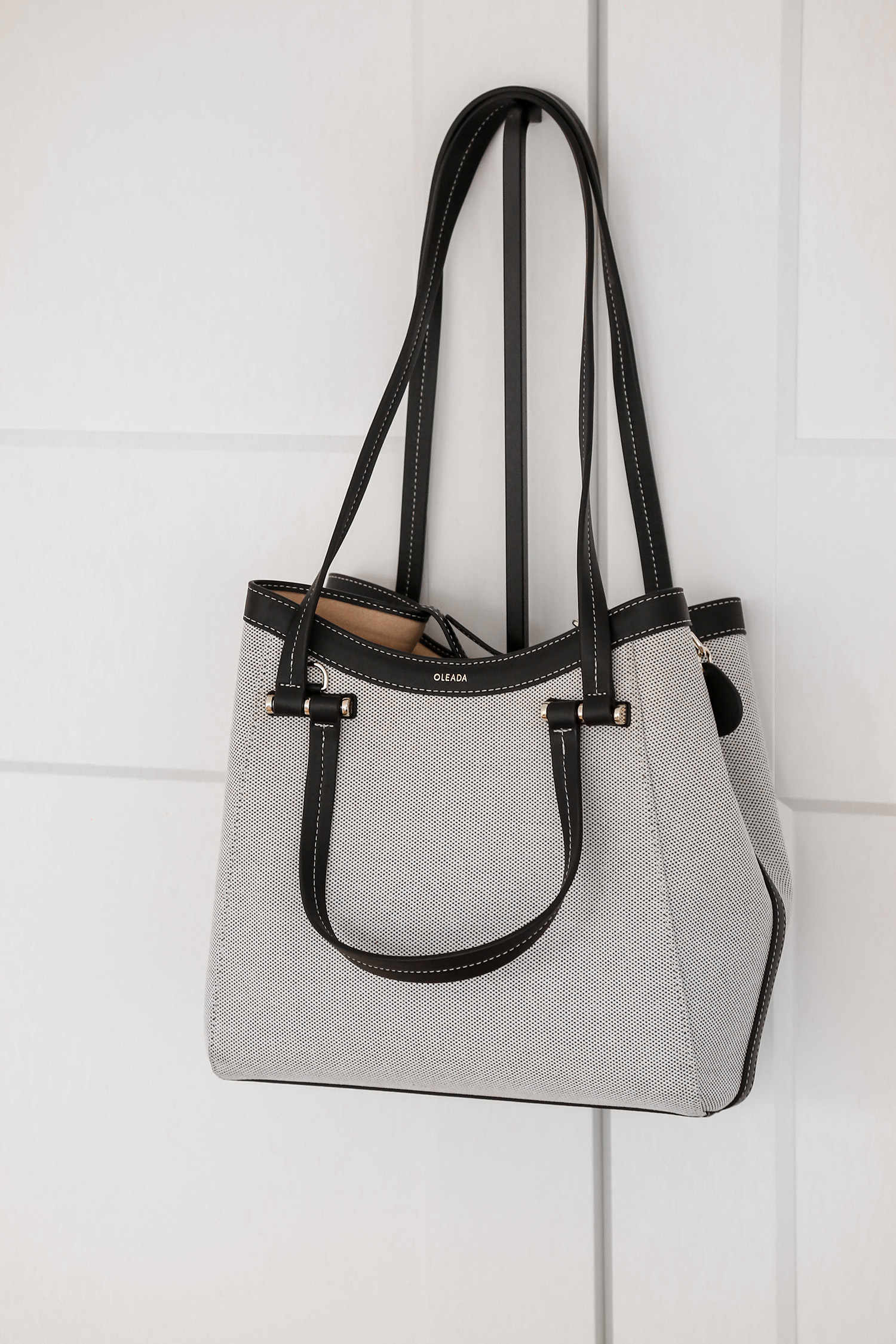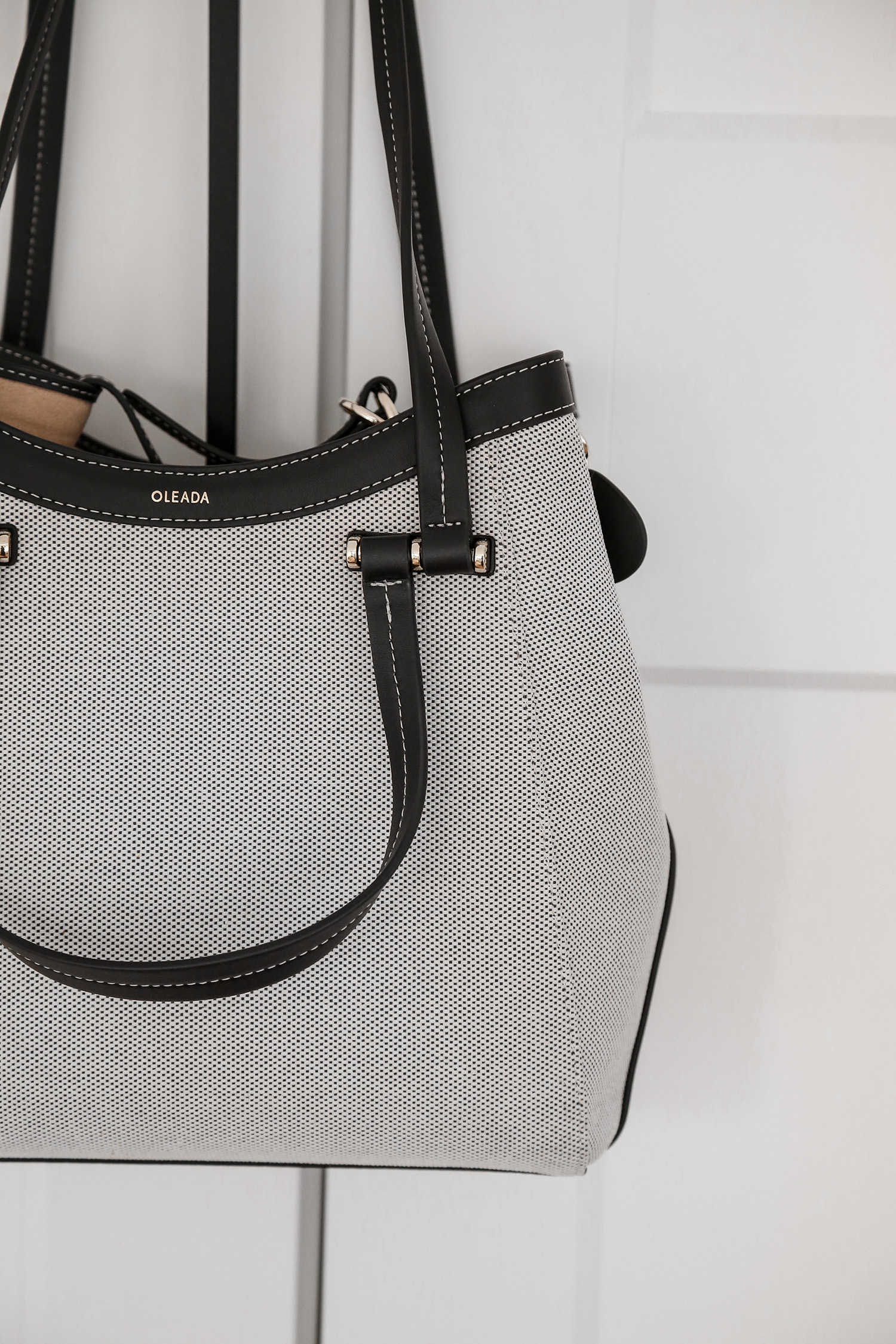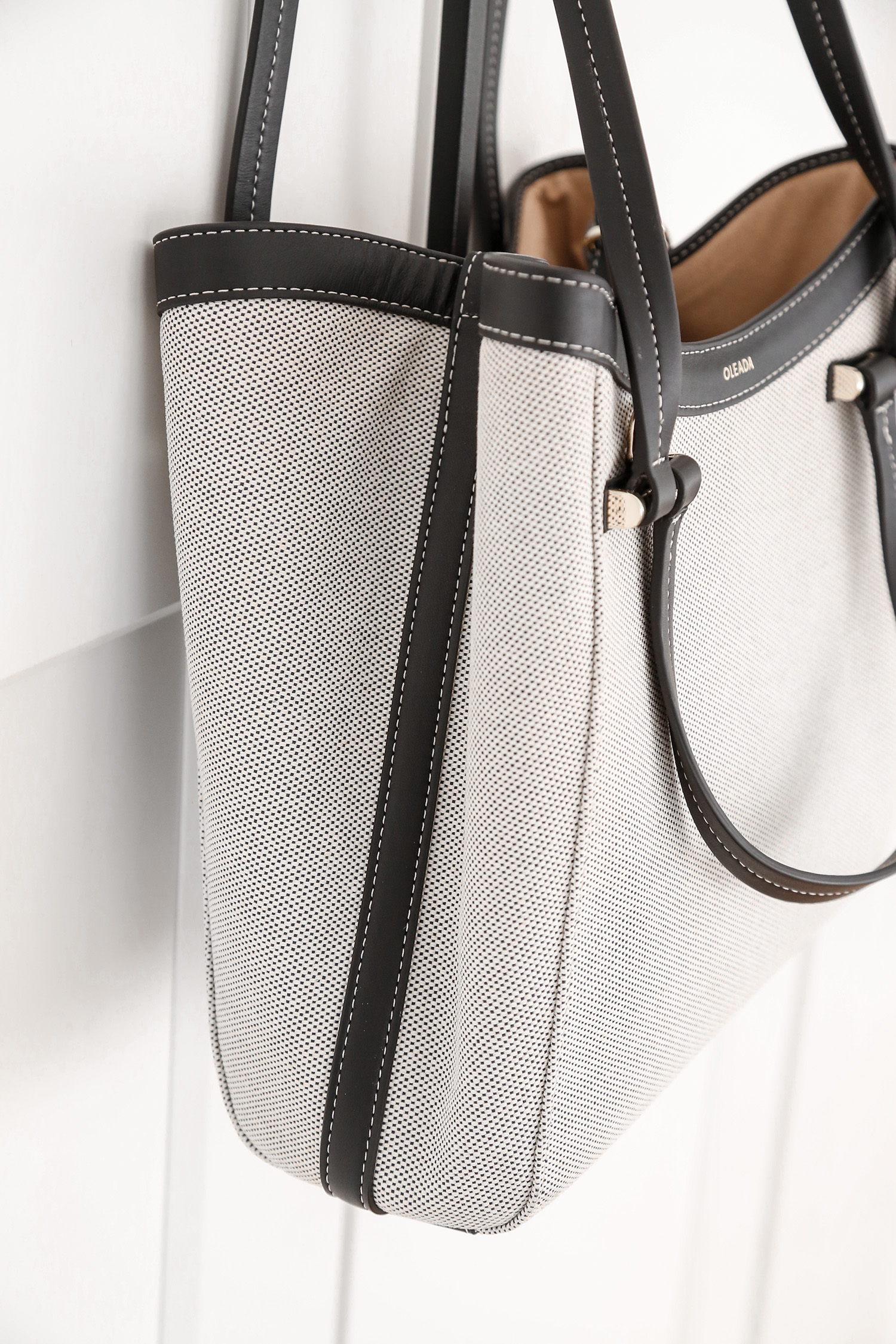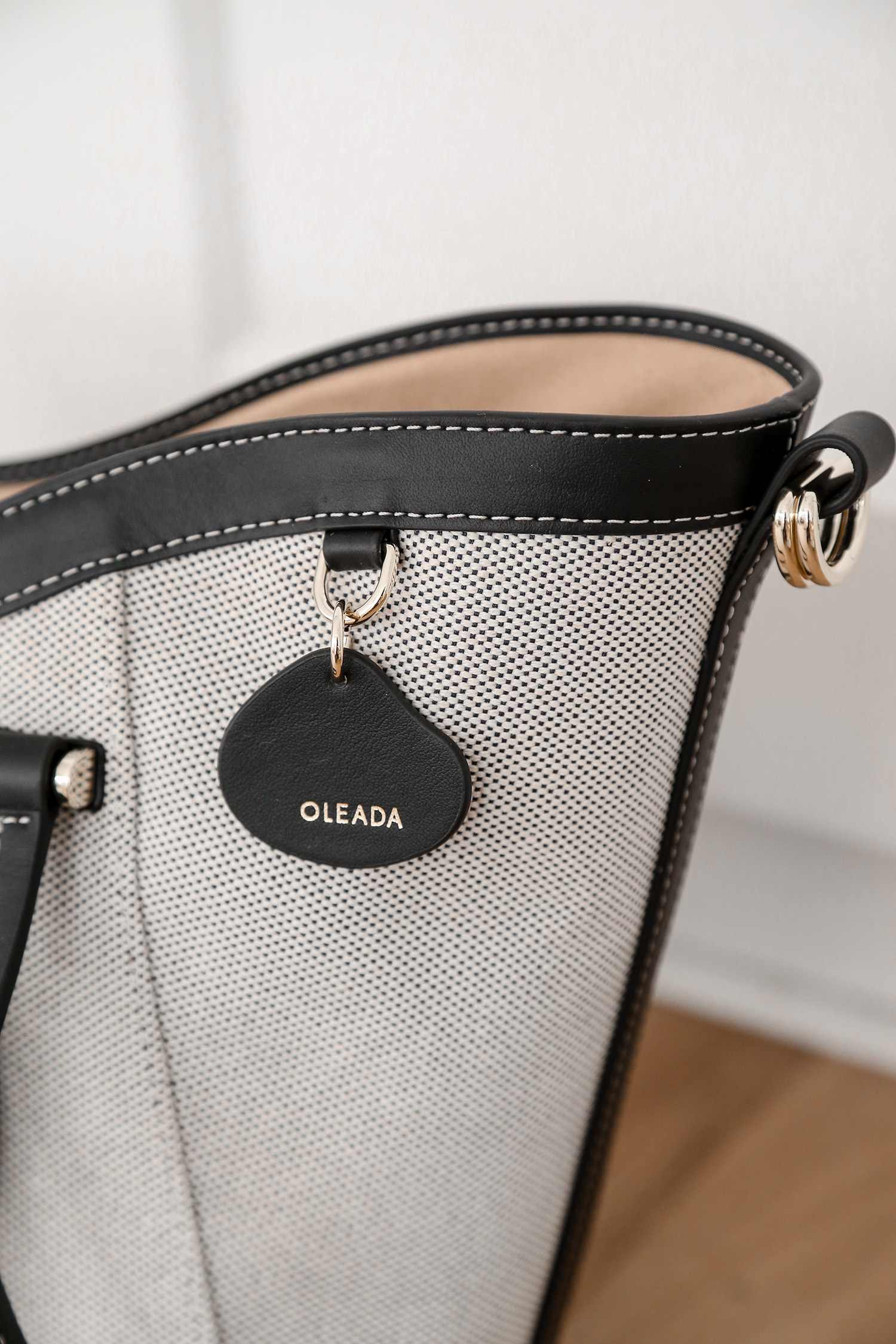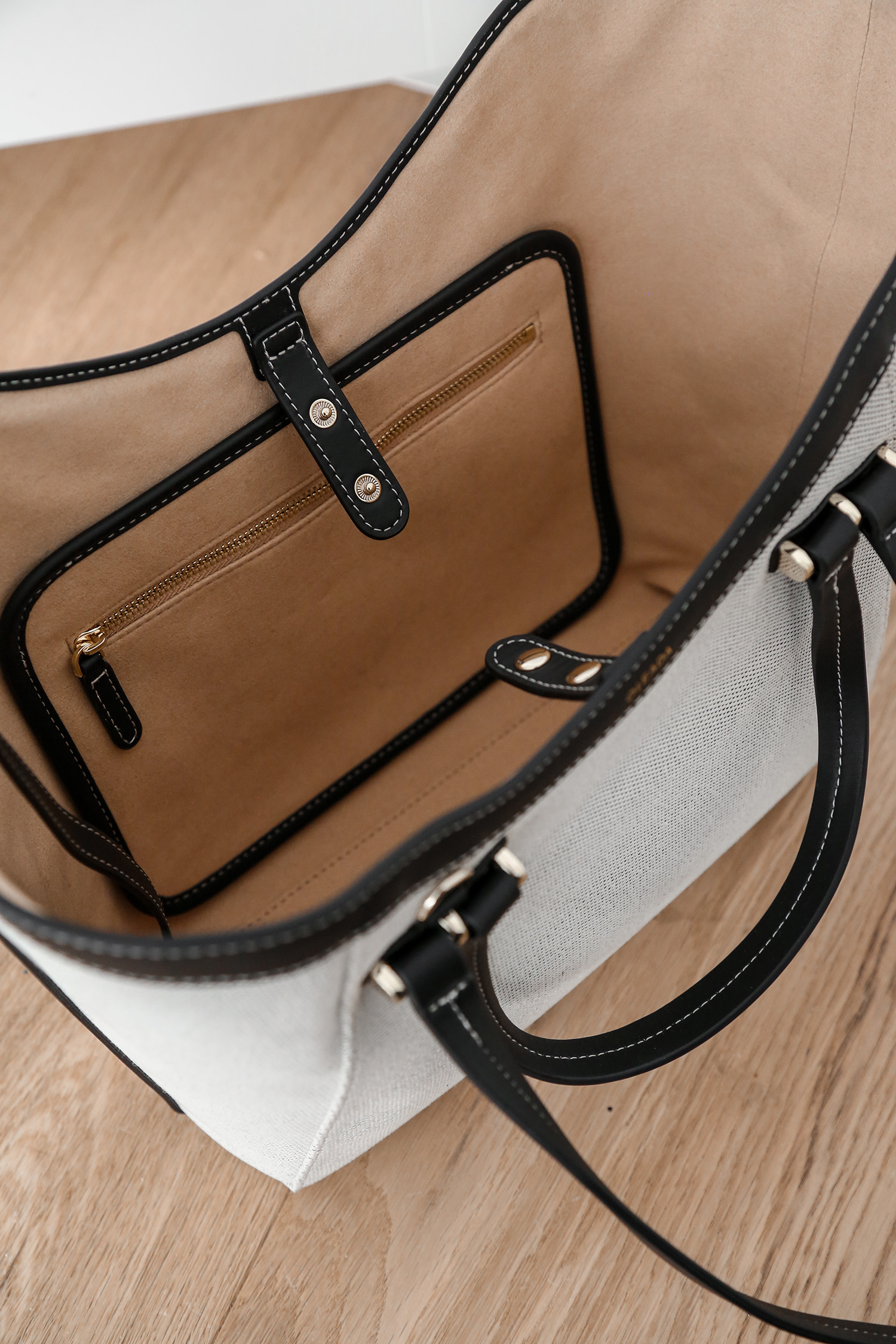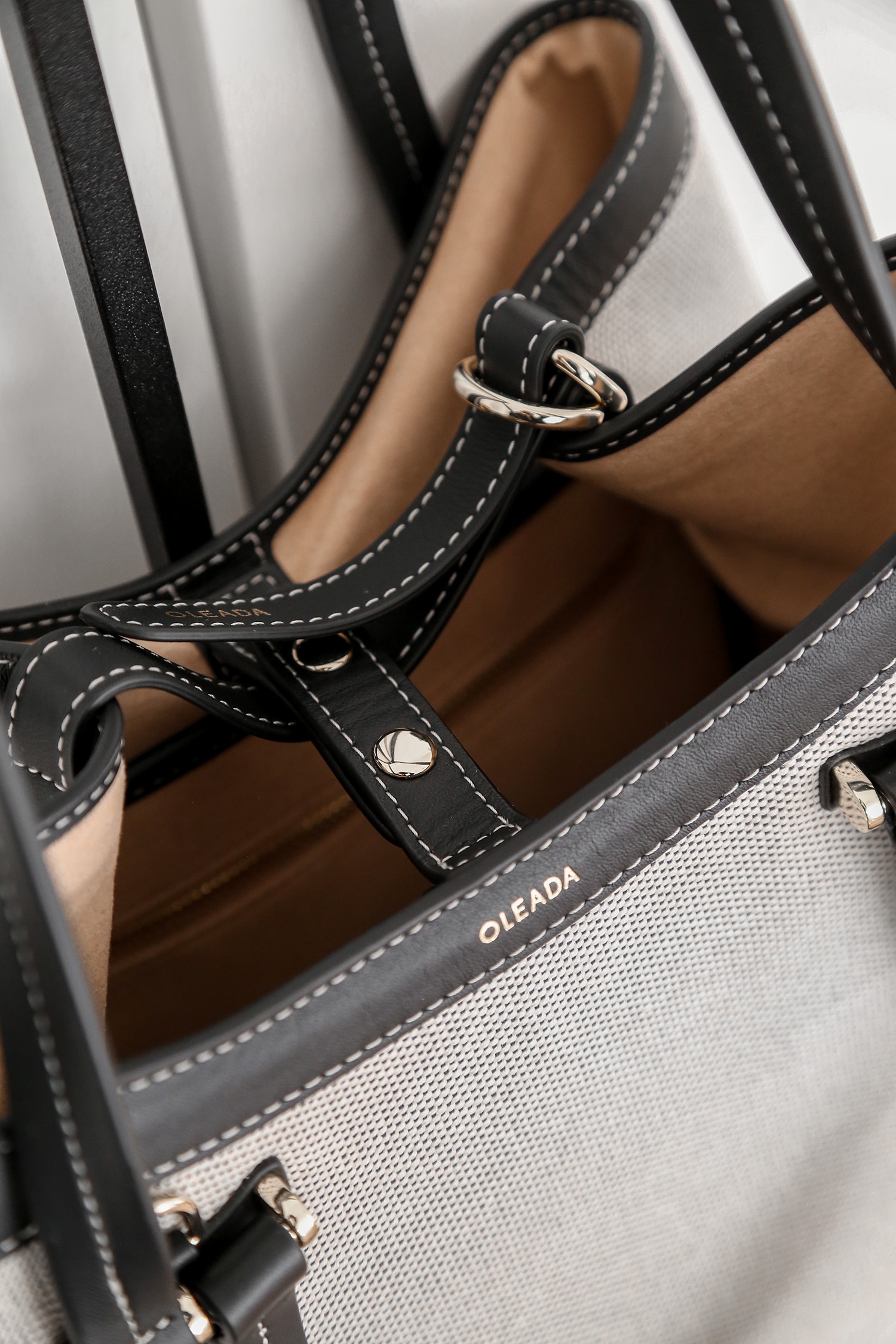 The exterior is water-resistant, and I can say I've put this to the test, and it didn't show a hint of being wet. Quite impressed! The trim and straps are made of re-plate leather; this is by-product leather recycled from the food industry. 
Branding is reasonably discreet; a small gold stamp in the centre front. Which if it's not your thing, can be concealed by wearing that side of the bag tucked close to the body. 
Overall, it's a big thumbs up from me. It's durable, practical, versatile, and also looks stylish. Plus the colour combination makes it a bit of a seasonal style chameleon. 
WEARING | Everlane mini dress*; Assembly Label sweater*; Chaussure Lapin sandals* (10% off with mademoiselle2023); OLEADA Mini Coast Tote* (15% off with 'Jamie15'); Mejuri heart necklace
The OLEADA Mini Coast Tote was sent to me for press purposes with no obligation to post.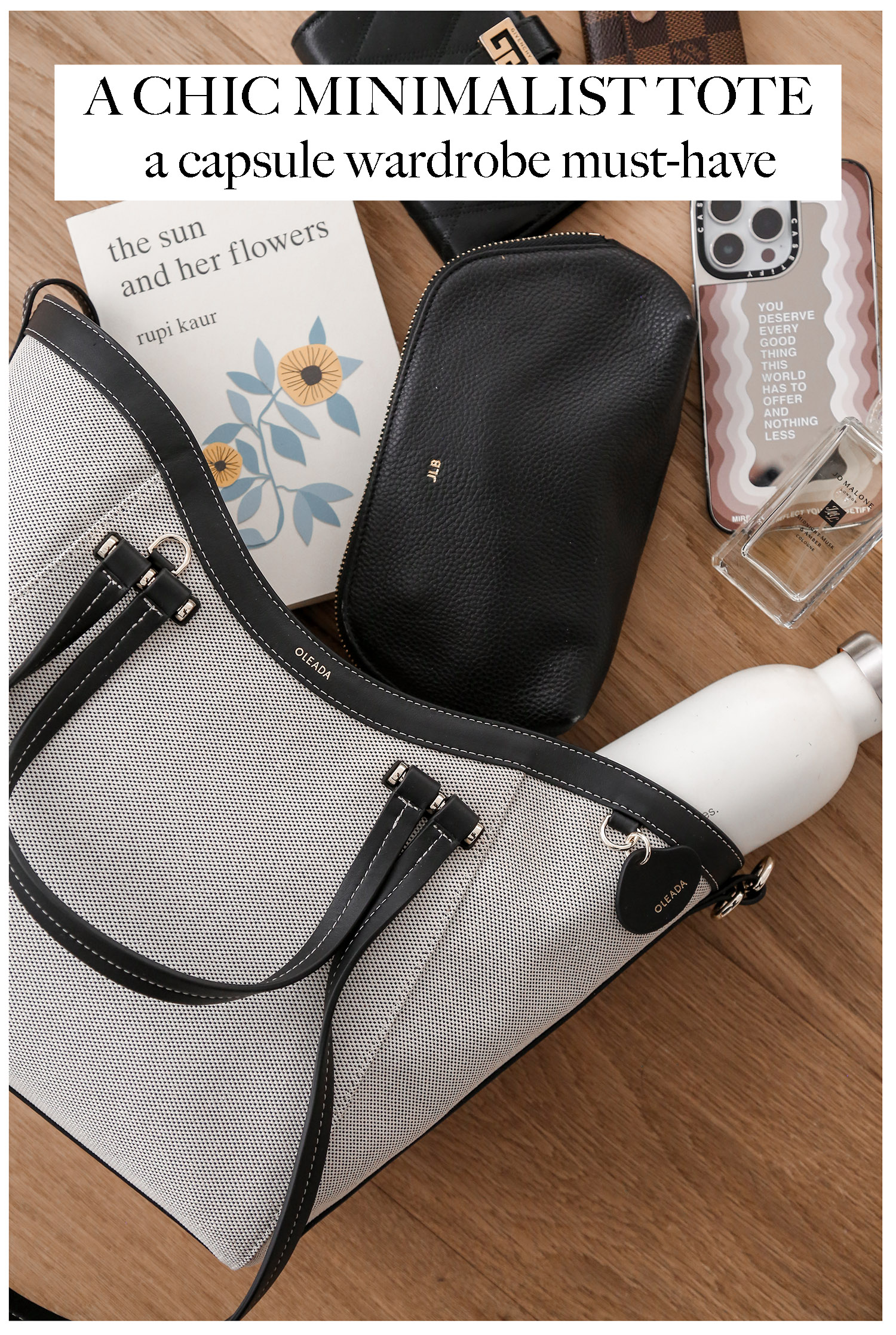 --------------------------------------------------------------------------
CROWNWAY-Professional Virgin Hair Online Shop
Lace Frontal Human Hair Wigs | Vrigin Hair Bundles | Closure & Frontal
https://crownwayhair.com