Mini Mansur Gavriel Bags: The Ultimate Guide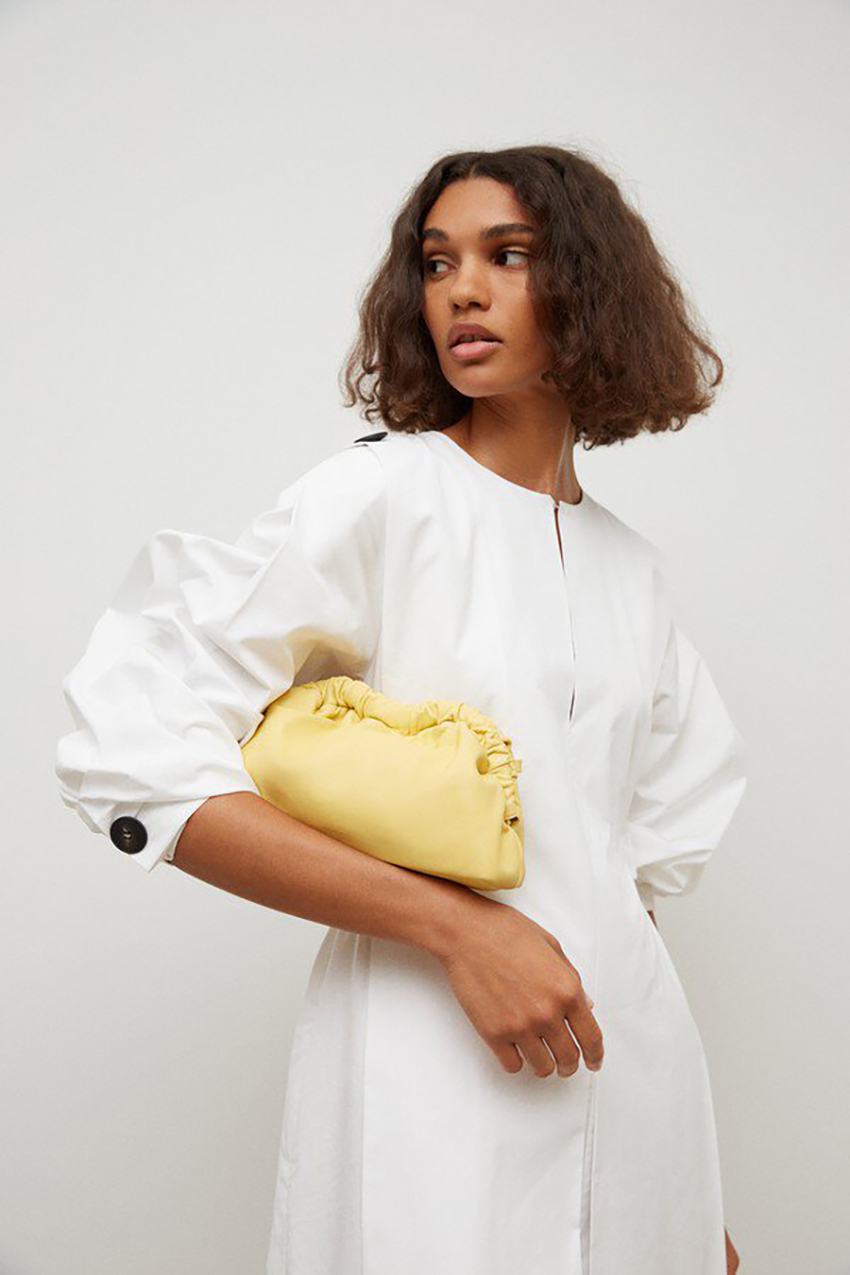 If you want to add a mini Mansur Gavriel bag to your collection, consider picking up these top options! 
If you love having a variety of purses in your closet that are well-made and very stylish, chances are you have a purse made by Mansur Gavriel. This designing duo got their start in 2013 with their iconic bucket bag, which was quickly the darling of all kinds of celebrities. The fashion forward style of their bags spoke to regular folks alike, who were drawn to their clean, modern silhouettes, soft texture, and made to last for years to come.
The brand has continued to evolve over the years, and has ventured into more styles of bags and even shoes. One of their most popular designs has got to be the mini Mansur Gavriel bags, which although they're small, can carry everything you need.
In this article, we're going to discuss further:
Where to pick up Mansur Gavriel
What fits in a mini Mansur Gavriel bucket bag
Our top Mansur Gavriel mini bags
Where to buy Mansur Gavriel?
What are your options when it comes to picking Mansur Gavriel items?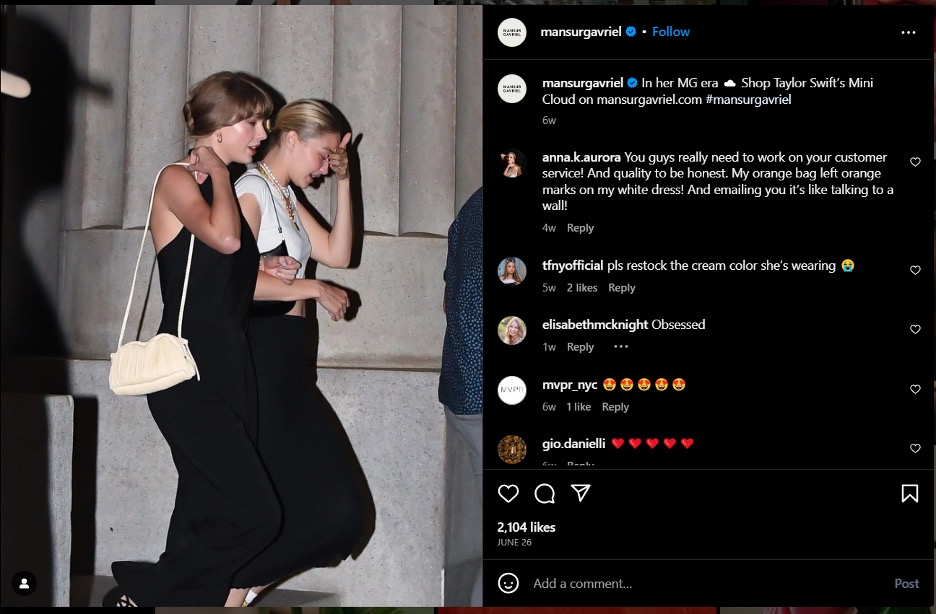 If you want to add your first (or second!) Mansur Gavriel bag to your closet, one of the first places you should check out is their official site. Here you'll find all kinds of bag styles, such as bucket bags, cross bodies, totes, mini bags, shoulder bags, clutches, even wallets. Additionally, Mansur Gavriel also has quite the extensive collection of shoes. Whether you're looking for ballerina flats, loafers, boots, or heels, there are lots of stylish footwear available. And because it's Mansur Gavriel, you know it's designed to last for many seasons to come.
You can also check out their sale section and find some great deals on purses and shoes from previous seasons on their site.
Another one of the best places to find a wide variety of Mansur Gavriel shoes and bags is Shopbop. You can browse through a variety of bucket bags, totes, clutches, and shoes to find exactly what your closet needs. And if you don't find an item in your size or color preference, just keep checking back, as new items are always being added to their inventory. 
Mansur Gavriel shoes and bags are also available at your local Neiman Marcus, Nordstrom, or Bergdorf Goodman, as well as on their online sites. Additionally you can find Mansur Gavriel products at a variety of high end online shopping boutiques, such as Net A Porter, GOOP, and Printemps among others. Check the full list of Mansur Gavriel stockists here!
What fits in a Mansur Gavriel mini Bucket bag?
More than you might think fits in these mini bags!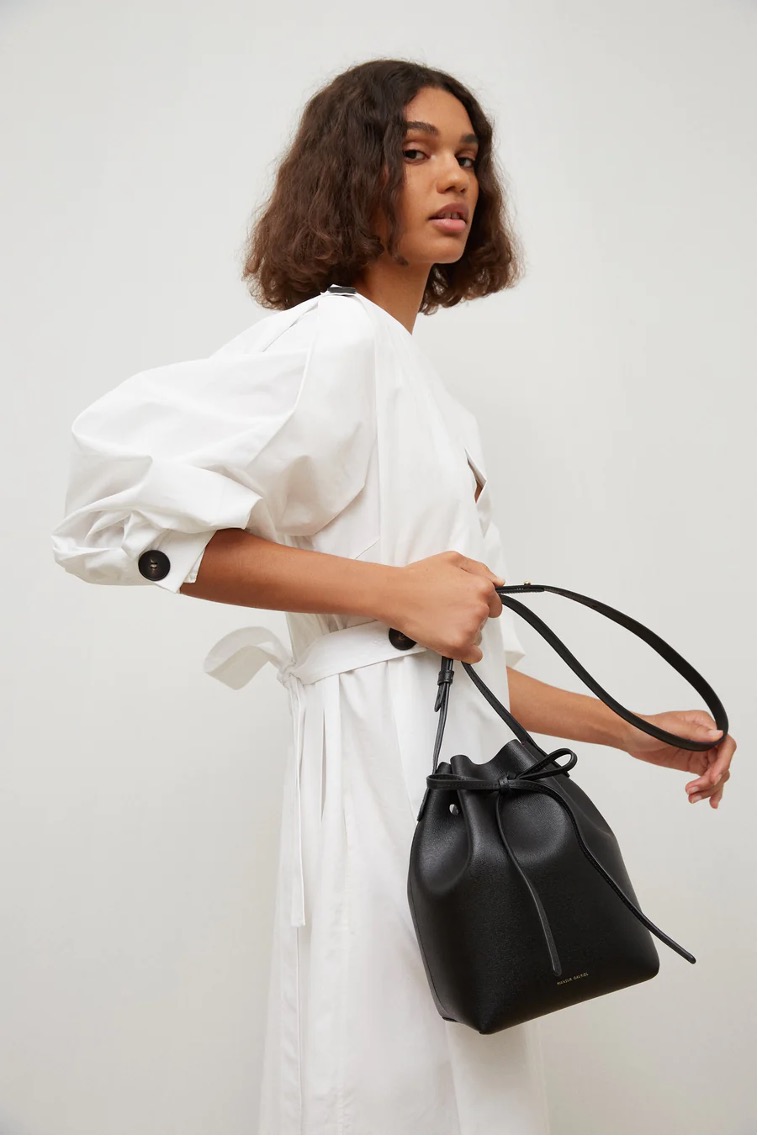 The iconic mini Bucket bags are designed to fit all your necessary items you need on a daily basis.
Image courtesy of Mansur Gavriel.
If you're searching for a mini Mansur Gavriel bag, chances are there's a reason for it. If you already have the large size (or another large purse), you may just need something a little smaller and discrete—and these bags should be at the top of your list. Just because the mini bucket bags are smaller than the original, doesn't mean you can't fit a lot of important items in it! It helps to be aware of the dimensions of any purse before you purchase it, just to ensure it will fit everything that you want it to. Mini Bucket bags are 7 inches in width, 9.8 inches in height, 4.75 inches in depth. 
You can fit:
Your phone or an iPad mini
A card holder or slim wallet
Lotion
Keys
Lip balm
And even a pair of sunglasses!
If you don't typically carry all of these items, then you'll have even more space to hold your essentials. 
Our favourite Mansur Gavriel mini bags
Consider taking home one of these popular mini bag styles
Adding a mini Mansur Gavriel bag to your look is a great way to polish up any outfit. You can choose a mini that's designed for a special occasion, or add one that can easily turn into the bag you use everyday. 
Mansur Gavriel mini backpack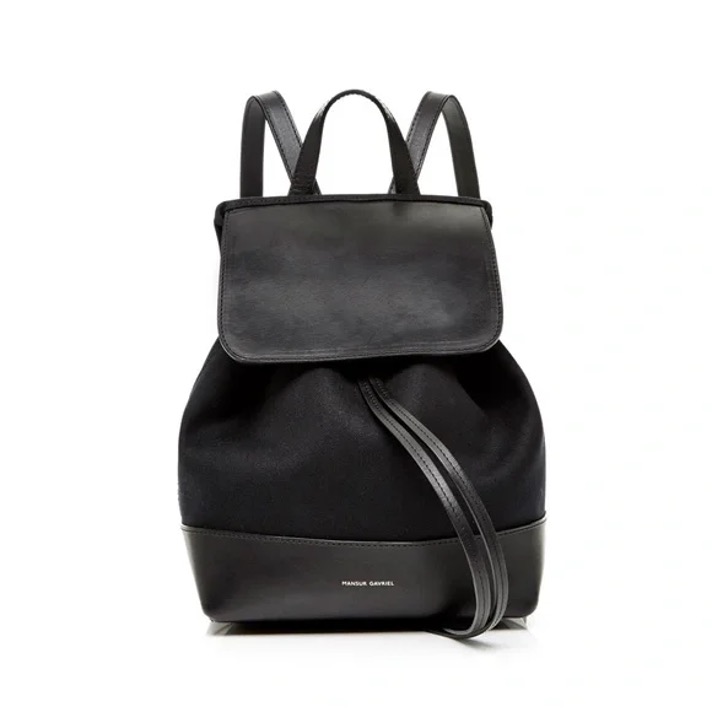 The mini Mansur Gavriel backpack is a sporty way to carry around your essentials.
Image courtesy of Poshmark.
If you're a fan of shopping consignment, then you've got to check out the collection of Mansur Gavriel bags that are available on Poshmark. This mini backpack is adorable and functional, making it a great bag to use day in and day out. We love the look of canvas contrasted with leather trim on this black backpack, as well as the signature drawstring closure that ensures all your belongings are sealed up safely. You can adjust the straps to have it hang tight to your body, or more loosely, depending on your preference. The gold accents are a nice touch as well! 
This is a great bag if you're going to be out and about all day and need a bag that allows you the freedom to move your hands. You can easily pair this with your favorite OOTD, whether that's shorts and a tank, a maxi dress, or even jeans and a tee.
Mansur Gavriel mini Candy Hobo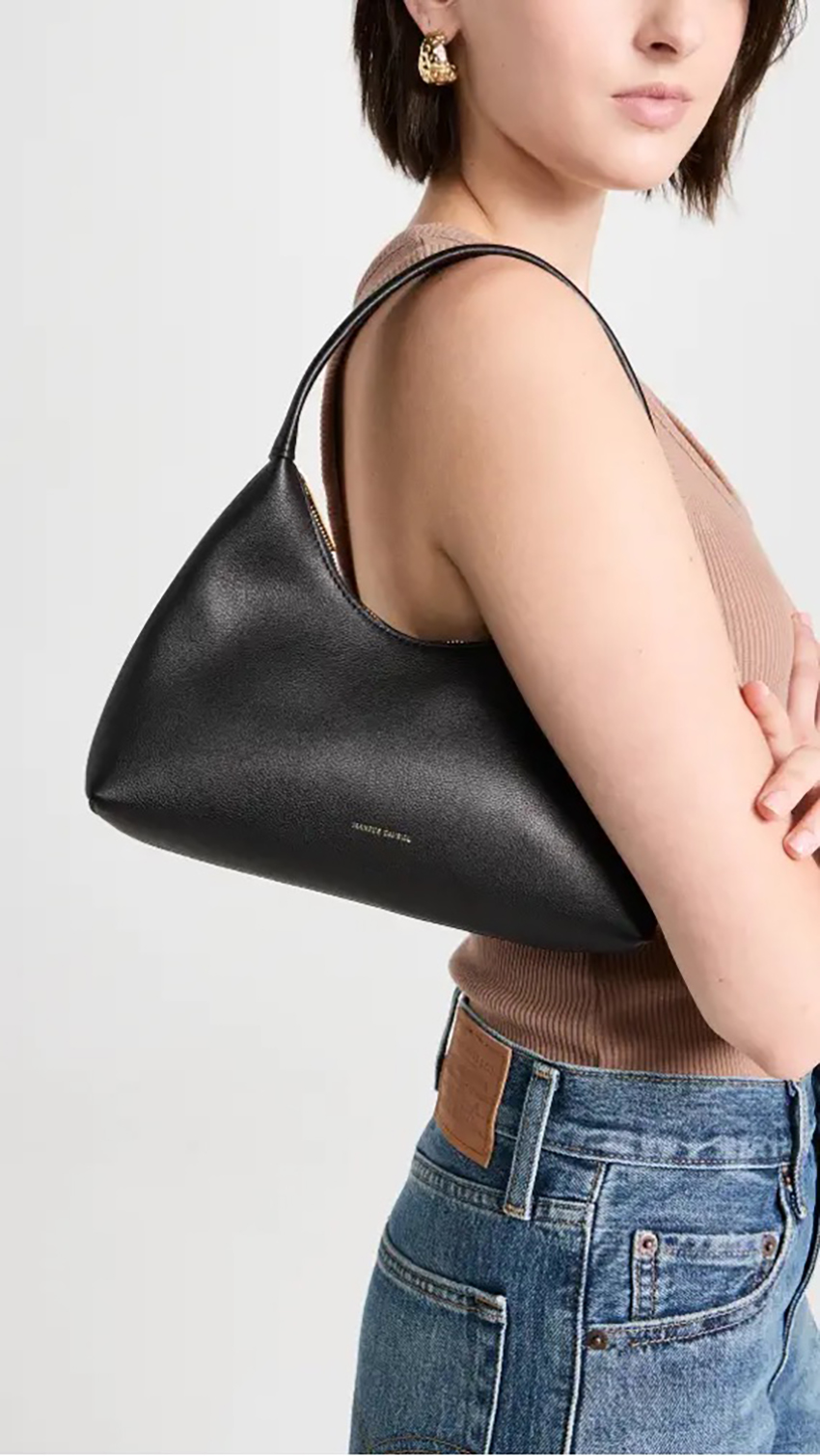 This sleek design can hold your items and easily fits over your shoulder.
Image courtesy of Shopbop.
One of the most popular styles of mini bags is the mini Candy Hobo available at Shopbop. This little black bag is so easy to sling over your shoulder and head out for the day, or whatever you have planned for the afternoon or evening! You'll love the classic look of pebbled black cowhide that's a nice contrast to the gold-toned hardware. This bag features an easy in and out zip closure, suede backing, and only weighs 5.8 ounces.
This is the mini Mansur Gavriel bag that can easily turn into your go-to purse for all kinds of outings. Whether you have a fancy date at a restaurant, are meeting friends for brunch, or you just need a small purse to handle your essentials when you're out running errands. 
Mansur Gavriel mini Cloud Clutch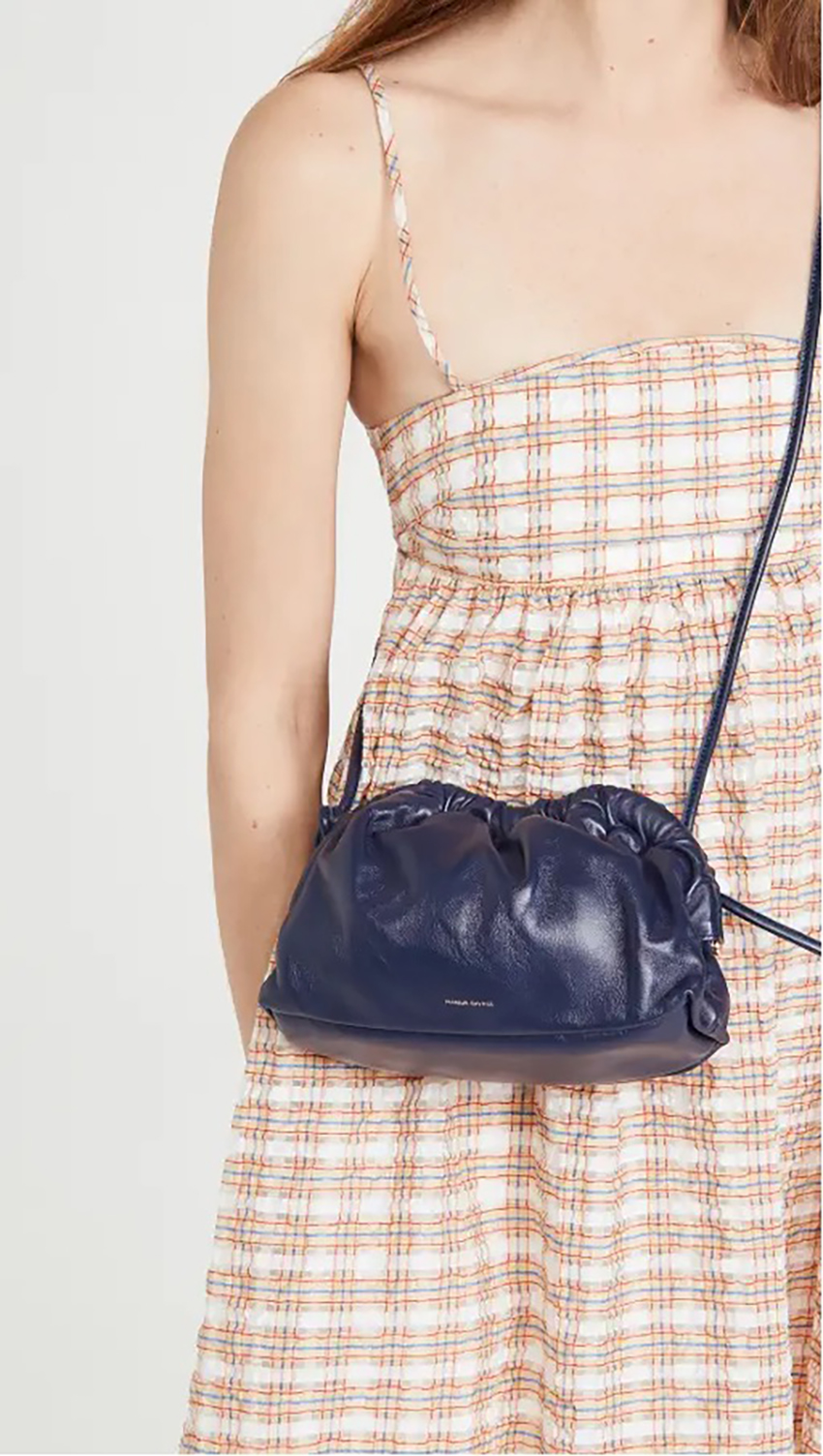 This cute mini clutch can be worn with the crossbody strap, or easily tucked under your arm.
Image courtesy of Shopbop. 
If you're looking for the perfect little clutch to add to your collection, look no further than the mini Cloud Clutch that holds more than you may think at first sight. The soft and supple leather is made of lambskin, and comes in a variety of different colors, which means you can choose from nice neutrals, darks, or even bright colors. The ruched top with a magnetic closure will keep all of your items safely stowed away until you need them, and the optional crossbody strap will allow you to have your hands free should you want that! 
With the strap, this versatile bag is a great way to polish off a casual look with a little something extra. Otherwise, this mini clutch is perfect to keep under your arm for any type of upscale or important occasion. 
Mansur Gavriel mini Bucket Bag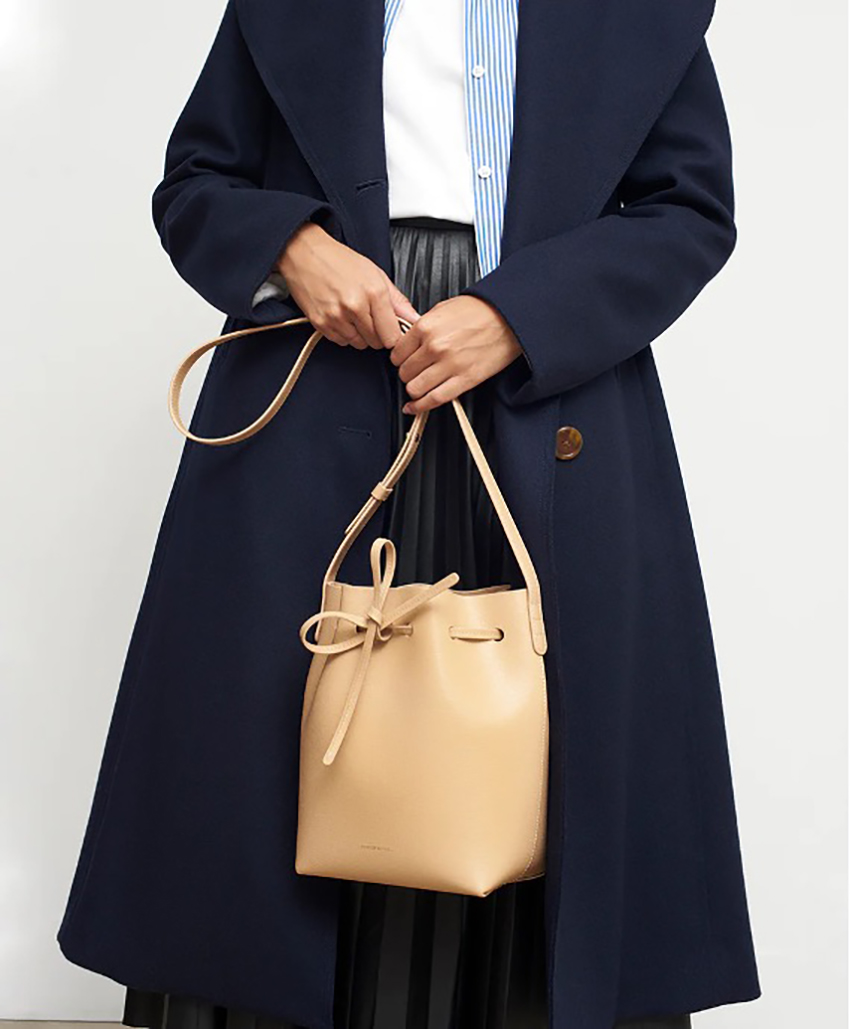 Grab the style that started it all, but in a smaller size.
Image courtesy of Mansur Gavriel. 
If you love the regular Bucket bag, you're really going to go for the mini Bucket bag. Made from textured, Italian Saffiano leather, this bag offers more than enough space to carry all your belongings, and then some! There is a subtle, cross hatch pattern on the bag, and this bag is definitely durable, so you shouldn't worry about making it one of your go-to bags. Customers love the adjustable crossbody strap, as well as the simple cinch closure that keeps everything in its rightful place.
The mini Bucket bag comes in a variety of colors, and it's elegant enough to take out at night, but wouldn't look out of place with your regular jeans and a sweater. 
Mansur Gavriel mini Soft Lady bag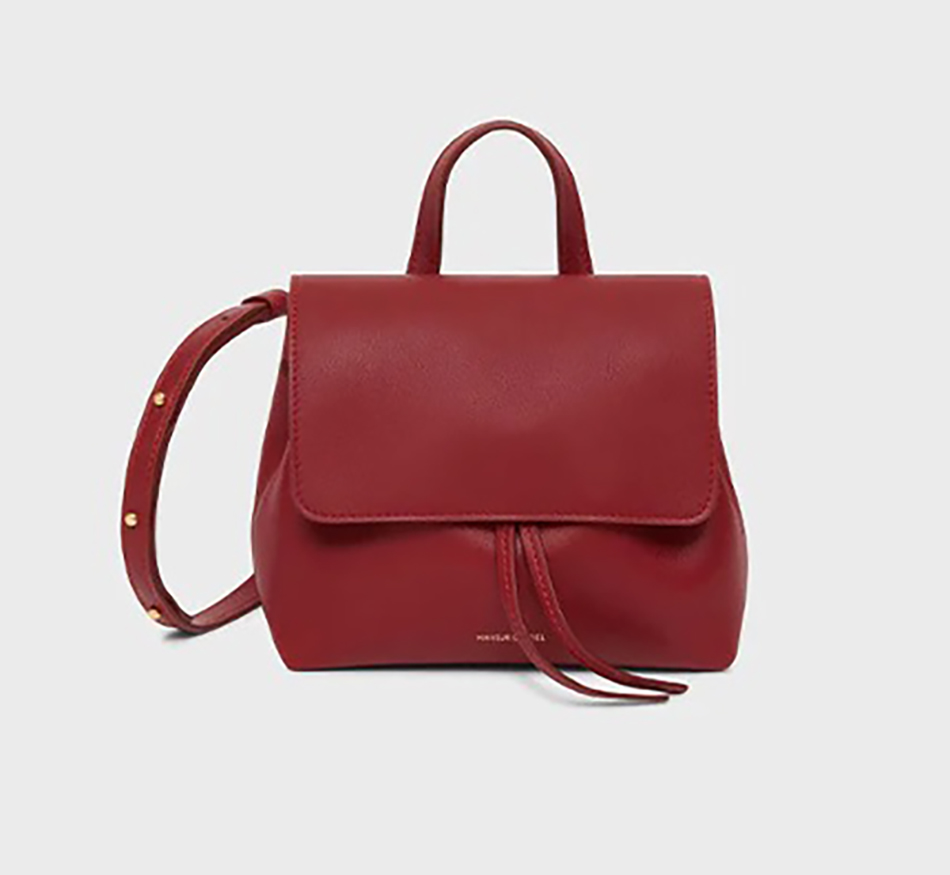 This mini can go across your body, or be held with the small handle.
Image courtesy of Mansur Gavriel. 
Another one of the most popular minis is the mini Soft Lady bag. This is a great design if you need a little purse to hold all your essentials, such as your phone, keys, and small wallet. The Soft Lady bag is made of tumbled calfskin and features a suede interior that includes helpful pockets and an adjustable crossbody strap. When you don't feel like using the strap, you can always grab this purse by the handle and turn it into an easy to carry mini tote. The top flap folds over for closure, while the drawstring keeps all your items safe and secure.
This small bag is great for special occasions or date night, but wouldn't be out of place as a crossbody bag for your busy days!
Which Mansur Gavriel mini is your favorite?
There are all kinds of Mansur Gavriel minis that are perfect for lots of occasions. Which one is destined to be the next purse in your closet?