MagicLinen Bedding Review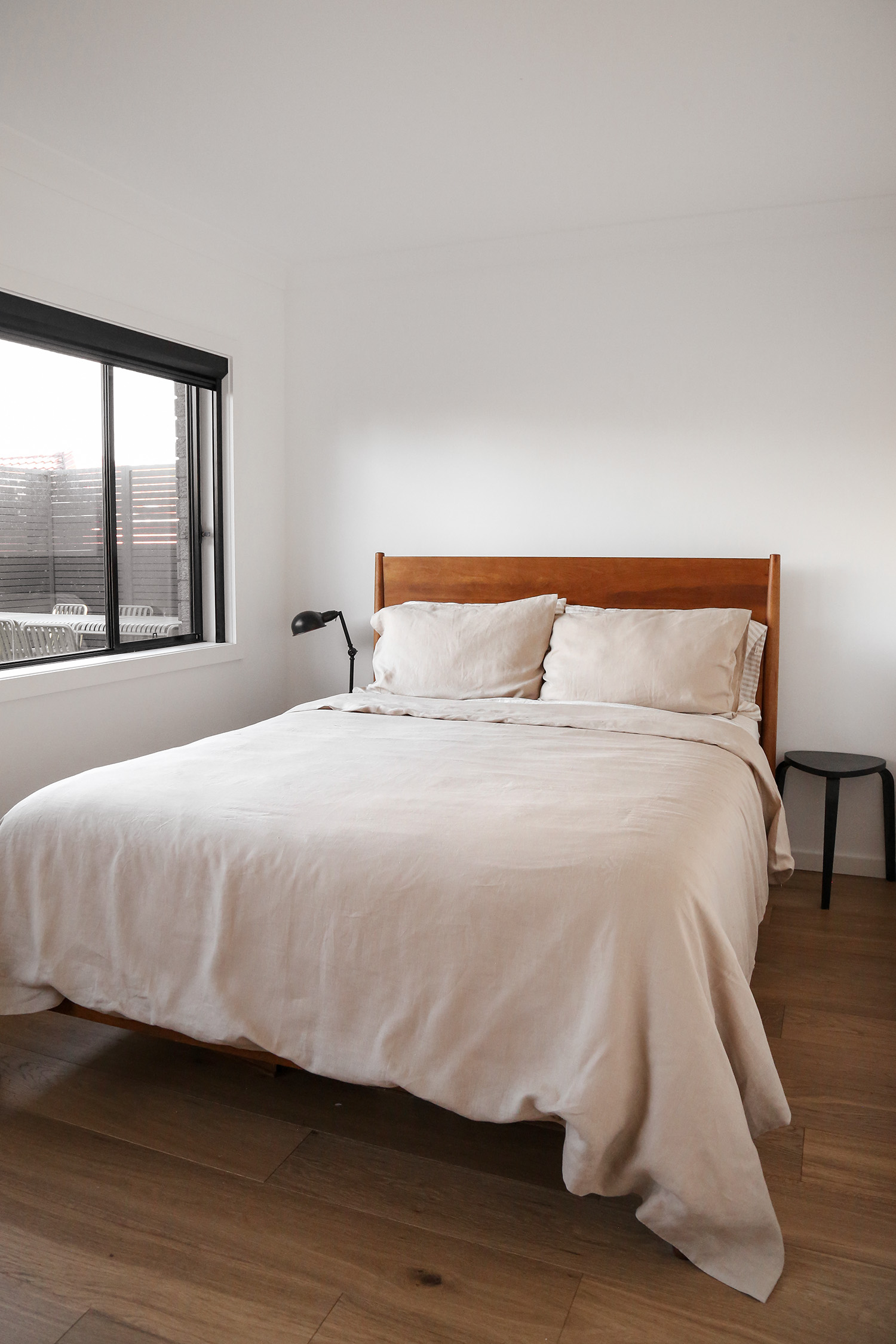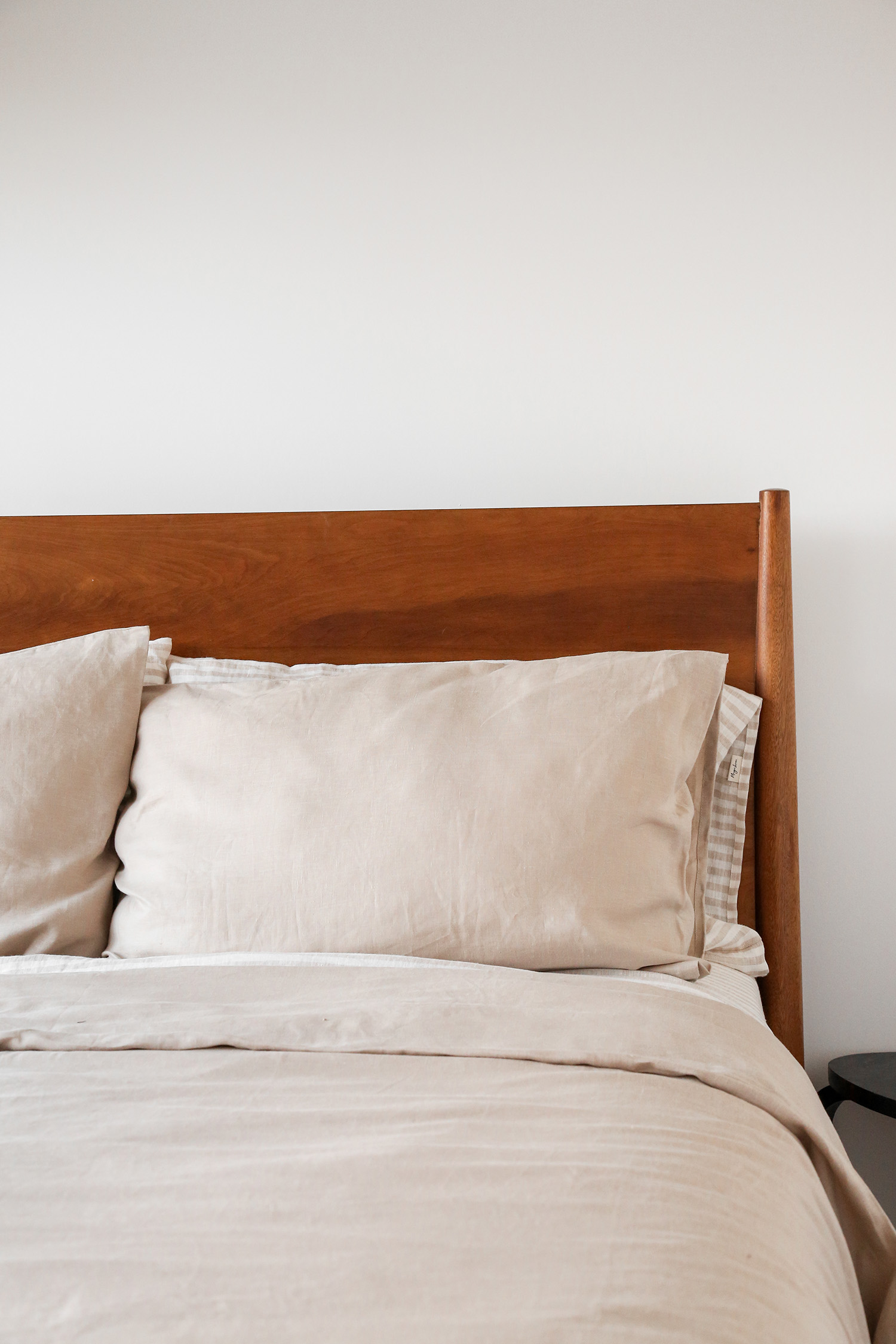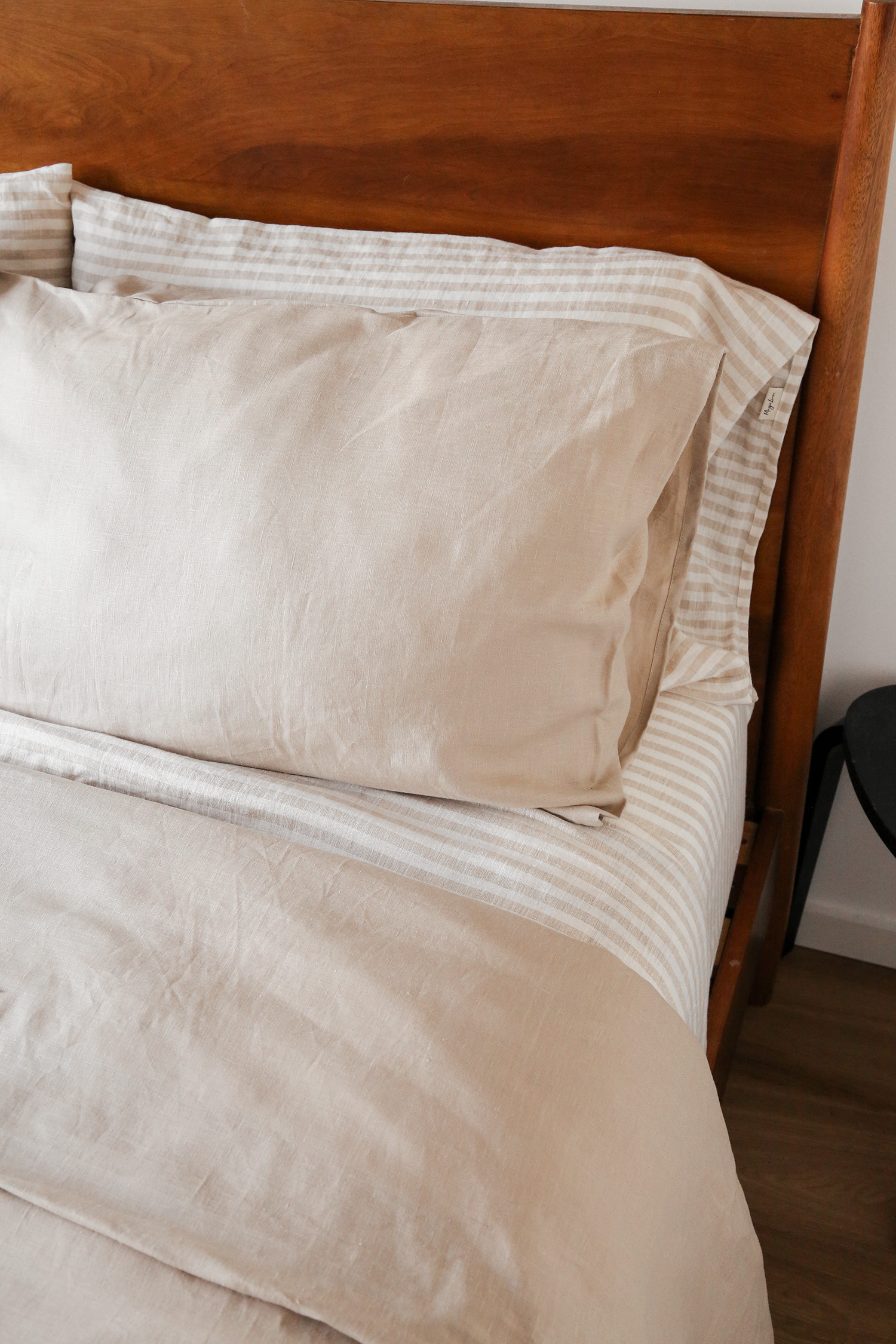 After testing out different brands for the past decade, I think I've found the best: MagicLinen. Today I wanted to share what it is that I think makes it so great.
About MagicLinen Bedding
MagicLinen is a family-owned business based in Lithuania, designing and manufacturing high quality linen home textiles – linen bedding, bath, table, and kitchen linens, linen curtains – as well as linen clothing.
All of their products are made using European Linen that is OEKO-TEX certified; this means that it is free from harmful chemicals. 
The brand was borne out of passion for linen, and it makes sense. Lithuanians have been producing quality linens since the 2nd century; it's a trade that their artisans are highly skilled at. All products are handmade, and MagicLinen also offers custom sizing too. 
MagicLinen Linen Sheet Set in "Striped in Natural"
I opted to go for the Linen Sheet Set in 'Striped in Natural'. I was really drawn to the white and natural stripe combination, and thought this would pair beautifully with the Linen Duvet Cover Set in 'Natural', while adding some soft contrast and visual interest.
In terms of how the 100% European Linen feels? It's thick, and has this robust, durable quality to it. Other bedding we've bought in the past has had more of a soft loamy touch. Whereas MagicLinen bedding feels smooth and like it has some weight to it. Linen is naturally temperature regulating, meaning that it'll keep you cool during the warmer months, but retain body heat when it's cold.
The stripes on the set I received run horizontally across the mattress, however I note from the website that if you have a preference you can contact customer service to customise the direction. 
I love the little touch of the tab which indicates which is the short side on the fitted and flat sheets. This is usually something I find myself battling with when making the bed, so it literally takes the guesswork out of it for you. 
The elastic on the fitted sheet is stretchy but doesn't feel like it has too much slack.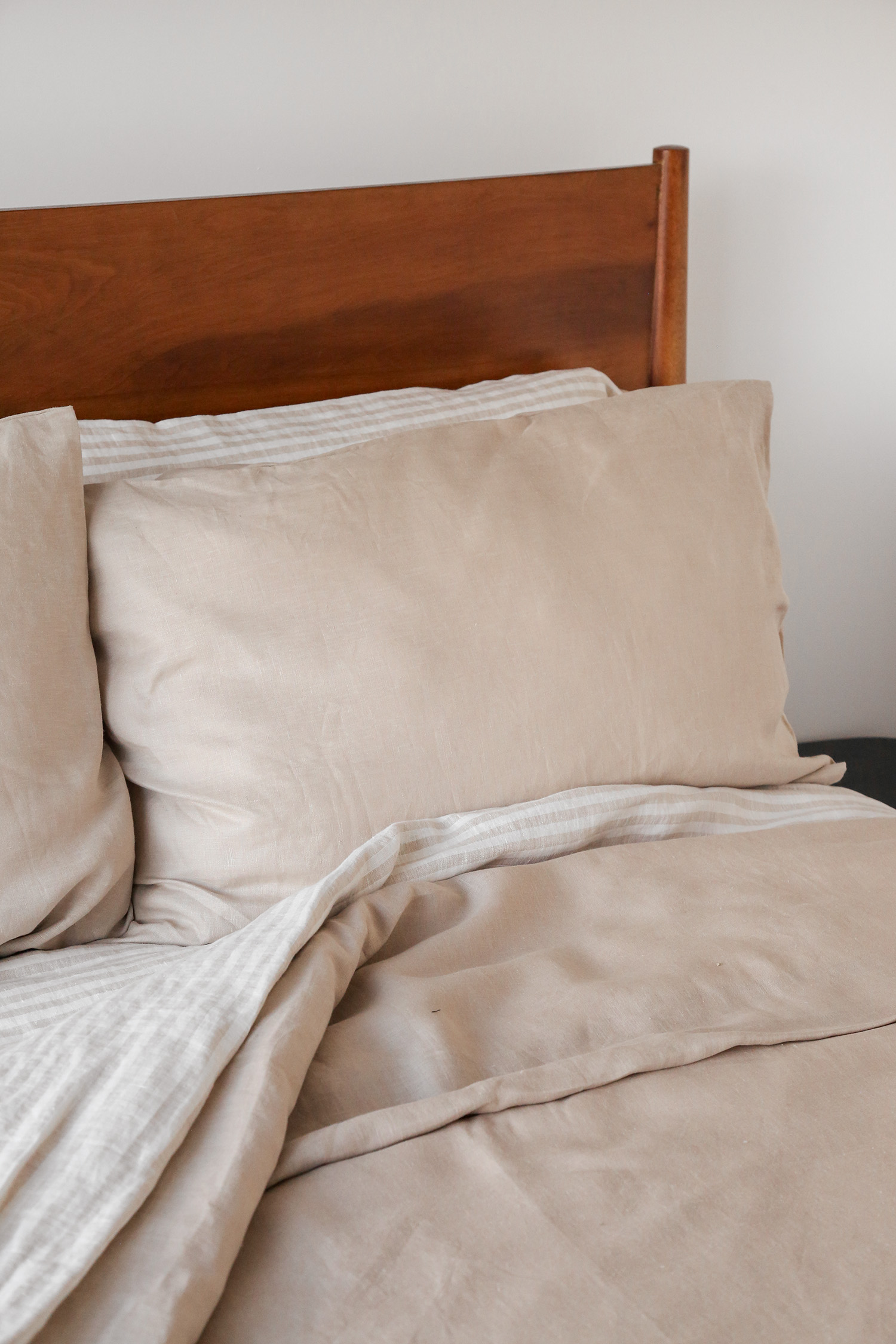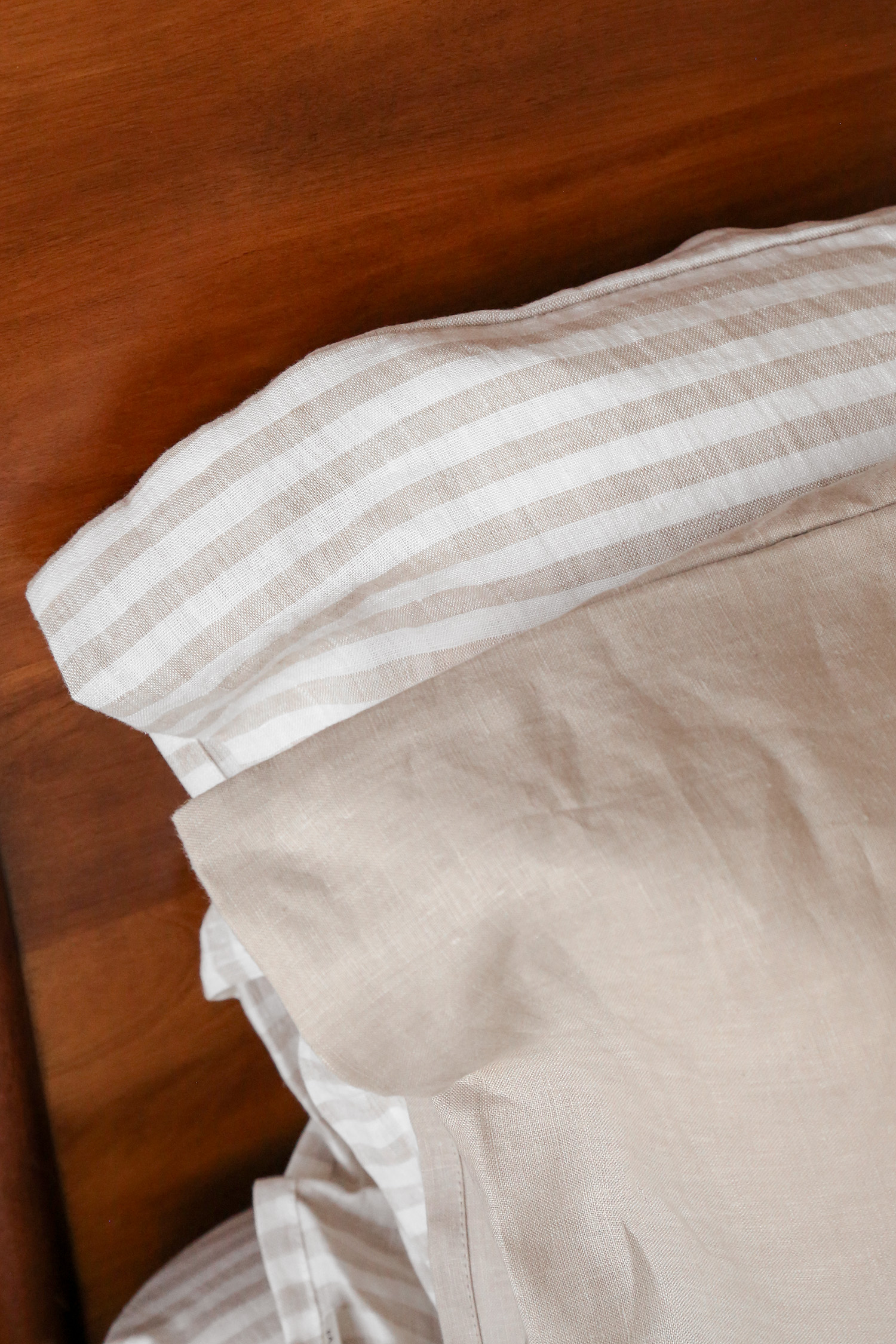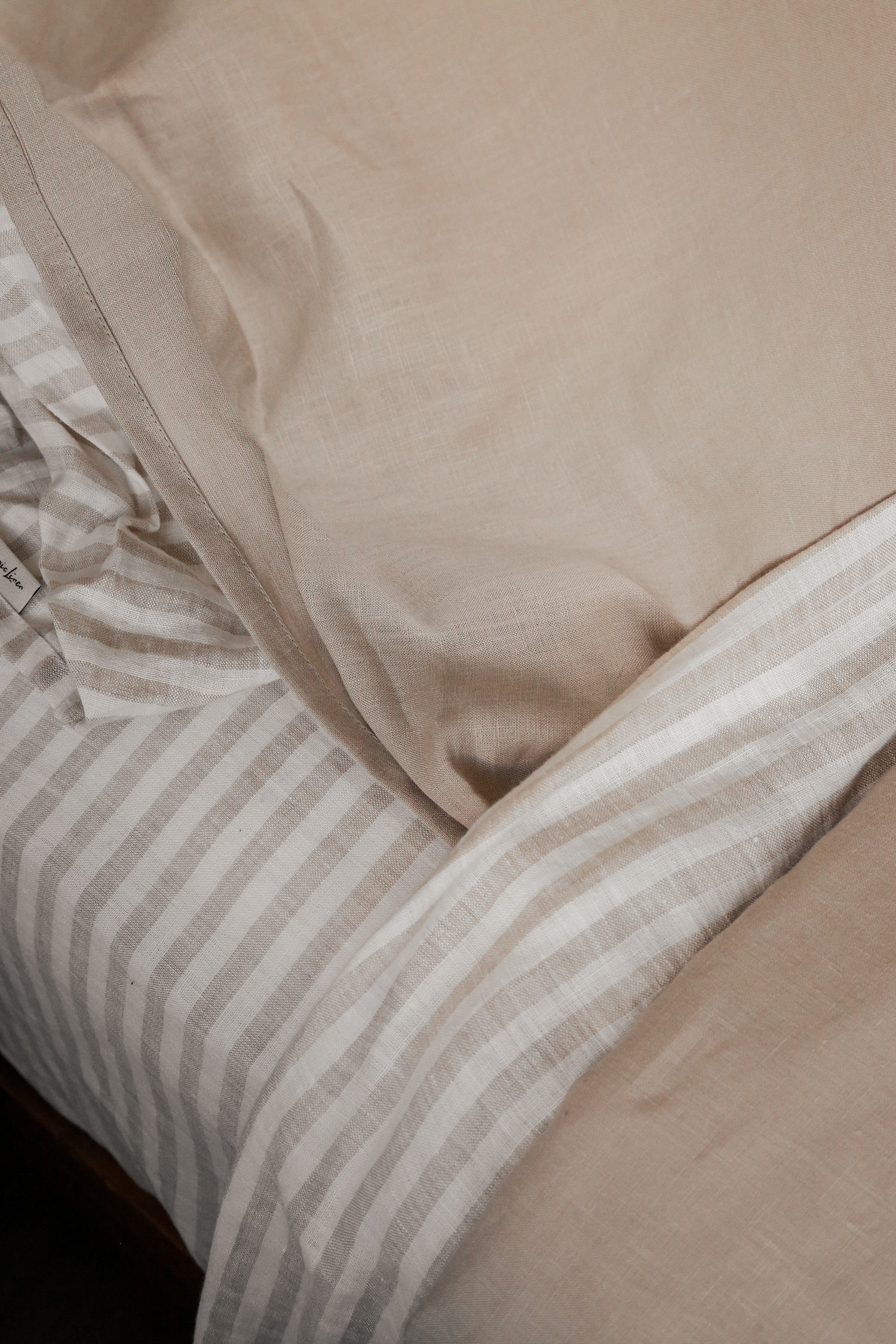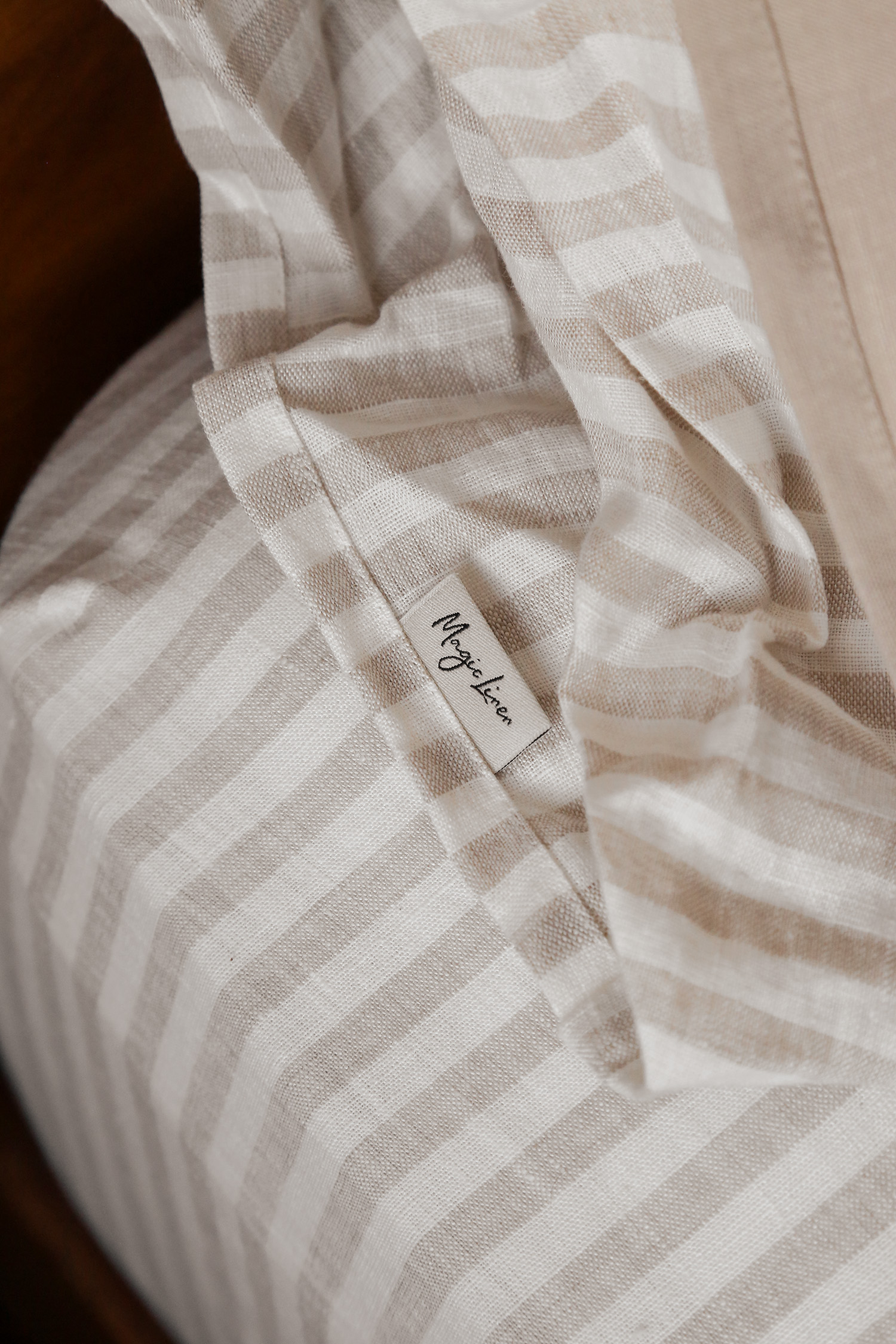 MagicLinen Linen Duvet Cover Set in "Natural"
And of course, to match, the Linen Duvet Cover Set in 'Natural'. It's hard to gauge, but I think that the gsm or weight of the linen used for the duvet cover is slightly more dense than the sheet set. 
This has all the same beautiful properties and characteristics as the sheets. It is so smooth to the touch, but has this enduring sense, which I put down to the thickness of the fibres. You can get a sense of the weave from the close up imagery provided. 
Little touches are what make purchases like this feel special, and on the Duvet Cover Set, it's the aged wooden button closure at the base. I also like that on the inside of the coverlet, you'll find ties in the corners so that your duvet doesn't slip around and "thin" out on one side.
Oh, and one thing I forgot to mention? I haven't noticed that it picks up fluff. This is something we've had happen in the past with a different brand, and rendered that set virtually unusable for us (if you have a long-haired cat, you'll understand why!).
The 'natural' colour is a light-medium beige which leans a little cool in undertone. A good choice if you like soft neutrals, but find yourself defaulting to white for the most part, as it is muted in shade, but richly saturated in colour. 
MagicLinen Bedding Final Thoughts
Rounding things out by chatting about the price. Both the MagicLinen Sheet & Duvet Sets will set you back upwards of $300 USD/$500 AUD depending on the size of your bed. That is a pretty big investment, but one thing I've learnt over the years is that it's worth investing in quality bedding. If you buy quality, it will last you for years to come. 
And that's exactly what you're getting here. MagicLinen bedding is stonewashed. This means that they are literally washed with stones, which beats at the fabric. This accelerates the ageing process, and helps to make linen feel soft and smooth to the touch. The process can be repeated multiple times to achieve the desired effect. 
If you've ever pulled linen bedding out of the bag and it's felt silky smooth, then the chances are that it's been treated with chemicals. While it might feel more supple to the touch – initially – you'll find that they will actually wear out faster. So the robust quality that I referred to earlier? It's a good thing. A very good thing.
It's details like this, that really makes MagicLinen stand out above the rest. And the fact is, their pricing is competitive, when you look at like-for-like brands offering similar product. And, for those who want a choice other than white, beige or charcoal, MagicLinen bedding is available in a generous array of colours (approximately 20 colour choices as of this posting). 
These linen bed sets were provided as product for review purposes.

If you're looking for new bedding that is luxurious, comfortable, and stylish, look no further than MagicLinen. This highly sought-after brand of bedding produces items that promise to make bedtime a luxurious experience.
First, the quality of the materials is undeniable. MagicLinen specializes is Belgian linen, which is renowned for its softness and breathability. Furthermore, the thread count is known to be superior, meaning that the fabric can withstand a lot of wear and tear while remaining comfortable and soft. The double-stitched seams add to its durability and make it resistant to fraying and coming apart.
Second, the design options are eye-catching. MagicLinen offers a wide range of colors, so you can easily match their bedding to the look of any bedroom. Whether you prefer a classic look with subtle, muted colors or a more modern approach with bright, bold colors, MagicLinen has something for everyone.
Third, MagicLinen bedding is incredibly comfortable. The combination of the breathable linen and the lofty and malleable filling create a bedding item that can be tossed and draped and remain soft to the touch. The natural fibers help regulate temperature, meaning you will stay warm in the winter and cool in the summer.
Finally, MagicLinen has some of the best customer service available. The website is easy to navigate, and the customer service representatives are friendly and helpful. There are numerous reviews online that praise the company for their quality products and exceptional customer service.
In conclusion, MagicLinen bedding is highly recommended for anyone who is looking for comfortable and stylish bedding. The quality of the materials, the selection of design options, the luxurious comfort, and the excellent customer service all come together to create a bedding product that promises the utmost in comfort and style.
--------------------------------------------------------------------------
CROWNWAY-Professional Virgin Hair Online Shop
Lace Frontal Human Hair Wigs | Vrigin Hair Bundles | Closure & Frontal
https://crownwayhair.com