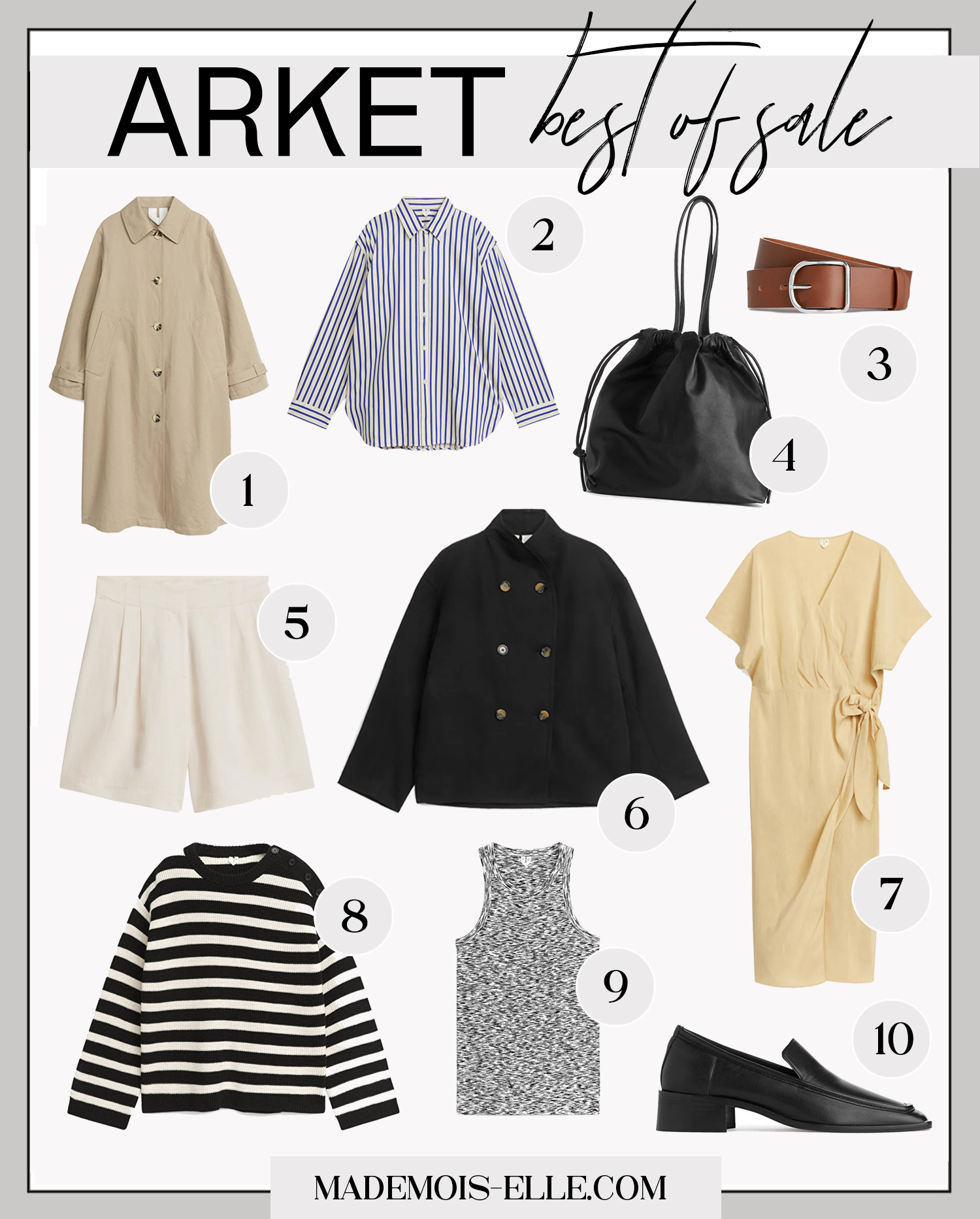 Kicking off the week with a cheeky round up of my favourite finds from the Arket sale. I've pulled together an edit of ten items – many of them staples – which would work well together as part of a capsule edit. Leaning in on one of the key reasons I adore the brand (beyond the fact that everything is well made, of course!), is that it's minimally trend led, with a core focus on seasonal classic staples. Essentially, basics you can expect to see yourself wearing for years and years.
1 | Beige Cotton Linen Coat
Starting with one of my favourite wardrobe staples; the trench coat. This is a Mac style, in a cotton/linen blend so my best guess is that it's not water resistant, but more functional as a layering piece. You can see Arket's signature tortoise buttons here – a detail which pops up on a lot of their tailoring and outerwear. I tend to prefer a longline trench like this as it has a little more drama that a traditional or cropped style.
2 | Blue/White Stripe Relaxed Poplin Shirt
An Arket classic that comes back season after season, so a style you really can't go wrong with. Oversized, and relaxed, this makes the perfect work to weekend style, that can also travel with you on vacation (think chic beach cover up).
3 | Brown Leather Belt
Belts are the type of item that you rarely have to buy, as long as you buy well. I've only heard good things about Arket's belts, and if their bags and shoes are anything to go by, I can vouch for the quality. This brown leather belt has a bit of a red undertone to it, which warms up a minimal colour palette beautifully.
4 | Black Leather Drawstring Tote Bag
When I spied this in the Arket sale section, I immediately thought of a similar style from Tibi. I love this design, as the leather looks luxurious, but the style has sporty elements with that drawstring closure (which, makes it secure!). It also has a decent strap drop which should fit over chunky knits and coats too – perfect!
5 | Off-White Oversized Linen Blend Shorts
There's a real chic element to a longer short; something that almost borders into Bermuda territory. It immediately feels more formal, which I put down to the modest hemline. These are a viscose, linen and cotton blend, which means you can expect there to be some structure, but also a silky quality to the fabric. Also comes in classic black, too.
6 | Linen Cotton Jacket
We're in the thick of the transitional season, and a cropped jacket like this is the perfect segway either from summer into autumn, or winter to spring, if you want to opt for some lighter layering. This is a linen and cotton blend, in that classic cut that Arket seems to be bringing back season on season (very Toteme-esque). It's the collar for me, and the way it folds onto itself. Tres chic!
7 | Beige Linen Wrap Dress
I was surprised to see that this dress is still available in all sizes. It's a linen/viscose blend, so would be really comfortable to wear in the warmer months, either casually with a pair of dainty strappy sandals, or in a more formal setting (like an office) with a cream blazer and heels. The wrap style is universally flattering, and the buttercream "beige" hue is currently trending. Adding in that soft touch of colour. Absolutely love this!
8 | Striped Wool Cotton Jumper
An item that I can vouch for as I have this in my own closet. This is Scandi effortless chic at its core. Slouchy and oversized, with a wide sleeve opening. My personal favourite detail is the (functional) button closure along the shoulder. This is a wool and cotton blend, but does have some texture to it so those with particularly sensitive skin may find this a little scratchy.
9 | Black/White Rib Racer Top
One I personally added to cart, as an interesting neutral and way to elevate simple, minimal outfits. I love the graphic, blurred impact; basically a no-print, print. I've tried a few of Arket's ribbed tanks and have found them to be stretchy and incredibly soft against the skin so have high hopes for this one. Is on sale in a few other colours too (including the most phenomenal tangerine shade!).
10 | Black Square-Toe Leather Loafers
My final pick are these leather loafers, with a modern spin. It's that squared off toe that gives these a real point of view, and sets them apart from your classic loafer style. I also like the binded detail which adds a raised element. These have a block heel which will give you a nice little bit of height, but be comfortable to walk in too. I find that Arket shoes fit true to size, and quality has in my experience always been to a high standard.